Don't miss...
Annual Open Day
Sunday 27 July 2014
Join us at the boathouse for our annual Lifeboat Station Open Day and BBQ, providing an opportunity to meet the crew and see the boats, along with other stalls, entertainments and a barbecue. Demonstration ILB launches during the day, subject to any operational requirements. 10km sponsored rowing challenge.
Open Evenings
Summer holidays
Come to one of our popular open evenings on Wednesday nights throughout the school summer holidays. We're open from 6.30pm to around 9.30pm and the evening usually includes a talk and a chance to step on-board the all-weather lifeboat to look at her equipment. Children also get the chance to climb into the inshore lifeboat and dress up in crew kit.
Gansey Raffle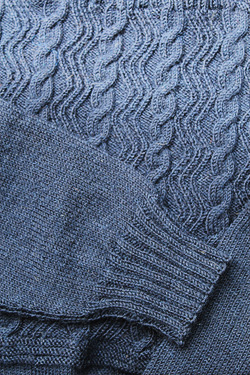 Sara Phillips, wife of one our crew members, has donated a traditional fisherman's gansey, which she has hand-knitted, as a prize draw in aid of the Shannon Appeal. Knitted in the round on multiple needles, the sweater features a yoke pattern that combines the traditional Norfolk rig-and-fur bands with marriage lines and coils of rope from a 1970s pattern based on the ganseys worn by the Wells lifeboat crew in the 1930s. These ganseys are remarkably warm and durable even when wet. If you are around a 40" chest or know someone who is, you can enter at the Tourist Information Centre on Staithe Street in Wells.
p.s. If you're interested in ganseys, don't miss the exhibition A Shoal of Ganseys at the excellent museum in Sheringham this summer, which runs until 10 September 2014.

You can now find us on Facebook