Welcome to Wells RNLI
Wells-next-the-Sea RNLI Lifeboat Station houses an all-weather lifeboat and an inshore lifeboat to save lives and assist with emergencies around Wells and off the North Norfolk coast. Manned by volunteer crews, the boats are ready to launch within minutes, 24 hours a day, every day of the year. This website will tell you more about the station and give you a taste of what we do and the traditions of the lifeboat service.
Recent Services
22 February 2015
09:27

The station's inshore lifeboat was on a routine exercise when at 09:27 Humber Coastgaurd asked it to proceed immediately to Wells quayside after a member of the public had reported seeing a person fall into the water. The ILB arrived on scene at 09:32 and located the casualty, face down in the water, caught between the hull of a local fishing vessel and the quay wall on a strong ebbing tide. With great difficulty, the person was recovered and landed onto the quay at 09:38. The casualty was unresponsive so crew members began first aid and requested an ambulance. A First Responder arrived promptly to assist followed by the local Coastguard, paramedics, the harbour master and the air ambulance, which landed on the quay. Sadly, despite their combined efforts, the casualty could not be revived and was pronounced dead by the air ambulance doctor at 10.19. The ILB was released at 10:30 and was rehoused, refuelled and ready for service again by 11:15.
Weather Fine Visibility Good Wind S3 Sea Slight
10 February 2015
09:59

The ILB crew were paged at 09:59 following a 999 call to Humber coastguard from a lady in some distress saying that her dog had entered the water in Wells channel and was being swept away by the tide. The launch was cancelled two minutes later, with most crew members on their way down the beach road, after the lady informed the coastguard that the dog had made a safe return to shore.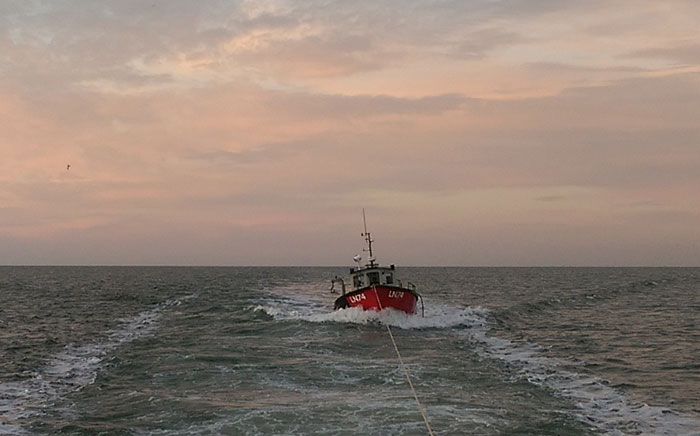 9 November 2014
13:02

The ALB was paged for a low water launch to assist the 11m MFV
Isabelle Kathleen
which had left Wells on the morning tide on passage from Welsl to Oban but had suffered fuel problems and engine failure and was now disabled some 25nm north of Wells. The lifeboat launched from Holkham beach at 13:40 to rendezvous with the fishing boat. Arriving at 15:25, it was found the casualty vessel had no bullring or cleats and therefore a bridle had to be set-up from the two stern posts before a tow back to Wells could be commenced at 15:50. Arriving outside the harbour at 18:20 near high water on the evening tide, the vessel was taken up to the quay and safely secured alongside. The lifeboat was recovered and refuelled by 21:00.
Weather Fine Visibility Good Wind W2 Sea Slight
Latest News
68 year old Wells lady to sky dive for the Shannon
Mon 23 Feb 2015
68-year old Wells resident and regular RNLI supporter Jill Scillitoe will doing a sky dive from Beccles airfield on 15 May to raise funds for the Wells Shannon Lifeboat appeal. After some persuasion, her son Kieron (age 44) will also be jumping.
Jill and Kieron are hoping to raise £2000 by braving something which is a long way from their comfort zone to add to money they've already raised to help bring a new lifeboat to Wells.
Support Jill and Kieron's jump at JustGiving
Local artists to brighten Wells quayside with mural
Mon 23 Feb 2015
A group of local artists is working on a project to brighten up the town's quay by painting a large mural on the hoardings in front of the undeveloped land left over from the 2005 fire.
Working with the landowner's permission, generous donations of materials from local businesses and assisted by members of the Wells lifeboat crew, the painting will depict a Wells beach scene including a picture of a Shannon lifeboat to celebrate the planned arrival of the town's new lifeboat in two year's time.
Jewsons in Fakenham kindly donated new boards for the hoardings as painting the mural in situ would be difficult. These were transported to Wells by crew member Ross Fulford and prepared by crew member Kevin Parr and his brother Stephen Parr, who run KSP Specialist Decorators in Wells.
It is hoped that this community project will be completed in time for an Easter holiday unveiling. For more information or if you'd like to get involved directly or help with materials, please contact Peter Rainsford, Wells RNLI chairman, on 01328 711463.
Click here for latest pictures from the project