Welcome to Wells RNLI
Wells-next-the-Sea RNLI Lifeboat Station houses an all-weather lifeboat and an inshore lifeboat to save lives and assist with emergencies around Wells and off the North Norfolk coast. Manned by volunteer crews, the boats are ready to launch within minutes, 24 hours a day, every day of the year. This website will tell you more about the station and give you a taste of what we do and the traditions of the lifeboat service.
Recent Services
23 August 2015
15:26

The ILB was paged after a member of the public called Humber Coastguard reporting two persons on bodyboards being blown offshore in the vicinity of Brancaster harbour in a fresh SSE wind. The ILB launched at 15:36 but was stood down two minutes later after the first informant reported that the two boarders had managed to get ashore safely. The lifeboat returned to station and was ready again for service at 15:45.
Weather Part cloudy Visibility Good Wind SSE4-5 Sea Slight
23 August 2015
10:44

A launch request for the ILB was received at 10:42 after a party of 2 adults, 4 children and a dog informed Humber Coastguard they were cut off by the tide on Bob Hall's Sand after spending the night camping on the East hills. With the casualties visible from the boathouse, the ILB launched at 10:51 and was on scene two minutes later. The ILB landed one adult and four children at the boathouse and then returned to collect the remaining adult, dog and an inflatable dinghy. The ILB was re-housed, re-fuelled and ready for service at 11:20.
Weather Part cloudy Visibility Good Wind E4-5 Sea Slight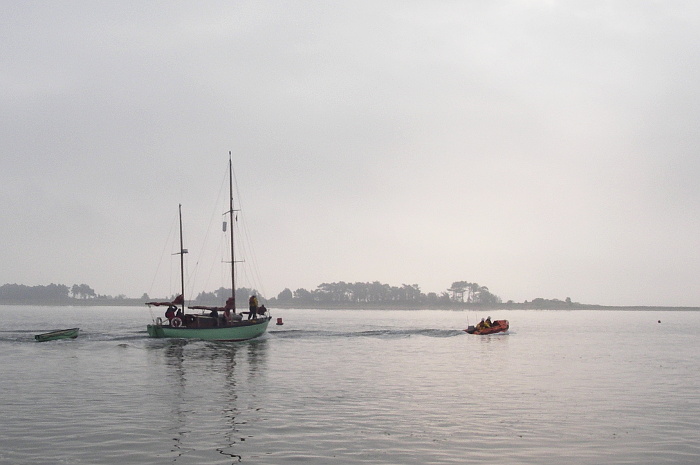 14 August 2015
15:45

Humber Coastguard requested a lifeboat launch at 06:53 to assist a 28ft yacht
Peter Duck
with mechanical failure near the entrance to Wells harbour and 4 persons on board. She had left Wells harbour on the flood and was heading East. The ILB launched at 07:07 and was alongside the casualty at 07:16 A crew member was put on board to attach the tow and the vessel was towed back into Wells harbour and moored on the quayside pontoons. The ILB returned to station and was re-housed and ready for service at 08:40.
Peter Duck
is a historic yacht built in 1945 for Arthur Ransome, author of the Swallows and Amazons books.
Weather Sea fog Visibility 1/2 to 1 mile Wind NE2 Sea Smooth
Latest News
The Great Superhero Run
Tue 25 Aug 2015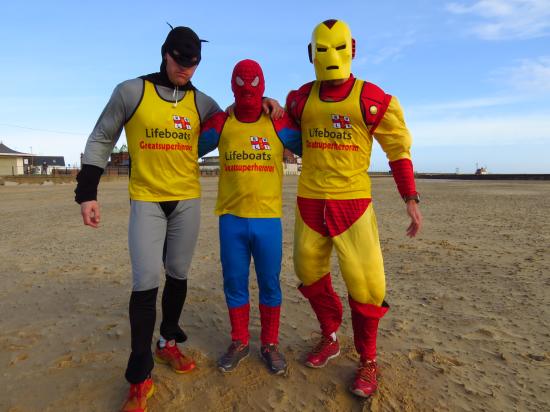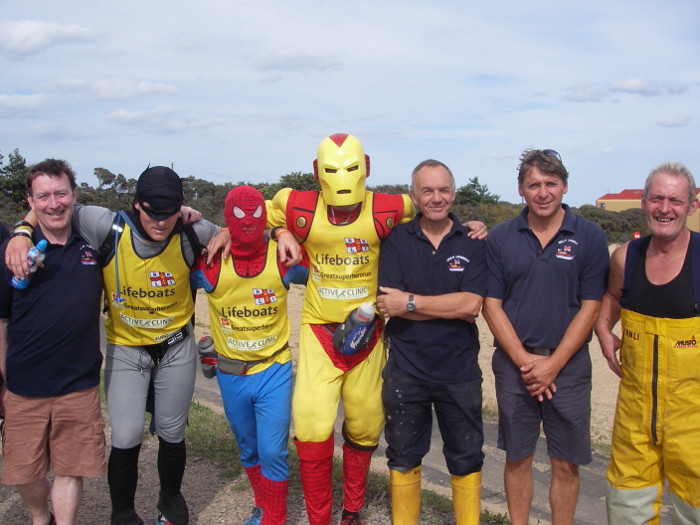 RNLI fund raisers Iron Man (John Figiel), Batman (Lee Jones) and Spiderman (Paul Greensides) are set to take part in the 2015 Great North Run... but to get to the start line they are taking on the incredible challenge of running over 400 miles in 18 days from Norfolk to Newcastle, visiting 15 east coast lifeboat stations on the way!
This 'marathon of marathons' starts on Thursday 27th August at 10am from Great Yarmouth & Gorleston lifeboat station and should, if all goes to plan, pass through Wells on the coast path and down the beach bank on Saturday, with a leg from Sheringham to Burnham Deepdale.
To find out more, please see their Facebook page... www.facebook.com/greatsuperherorun
The team has already raised over £10,000 for the RNLI. Please look out and give them a cheer as they pass if you can or add to their fabulous fundraising with a donation at the link below.
And good luck guys from all of us here at Wells RNLI...
Support Spidey and his pals...
Wells Skydivers present cheque for over £5500
Wed 26 Aug 2015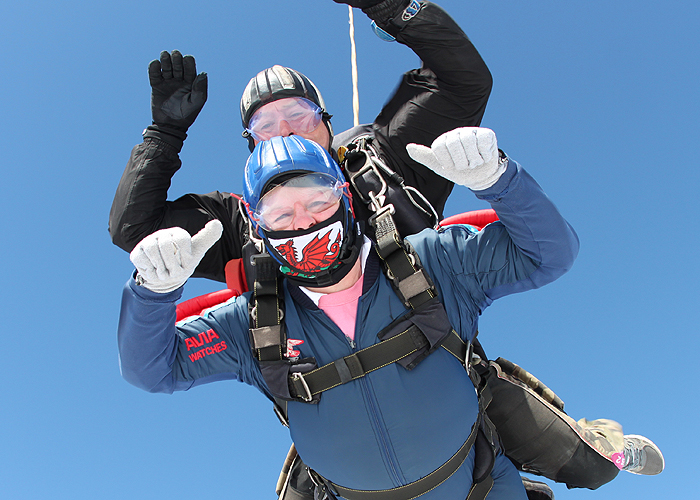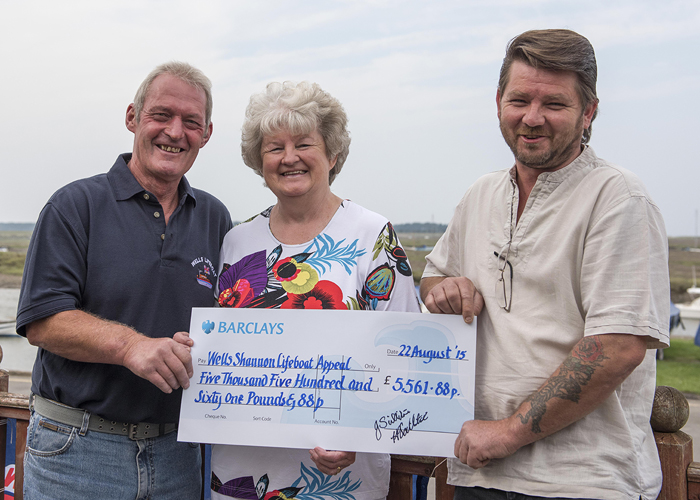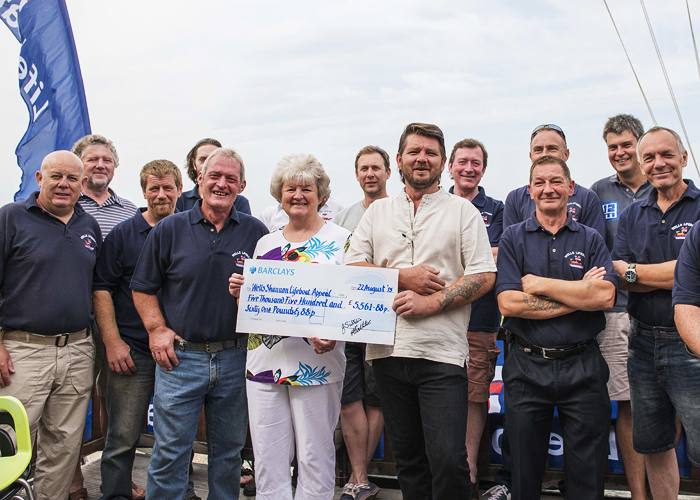 Great-grandmother Jill Scillitoe and her son Kieron presented a cheque for over £5500 to the crew of Wells lifeboat at a presentation luncheon on Sunday.
Jill and Kieron made their parachute jump on 15 May at Beccles Airfield in aid of the Wells Shannon Lifeboat Appeal. Normally Jill prefers less demanding hobbies like gardening, reading and knitting but she was undeterred and raised £5,561.88. She said, "It was fantastic, people have been so generous. I couldn't have raised this amount by just falling out of a plane without the support of Wells people. It shows just how much they value the lifeboat." She and Kieron put on the presentation luncheon at Wells Sailing Club as a way of saying 'thank you' to all the people who have generously supported their efforts... and to the crew for giving them a good reason to do a skydive.
RNLI Chief Executive Paul Boissier said: "I think Jill was incredibly brave and I can't thank her and Kieron enough for being willing to jump out of an aeroplane to raise money for the RNLI. It's only through the dedication and support of people like Jill that our charity is able to fund the lifesaving work of our volunteer lifeboat crews. I'd like to offer my thanks to all those people who have helped raise money for a new lifeboat at Wells-next-the-Sea."