Welcome to Wells RNLI
Wells-next-the-Sea RNLI Lifeboat Station houses an all-weather lifeboat and an inshore lifeboat to save lives and assist with emergencies around Wells and off the North Norfolk coast. Manned by volunteer crews, the boats are ready to launch within minutes, 24 hours a day, every day of the year. This website will tell you more about the station and give you a taste of what we do and the traditions of the lifeboat service.
Recent Services
14 January 2016
21:39

Humber Coastguard requested the launch of the ALB to assist the Kings Lynn based MFV
Lucky Luke
which had suffered steering failure in winds of force 9 from the northwest in the Wash. Skegness lifeboat had also been tasked but had encountered problems on launching and was subsequently restricted to using only one engine. The crew were paged at 21:39. Launching at 21:53 from the boathouse, the ALB negotiated heavy swell on Wells bar before heading west towards the casualty in a position south of the Roaring Middle Buoy. At 22:40 the
Lucky Luke
reported to Humber Coastguard that the steering problem had been resolved and the vessel was proceeding to Kings Lynn main channel. Both lifeboats were stood down at 22:42 but with the Skegness lifeboat still running on one engine it was agreed the ALB would standby briefly. The ALB departed for Wells at 22:50 and was recovered, re-housed, re-fuelled and ready for service by 00:30.
Weather Sleet showers Visibility Good Wind NW 8/9 Sea Rough
25 October 2015
14:45

The ILB launched 14:55 to assist two persons cut off by the tide at Scolt Head, having tried, unsuccessfully, to swim back. At 15:10, the local Coastguard team reported that they were now with the casualties and that all was well and no medical attention was required. The ILB arrived at 15:12 but was not needed and the coastguard took the casualties, who were cold and wet, back to Wells by road. The ILB was rehoused, refuelled and ready for service at 16.00
Weather Fine Visibility Good Wind S2 Sea Slight
Latest News
Packed boathouse for carol service
Wed 30 Dec 2015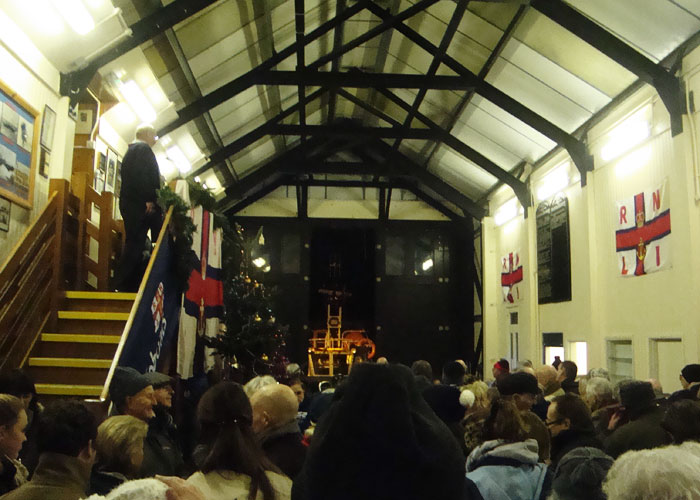 The station's carol service on 13 December saw the boathouse once again packed with local residents and visitors to the town alongside crew and their families. Our thanks for musical assistance provided by Fakenham Town Band and Wells Churches Together. and refreshments by members of Wells RNLI Guild. A bucket collection raised £386. We hope to see you all again next year.
DONG Energy supports Wells and 5 other RNLI stations
Tue 8 Dec 2015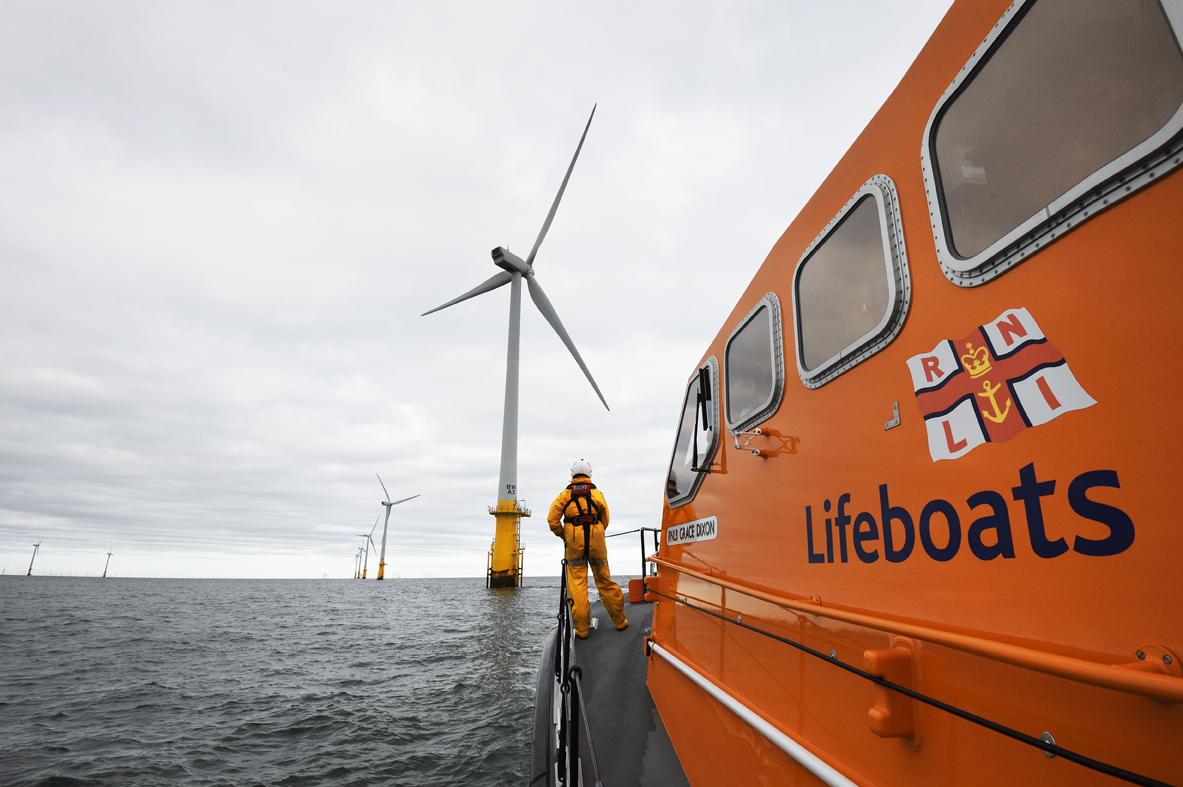 Global energy company DONG Energy has agreed to make a £120000 contribution over two years towards the running costs of six RNLI stations at Wells, Clacton and Humber on the east coast, Barrow and New Brighton in the north-west and Ramsgate on the south coast.
DONG Energy is a leading pioneer in offshore wind generation with currently eight operational offshore windfarms in the UK and a further four in development, all located in areas covered by the six selected RNLI stations. The funds will be used for day-to-day running costs of the lifeboats at the stations, mainly fuel used in launches and rescues as well as minor items replaced during routine maintenance.
Brent Cheshire, DONG Energy's UK country chairman, said: "The RNLI is a fantastic charity that does incredible work, and I am thrilled that we are making a major contribution to the lifeboat running costs for six stations across the UK.... As a company operating at sea ourselves, we know all about the extraordinary support that the RNLI provides to coastal communities. DONG Energy is fully committed to making a positive contribution to the local areas where we operate and that's why this partnership makes so much sense."