Welcome to Wells RNLI
Wells-next-the-Sea RNLI Lifeboat Station houses an all-weather lifeboat and an inshore lifeboat to save lives and assist with emergencies around Wells and off the North Norfolk coast. Manned by volunteer crews, the boats are ready to launch within minutes, 24 hours a day, every day of the year. This website will tell you more about the station and give you a taste of what we do and the traditions of the lifeboat service.
Recent Services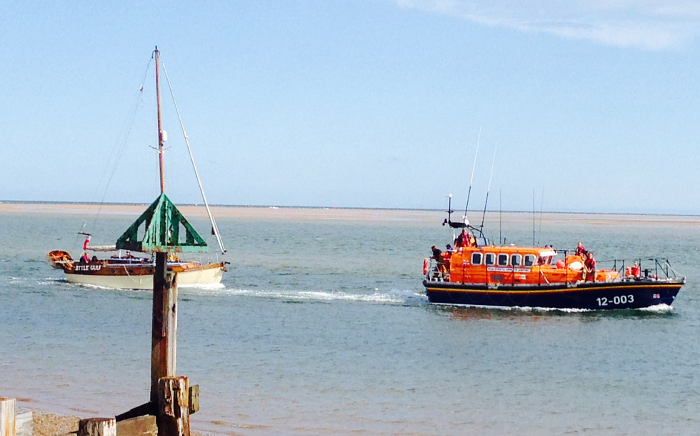 27 July 2014
08:45

The all-weather lifeboat was paged at 08:45 to render assistance to the 28' yacht
Little Gull
with 2 persons on board, which was in difficulties at anchor with engine failure 2.5 miles east of Wells harbour entrance. The lifeboat launched outside the boathouse at 08:56 and proceeded outward, arriving on scene at 09:15. A crew member was transferred to the yacht and at 09:25 the lifeboat commenced the tow back to Wells. The lifeboat entered the harbour at 09:45 and the casualty was safely moored in Wells Outer Harbour at 10:30. The lifeboat was rehoused, refuelled and ready again for service at 11:30.
Weather Fine Visibility Good Wind N3 Sea Slight
18 July 2014
12:05

At 12:03 Humber Coastguard requested lifeboat assistance to search for a windsurfer reported overdue and thought to be in the vicinity of Wells Harbour bar. The crew were paged at 12:05 with the ILB launching at 12:13. A windsurfer was quickly located on Bob Hall sands to the north of the beach and lifeboat station and it was confirmed that this was the casualty. The person did not require assistance and the ILB stood by while he made his own way to shore.
Weather Cloudy Visibility Moderate Wind ENE 3-4 Sea Slight to Moderate
13 July 2014
08:00

While on a routine training exercise, the ALB was tasked at 08:00 to assist the 24 foot yacht
Osirus
with two persons on-board that had suffered engine failure in the vicinity of Blakeney harbour Fairway Buoy. Sheringham lifeboat had also been launched to the casualty. As the ALB approached the area, Sheringham lifeboat reported it was alongside preparing a tow, and would take the disabled yacht into Blakeney Pit to place on a mooring. With the ALB escorting, both lifeboats arrived in Blakeney Pit at 08:55 where the casualty was safely moored to undertake repairs. Returning to station at 09:40 the ALB was re-housed, re-fuelled and ready for service at 11:05.
Weather Fair Visibility Good Wind SW 2 Sea Calm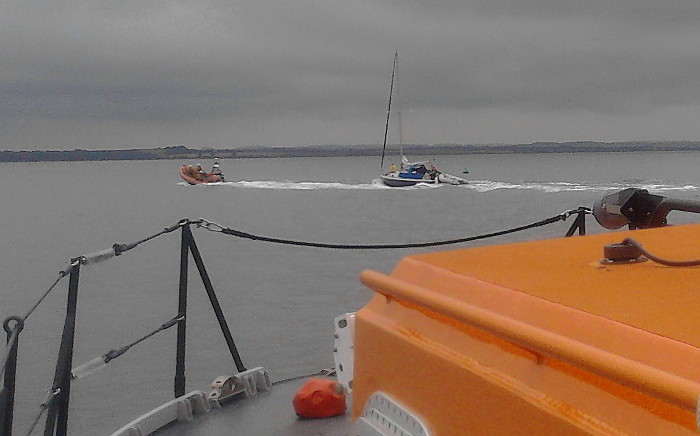 12 July 2014
20:59

The ILB was launched after a concerned member of the public walking on the beach in Holkham Bay informed Humber Coastguard of a yacht possibly aground on a sand bar. The ILB arrived to find yacht
La Passion
at anchor and in good water but with no sign of any crew on-board. Coming alongside, a crew-member was transferred to investigate and was met by one of the surprised occupants, unaware that they had been reported as being in danger. As a precaution, the ILB was asked to do a sweep of the shoreline to discount any other vessel within the area, before returining to station.
Weather Fair Visibility Good Wind SW 2 Sea Calm
9 July 2014
18:16

An ILB launch request was received from Humber Coastguard to go to the assistance of a windsurfer thought to be in trouble. It was reported that the casualty had got into difficulties on the West side just inside the bar and there was a heavy surf running in a Force 7 NW wind. The ILB launched at 18.25. Two windsurfers were located; they confirmed that they were the only ones there and that they did not require assistance. The ILB returned to station at 18:40 and was re-housed, re-fuelled and ready for service at 18:52.
Weather Squally Visibility 3 miles Wind NW 7 Sea Moderate within harbour, rough outside
4 July 2014
12:58


Humber Coastguard paged the ILB following a 999 call reporting an inflatable kayak in difficulty and being carried out to sea by a strong offshore wind 1/2 to 1 mile off Burnham Overy Staithe. The kayak had been seen to capsize twice and was thought to have two persons on-board. The ILB arrived on scene to find an empty kayak and no persons visible nearby. Given the conditions and that two people may be in the water, a request was made for the all-weather lifeboat to assist in a search. Wells Lifeboat was then launched from outside the boathouse but as it neared the harbour entrance, Humber Coastguard stood down both boats having learned that the kayak's owners were safe ashore. The ILB crew deflated the kayak and returned to station with it on-board at 14:30 when both boats were recovered.
Weather Fair Visibility Good Wind SW 4 Sea Slight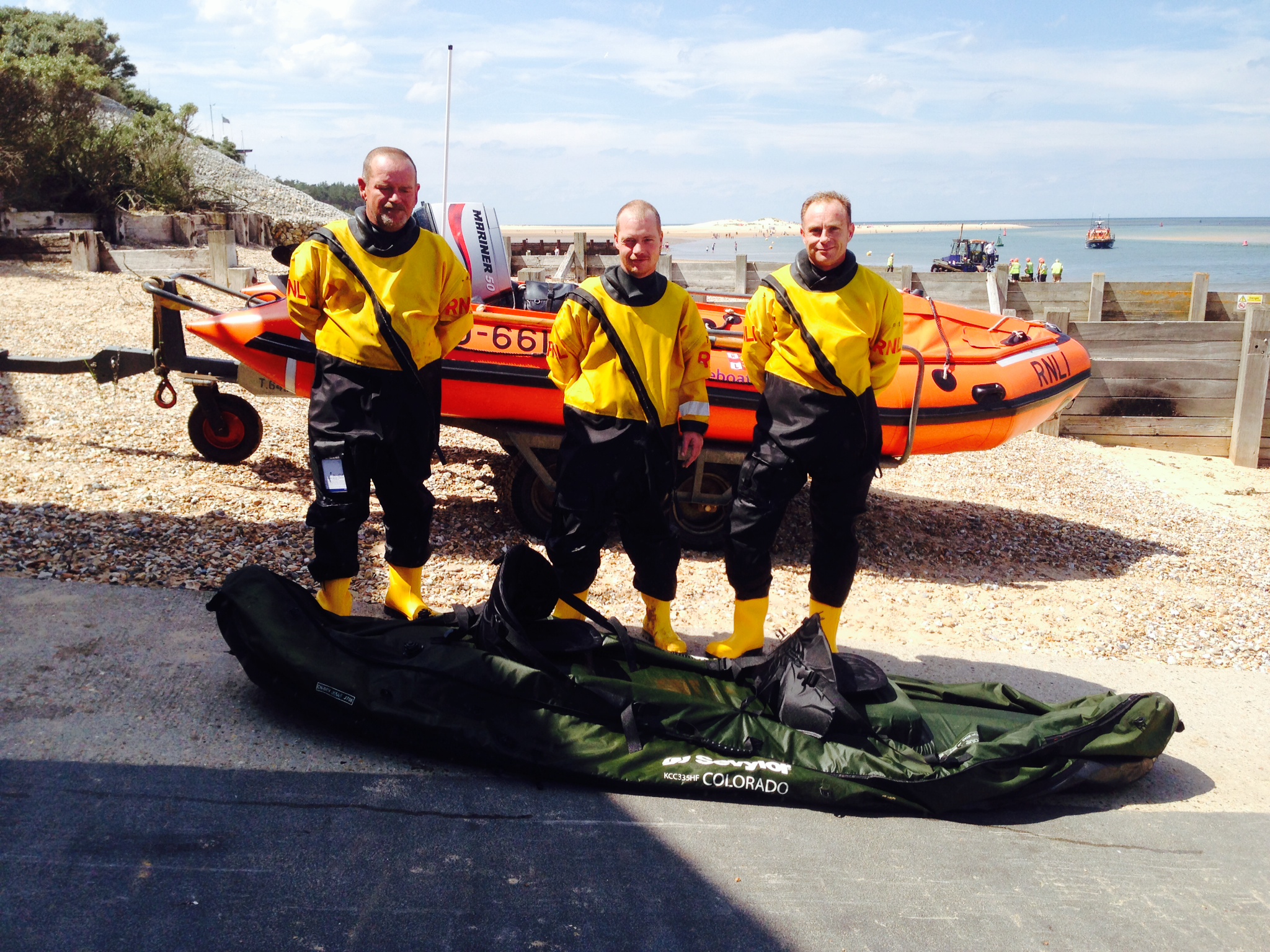 Latest News
Passage available on historic lifeboat's return to Dunkirk
Wed 23 Jul 2014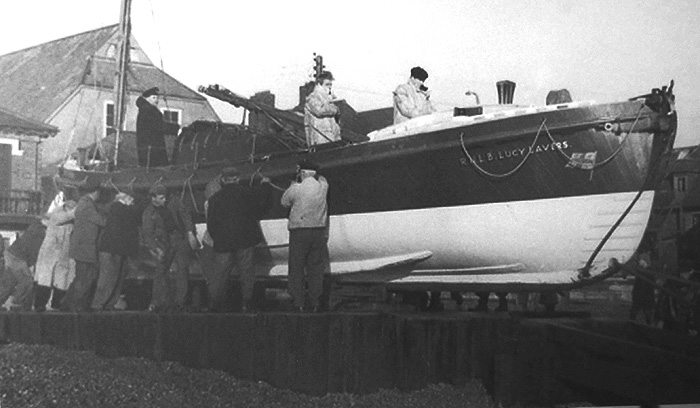 Next year, the historic Liverpool class lifeboat Lucy Lavers will be making a return voyage from Wells to Dunkirk, returning there with other Dunkirk little ships 75 years on from the evacuation in 1940. Passages on the voyage are to be auctioned at the 'Boats at Bayfield' event at Bayfield House in Holt on 6th August, with one place available on board on each of 5 outward and 4 return legs.
The Lucy Lavers served for 19 years as the station boat at Aldeburgh, having been commandeered by the Navy almost immediately on delivery in 1940 to rescue British troops from the beaches of Dunkirk. She later joined the relief fleet and served at both Wells and Sheringham.
She is presently being restored by the Rescue Wood Boats charity in Stiffkey in preparation for the 2015 trip to Dunkirk. If you can't make the auction at Bayfield House in person, postal bids can be accepted up until 4pm Tuesday 5th August. Contact the charity for more information.
The Boats at Bayfield event is open to the public, price £5 per person, and includes displays of traditional and new wooden vessels, model ships and boats as well as an exhibition by the East Anglian Society of Marine Artists. The event is raising funds both for Rescue Wooden Boats and the Wells Shannon Lifeboat Appeal.
More about 'Boats at Bayfield'
Weston Park Charity Golf Day
Wed 16 Jul 2014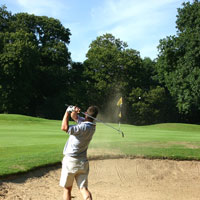 A charity golf day will be held at Weston Park Golf Club, at Weston Longville near Norwich, on Thursday 28 August in aid of our Shannon appeal. The event will start with coffee at 10.30 to be followed by 18 holes Texas Scramble with a shotgun start at 12:00 and a 2 course meal and coffee. The price is £34 per person with teams of up to 4... entry forms can be downloaded below and must be returned by 20 August.
The organisers would also like to hear from anyone who would like to sponsor a hole or donate a raffle prize for what is sure to be a popular and fun event. Please contact our lifeboat press officer John Mitchell on 07831 103166.
Entry form