Rarely available -
RNLI Wells
lapel badges!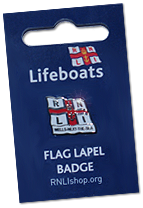 We're delighted to announce that we've managed to obtain some brand new RNLI Wells flag lapel badges. These are genuine metal RNLI Lifeboats flag pin-badges with the legend Wells-next-the-Sea.
The badges are available at the boathouse (when open) for a minimum donation of £3. Alternatively, please send a self-addressed envelope ready-stamped with 79p postage and a cheque for £3 payable to "Wells RNLI" to Pin Badges, RNLI Wells Lifeboat Station, Beach Road, Wells-next-the-Sea, NR23 1DR and we'll pop one in the post to you.
Shannon Latest
Planning permission has been granted for a new lifeboat station at Wells to house our forthcoming Shannon-class all weather lifeboat but legal work relating to the new site has taken longer than expected and we are now hoping that building work will be able to start in September 2019. This will take around 18 months to complete so our new Shannon-class lifeboat should then come into service late in 2021.
Funding for the new lifeboat was raised in part with a station appeal for £250,000 in 2014-15 and also by the Civil Service charity The Lifeboat Fund with its 150th Anniversary Appeal. We are hugely grateful to everyone who has donated, fund-raised, helped and supported us both locally and across the UK and even further afield. Your contribution is appreciated and will help to save lives and keep our volunteeer crews safe in the years to come. Read more about the station appeal