Exercise Launches
Our next scheduled exercise launches are shown below. You are welcome to come and watch the lifeboats launch on the beach at the front of the lifeboat house... but please ensure you keep well to one side and that children are supervised. Exercises may be cancelled or rescheduled at short notice due to operational reasons.
Tuesday 26 August 17:00
Gansey Raffle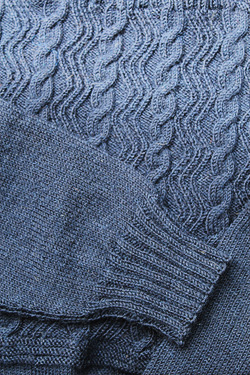 Sara Phillips, wife of one our crew members, has donated a traditional fisherman's gansey, which she has hand-knitted, as a prize draw in aid of the Shannon Appeal. Knitted in the round on multiple needles, the sweater features a yoke pattern that combines the traditional Norfolk rig-and-fur bands with marriage lines and coils of rope from a 1970s pattern based on the ganseys worn by the Wells lifeboat crew in the 1920s. These ganseys are remarkably warm and durable even when wet. If you are around a 40" chest or know someone who is, tickets are available from the Tourist Information Centre on Staithe Street in Wells and other outlets and events. For more about this unique prize draw, see Gansey Raffle page.
p.s. If you're interested in ganseys, don't miss the exhibition A Shoal of Ganseys at the excellent museum in Sheringham this summer, which runs until 10 September 2014.
Shannon Appeal
We are running an appeal to raise funds for a new Shannon class lifeboat for Wells and the North Norfolk coast. The appeal will run until the end of 2015 and aims to raise £250,000 towards the cost of a new all-weather lifeboat due to arrive on station in 2016.