Rescue painting to be featured at art exhibition
Tue 7 Apr 2015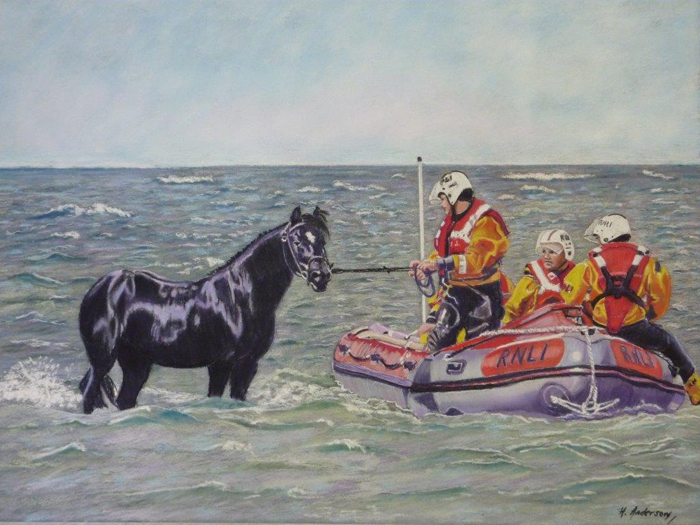 Local artist Helana Anderson's new painting of the rescue of a horse and two riders cut off by the tide in 2006 will be one of the paintings featured at an art exhibition in Thornham village hall from Friday 10th to Monday 13th April. The COAST exhibition includes other artwork of the Norfolk coast by members of the West Norfolk artists group.
Wells Inshore Lifeboat was launched in July 2006 after two horses and their riders were stranded on a sandbar to the west of the Wells harbour channel by the rising tide. One of the horses managed to make it to shore unaided while the two riders and second horse waited as the water rose around them. The ILB collected the riders and returned them to the beach where they were taken to the boathouse to get dry and warm up, leaving two crew with the horse. The ILB then returned and led the horse, swimming for the first time in its life, to the beach. The RSPCA presented the station with an award for the rescue.
Helena based her painting on one of the photographs of the rescue with the permission from the photographer and commented that it was a rare opportunity to combine two of her favourite subjects - horses and the RNLI - in one painting.
A donation will be made towards the Shannon appeal from the sale of the painting.