Wells Lifeboat News
 Back   Next 
RNLI Wells flag pin badges in stock!
Fri 16 Nov 2018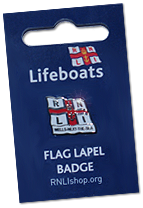 We're delighted to announce that we've managed to obtain some brand new RNLI Wells flag lapel badges. These are genuine metal RNLI Lifeboats flag pin-badges with the legend Wells next the-Sea which, as anyone who has asked recently will know, are rarely available.
The badges are available at the boathouse (when open) for a minimum donation of £3. Alternatively, please send a self-addressed envelope ready-stamped with 79p postage (2nd class large letter) and a cheque for £3 (or a larger donation) payable to "Wells RNLI" to Pin Badges, RNLI Wells Lifeboat Station, Beach Road, Wells-next-the-Sea, NR23 1DR and we'd be pleased to pop one in the post to you.

Battle's Over - Armstice Day 2018
Mon 5 Nov 2018
A national tribute will take place this Sunday November 11 to mark 100 years since the end of the World War I.
In Wells, wreaths will be laid at the war memorial at 4.30pm and a special service, to which all are invited, will be held in a marquee on the quayside at 5.30pm. As in other years, members of the lifeboat crew will join other services and groups within the town at the memorial and then march to the service on the quay (rather than to the church as usual).
The beacon in the harbour will be lit at 7pm as one of over 1000 beacons to be lit in salute. It is planned that both lifeboats will be launched at the boathouse early on the tide around 6.30pm to come up to the quay during the beacon lighting.
Wells lifeboat marks the next chapter of lifesaving
Sun 9 Sep 2018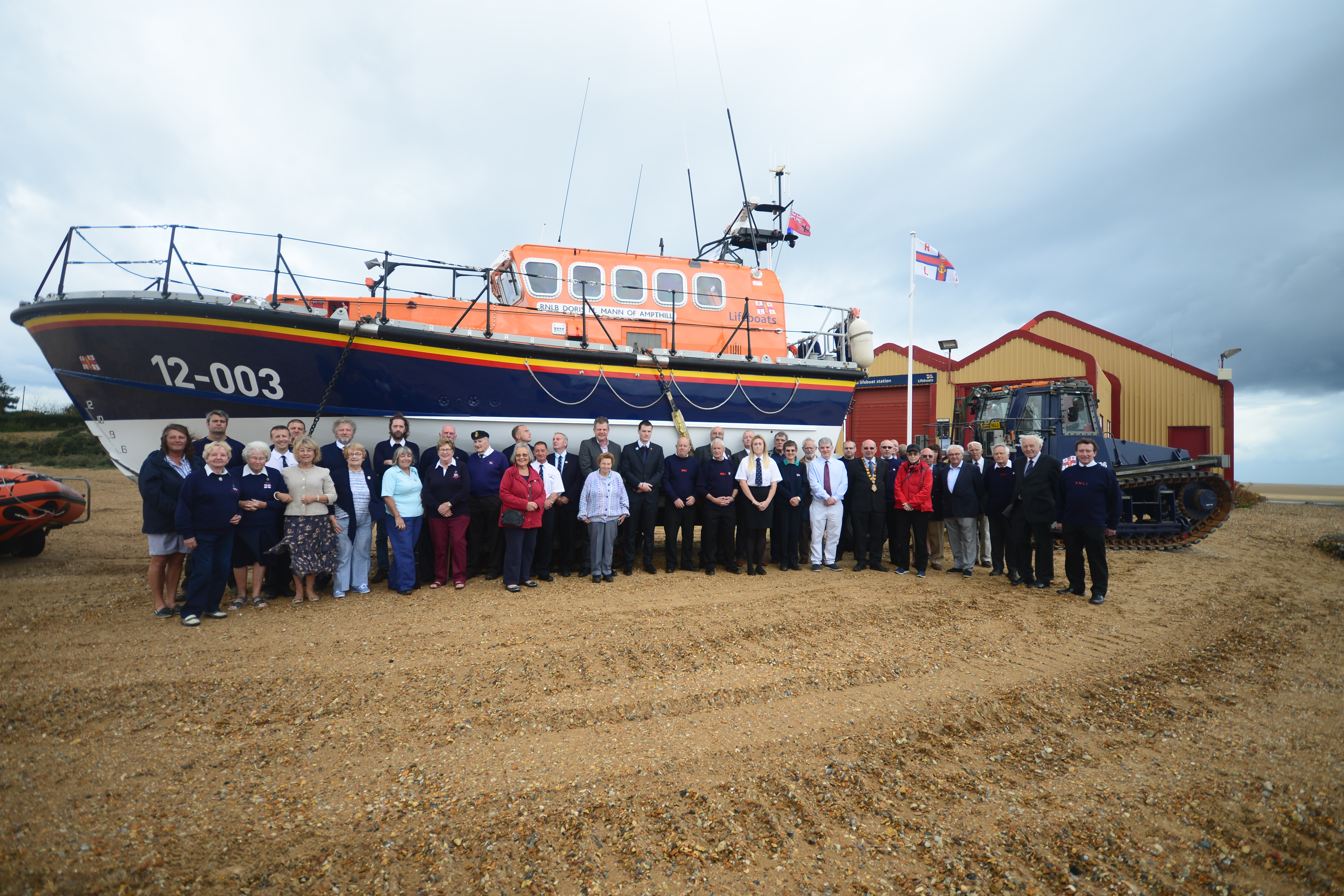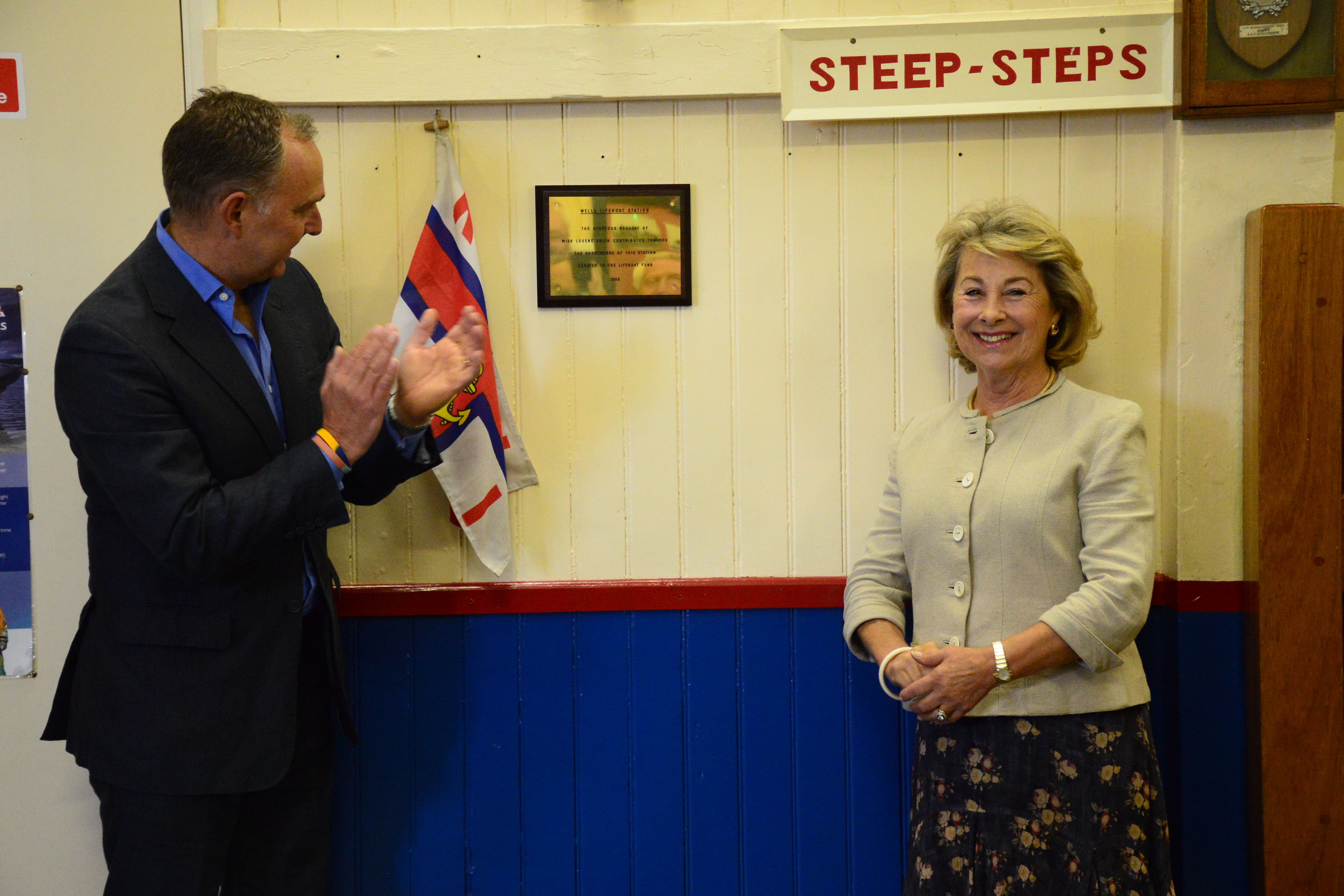 A plaque was unveiled today at Wells Lifeboat Station to mark the successful conclusion of The Lifeboat Fund's appeal to provide £1.1M towards the cost of the station's new Shannon-class lifeboat and boathouse.
The Civil Service charity The Lifeboat Fund has supported the RNLI for over 150 years and its 150th Anniversary Appeal set out to raise money for a new all-weather lifeboat for Wells. The plaque honours a generous legacy donation from retired civil servant Miss Louene Smith which took the fund to its target and provided a further £100,000 which will go towards the cost of building the new boathouse.
The Lifeboat Fund's support, along with other donations, including a local appeal which raised over £250,000, will enable crew and volunteers at Wells Lifeboat Station to begin a new chapter of lifesaving on the North Norfolk coast.
RNLI volunteers, trustees and guests attended today's event, including Sir Mark Sedwill, Chair of the Lifeboat Fund, Sarah, Countess of Leicester, Cllr Michael Gates, Mayor of Wells-next-the-Sea and John Bines, RNLI Deputy Fundraising Director.
Sir Mark Sedwill, Chair of the Lifeboat Fund, said: 'Her generosity in donating a £445,000 legacy, along with the valiant fundraisers of The Lifeboat Fund, have allowed us to complete the £1.1M of fundraising for the 53rd lifeboat we have funded for the RNLI - and provide a further £100,000 funding for the new boathouse that will be the home of the new Shannon Class Lifeboat.'
Chris Hardy, Wells RNLI Lifeboat Operations Manager, said: 'On behalf of the volunteer crew and everyone associated with the RNLI Lifeboat Station in Wells, we are deeply indebted to The Lifeboat Fund for its incredible fundraising efforts towards the cost of our new Shannon lifeboat and what a marvellous way this is for the Fund to mark its 150th anniversary of raising money for the RNLI.'
'We also acknowledge with thanks the generous legacy donation made by Miss Louene Smith, which closed The Lifeboat Fund appeal earlier this year. The money will be used to fund the earlery shore works associated with our new boathouse build, which will commence later this year.'
Fundraisers visit the station
Mon 27 Aug 2018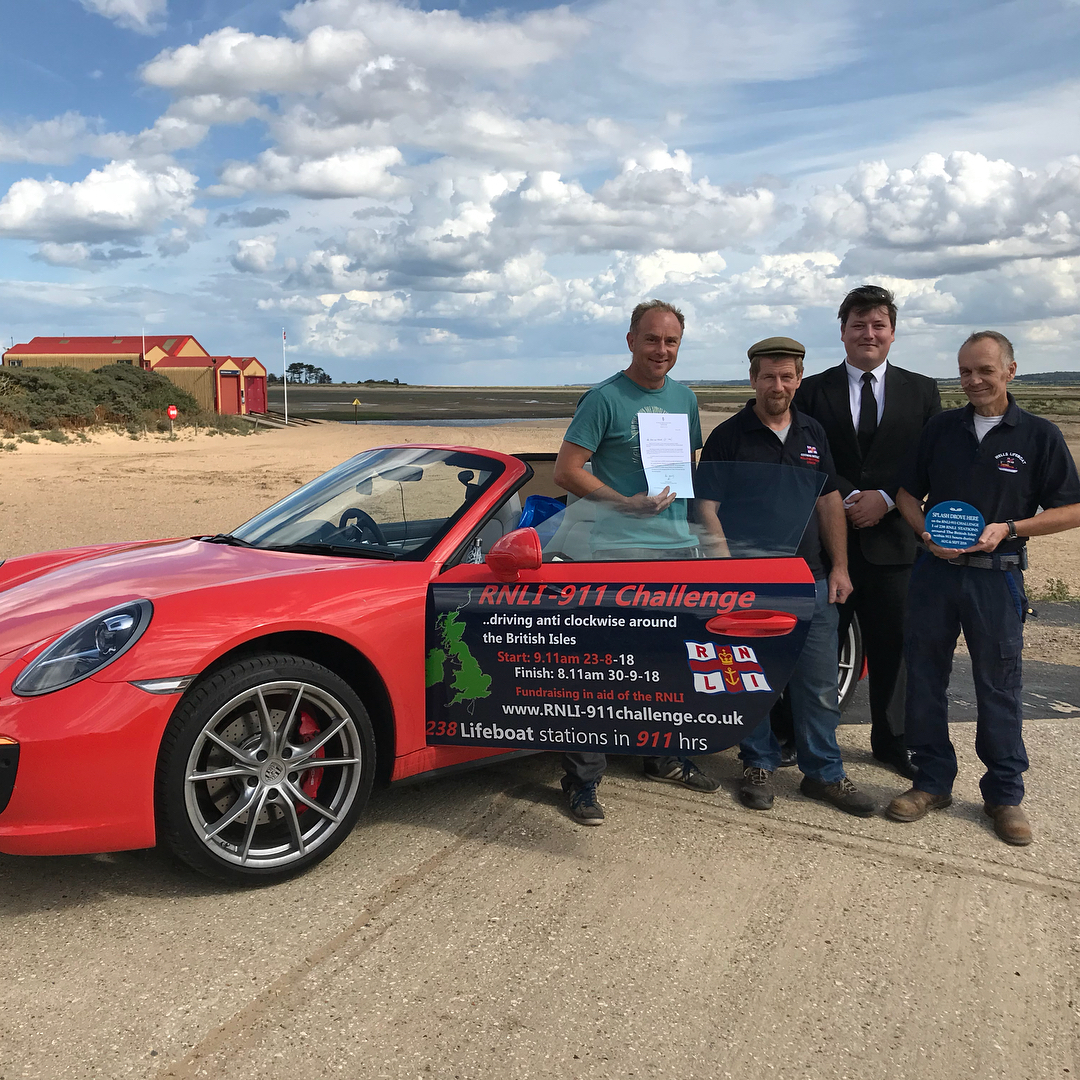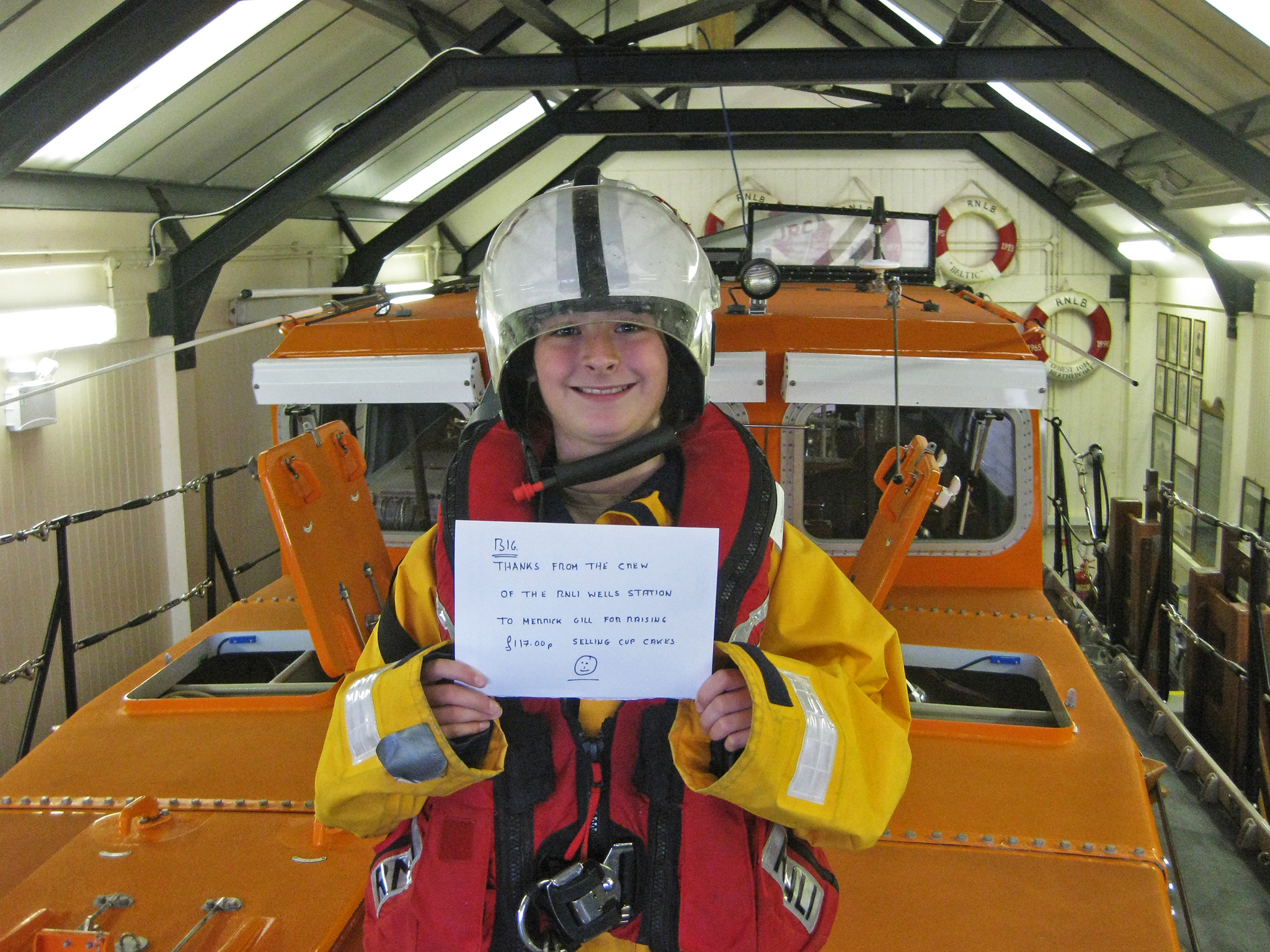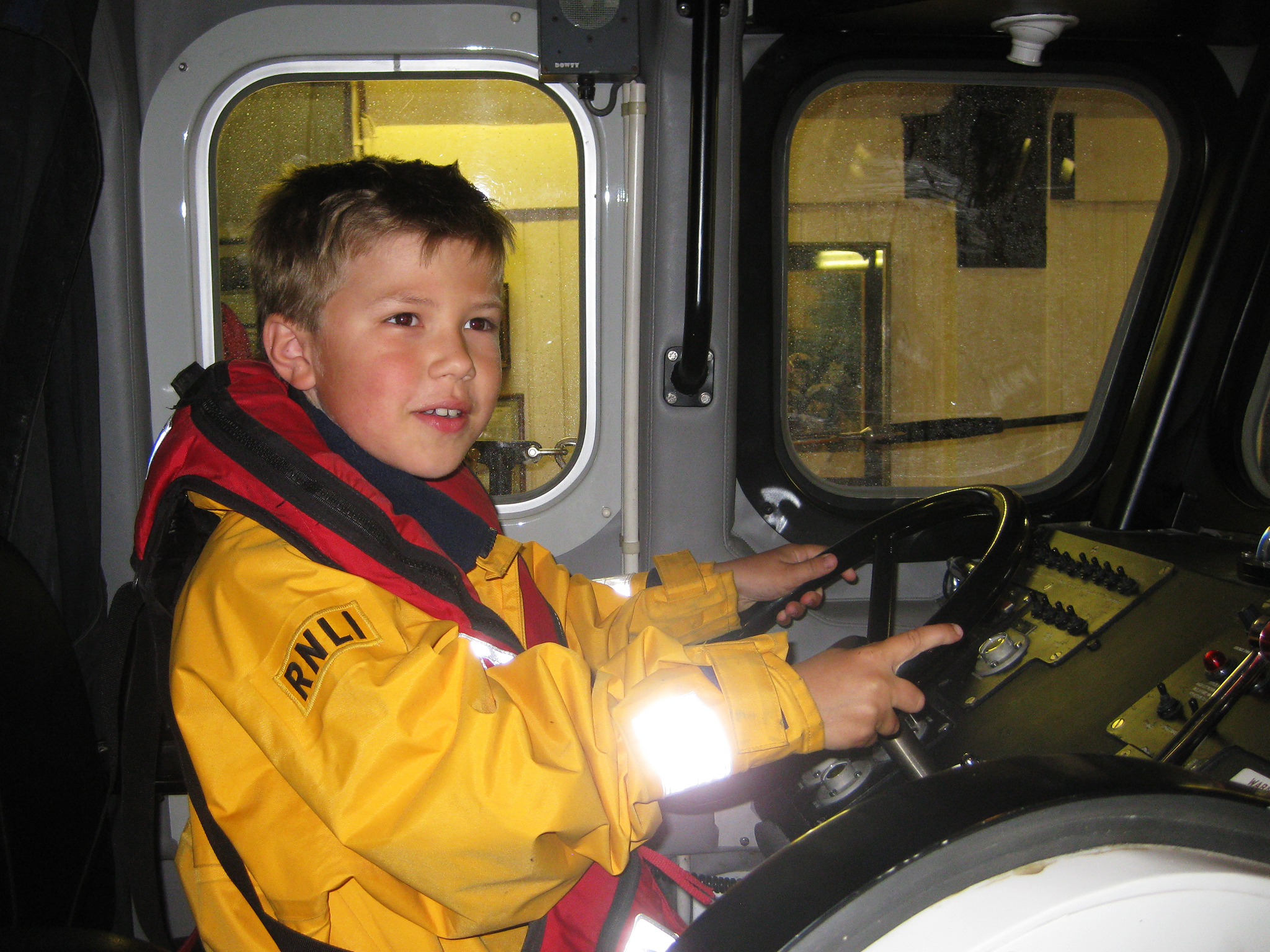 We were delighted to meet three different fund-raisers visiting the station over the bank holiday weekend.
On Friday, James and Belinda Richardson stopped by in their Porsche 911, along with friends and supporters in a selection of fast cars, as part of their RNLI 911 Challenge... to drive the 911 around the UK's coastline visiting all 238 RNLI lifeboat stations in 911 hours. The couple started from Teddington lifeboat station on 23rd August and are already at Berwick on Tweed on the Scottish border. They hope to complete their circuit by 30th September and to raise the equivalent of £238 for each of the lifeboat stations. You can read more about the challenge at the link below. follow them on Instagram and Twitter or make a donation on justgiving.
On Saturday, while the inshore lifeboat was out on a shout at Blakeney, Merrick Gill and her father from Dereham dropped in to donate £117 which she raised making and selling cupcakes. Merrick is a keen supporter of the lifeboats and hopes to work on or around boats when she's older.
Shortly afterwards, RNLI Stormforce member James Dye and his family called in with a cheque for £110 being a welly-full of money raised at his dad's Norfollk Broads boat hire business Silverline Marine in Brundall. James and his brother had a quick tour of the station and we were impressed with his mechanical knowledge learnt from helping turn cruisers around in the yard.
Our thanks to all three fund-raising teams for their support and for everyone who has donated or contributed to their efforts.
RNLI 911 Challenge website
Fakenham & District Darts League donation
Saturday 30 June 2018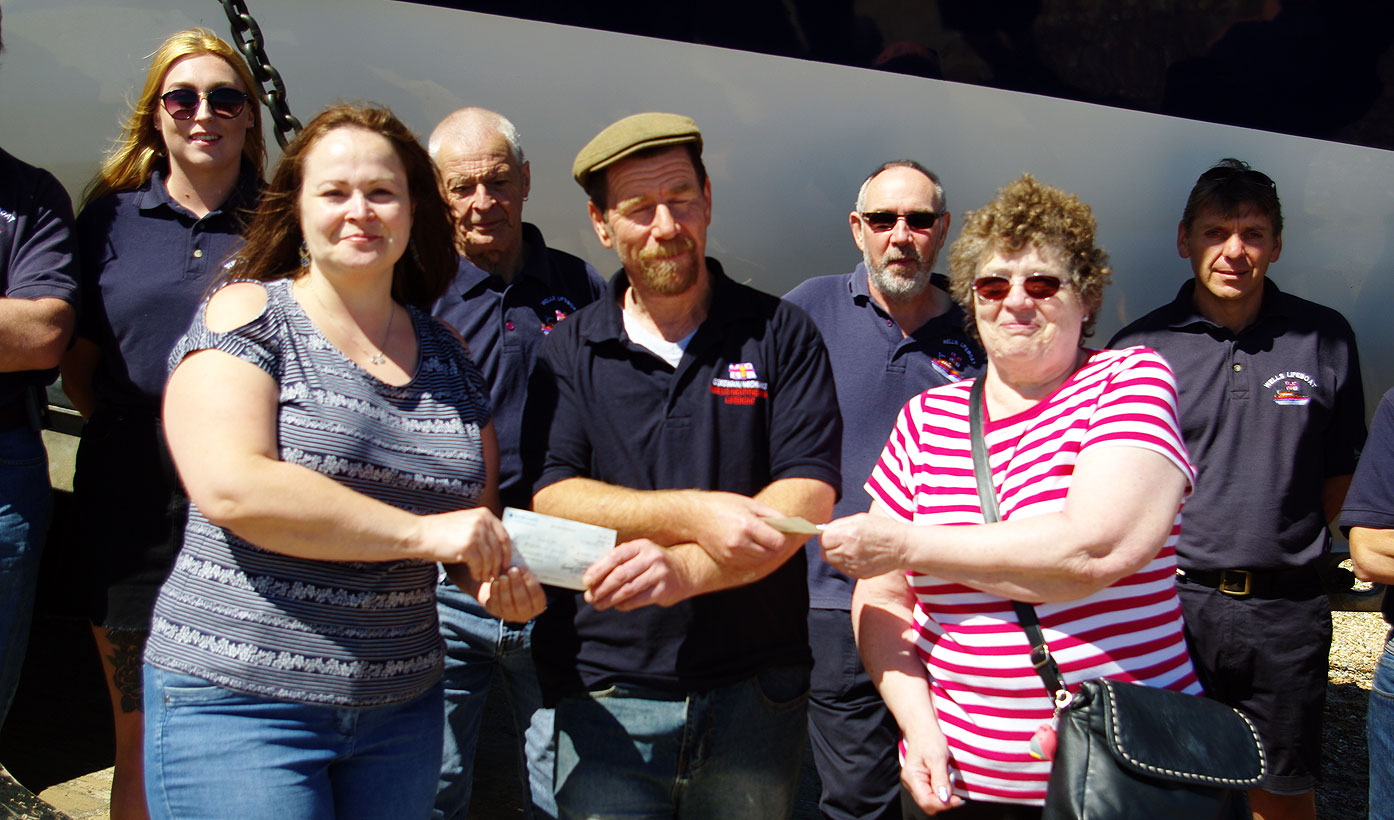 Continuing a long-running tradition of support for Wells lifeboat, representatives from Fakenham and District Darts League and the General Townshend Club in Fakenham presented the station with a donation of £1351 on Saturday morning. Angela Raimonodo and Jenny Williamson, both Captains of Ladies teams within the league, were welcomed by our chairman Peter Rainsford and met with members of the volunteer crew. The money was raised during a series of matches over the year.
Darts players in and around Fakenham have been regularly raising money for the station for many years in a tradition originally started by Mary Rumbold, landlady of the Fakenham Star pub. The crew are grateful for their support.
Planning permission granted for new Boathouse
Thursday 28 June 2018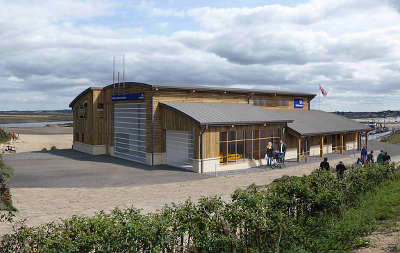 Long awaited planning permission for a new boathouse for Wells lifeboat has been granted today by North Norfolk District Council. The new boathouse will be built close to the existing one by the slipway at the end of the Beach bank. The RNLI submitted the plans to replace the existing building in November 2017.
The new lifeboat station design was conceived to provide the extra space needed to accommodate the new Shannon lifeboat and to upgrade the volunteer crew's facilities to a standard befitting the next generation of lifesavers. Space will also be created within the station to enable greater use by the local community and visitors alike. As well as providing more space for the lifeboats and launching vehicles, there will be improved crew facilities with showers, a drying room, inter-active training areas and conference facilities. The public has always been encouraged to visit the station but will now have the advantage of a more interactive experience with improved viewing areas.
Lifeboat Operations Manager, Chris Hardy said, "We're very excited about the plans for the new station, although naturally we'll be sad to say goodbye to the current boathouse. It has a long and distinguished history and it has served us well in providing a base for saving lives at sea."
Wells RNLI Chairman Peter Rainsford said, "We've been working on this project for several years. It is great news for the crew, volunteers and the local community that construction is about to commence."
It is expected that building work will begin in the autumn and will take about eighteen months to complete. The new Shannon Class lifeboat come into service in the spring or summer of 2020.
Lifeboats launch for Allen Frary's last exercise
Sat 24 Mar 2018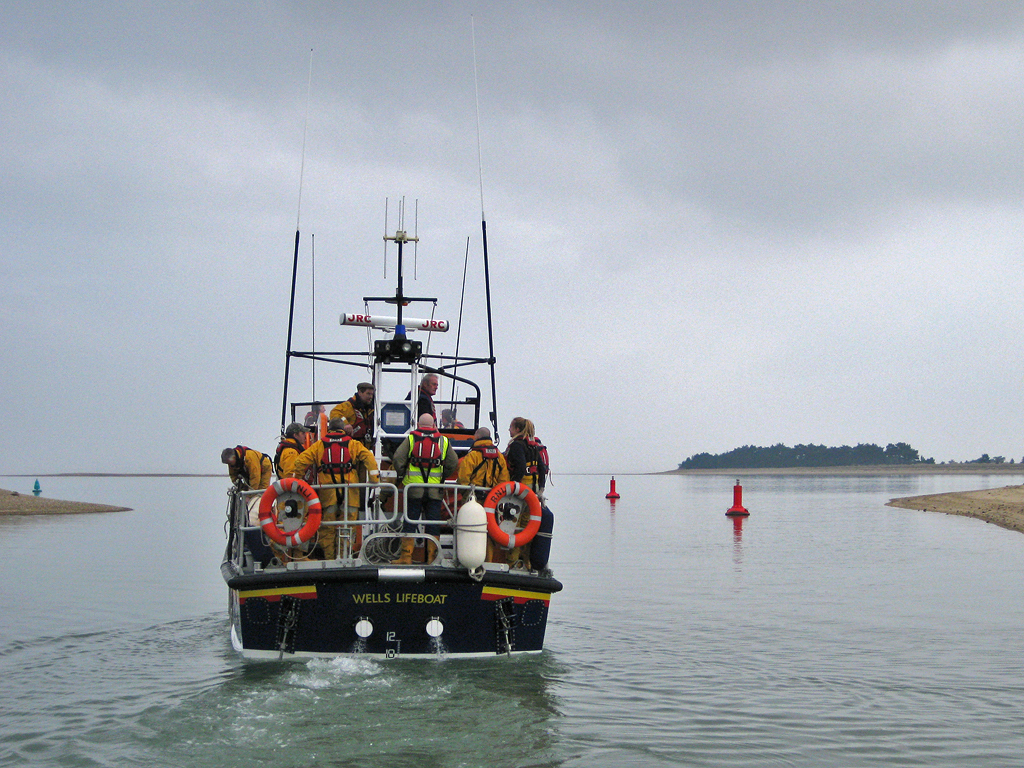 Coxswain Allen Frary took Wells Lifeboat to sea today for his last exercise prior to his retirement after 42 years on the crew, 21 as Coxswain.
The boat made several crew changes in the outer harbour so that crew, launchers, station personnel and guests could all come aboard. VIPs included station Vice President Sarah, Countess of Leicester, Tom Hill, MOD Chairman of the Civil Service Lifeboat Fund (which has so generously raised funds towards the station's forthcoming Shannon lifeboat), as well as old friends and former colleagues from the RNLI.
Wells Mersey class lifeboat and D-class inshore lifeboat were joined off Wells by Sheringham Lifeboat and Cromer Lifeboat who cruised along the coast from their stations to give Allen a fitting send-off.
After recovery, a celebration was held at the Golden Fleece pub on the quayside which kindly provided drinks and a splendid buffet. Our thanks to all who came and helped to make this a special day and our best wishes to Allen for his retirement.
Coxswain Allen Frary to retire
Mon 26 Feb 2018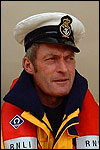 Allen has served as a member of the Wells lifeboat crew for 42 years and has been coxswain/mechanic for 21 years. He has received numerous commendations, including one for the rescue of the Dutch sailing vessel Albatros off Bob Hall's Sands and a velum award for rescuing a yacht caught on Wells Bar inheavy weather. Thanks in no small part to Allen's work, the station has sufficient well-trained personnel to cover his duties until his replacement is appointed. This was recently put to the test when he suffered a serious injury to his back and was confined to quarters for 18 weeks. Allen has made a full recovery and is looking forward to a long and active retirement.
The crew and volunteers thanked him for his service and wished him all the best for a happy retirement.
Operations Manager Chris Hardy said, "Nothing was ever too difficult for Allen. Through his time spent at sea, he can turn his hand to anything. It has been widely recognised within the RNLI, that how he maintained our Mersey class Lifeboat in such a pristine condition, set the standard which was the model for other Lifeboat Stations to follow. He is an excellent seafarer, leader of men, a great ambassador for the Institution and a natural public speaker. It has been a real privilege to work with him and I wish him every happiness in retirement."
Chairman Peter Rainsford said, "In the various roles that I have undertaken at Wells Lifeboat my work has been made easier and more enjoyable by Allen's guidance and support. He has set a gold standard for the Coxswain/Mechanic's job and has earned great respect around the coast not only for himself but also for the RNLI Wells Lifeboat Station."
Interview on ITV Anglia news 9/3/18