Wells Lifeboat News
Fakenham & District Darts League donation
Saturday 30 June 2018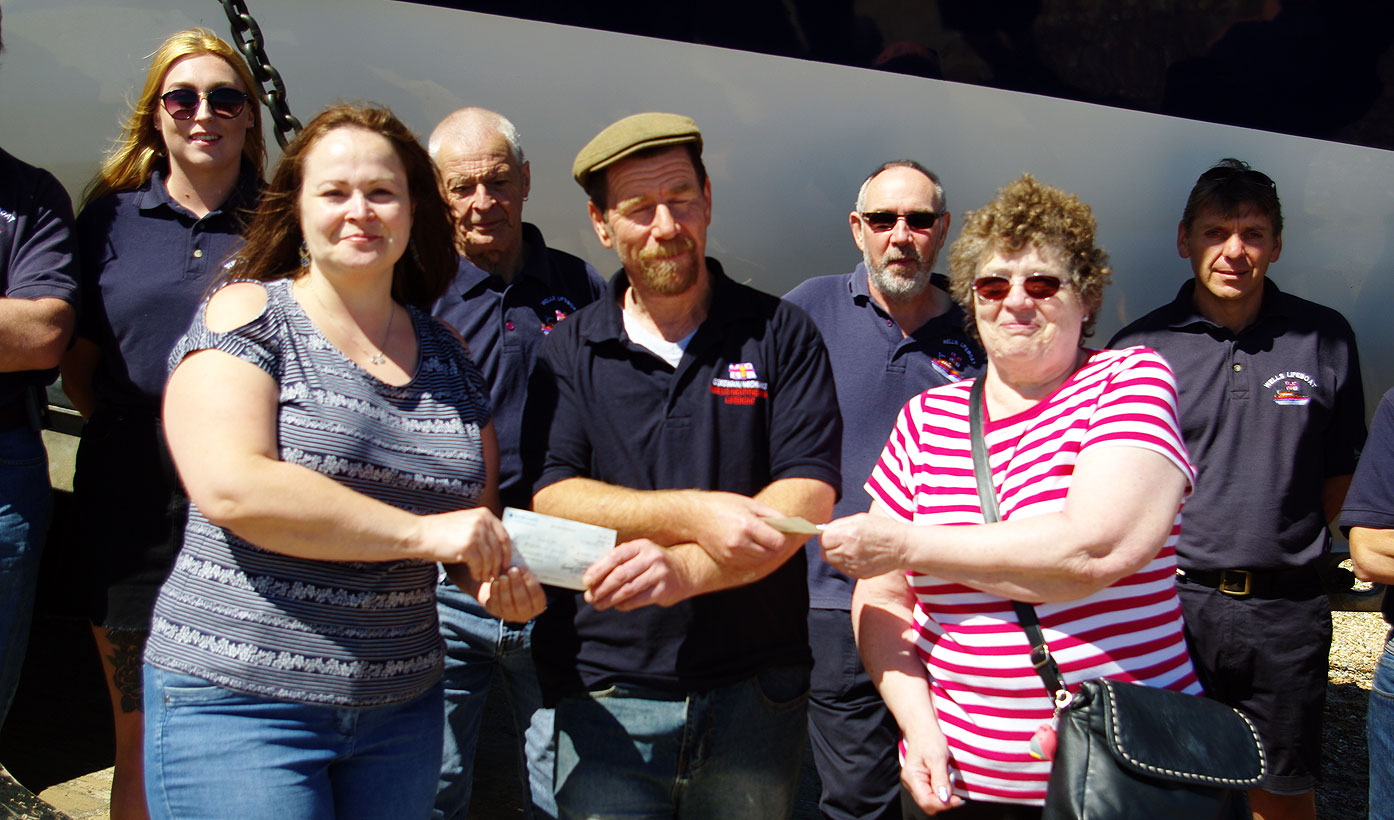 Continuing a long-running tradition of support for Wells lifeboat, representatives from Fakenham and District Darts League and the General Townshend Club in Fakenham presented the station with a donation of £1351 on Saturday morning. Angela Raimonodo and Jenny Williamson, both Captains of Ladies teams within the league, were welcomed by our chairman Peter Rainsford and met with members of the volunteer crew. The money was raised during a series of matches over the year.
Darts players in and around Fakenham have been regularly raising money for the station for many years in a tradition originally started by Mary Rumbold, landlady of the Fakenham Star pub. The crew are grateful for their support.
Planning permission granted for new Boathouse
Thursday 28 June 2018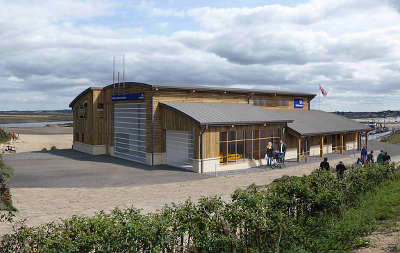 Long awaited planning permission for a new boathouse for Wells lifeboat has been granted today by North Norfolk District Council. The new boathouse will be built close to the existing one by the slipway at the end of the Beach bank. The RNLI submitted the plans to replace the existing building in November 2017.
The new lifeboat station design was conceived to provide the extra space needed to accommodate the new Shannon lifeboat and to upgrade the volunteer crew's facilities to a standard befitting the next generation of lifesavers. Space will also be created within the station to enable greater use by the local community and visitors alike. As well as providing more space for the lifeboats and launching vehicles, there will be improved crew facilities with showers, a drying room, inter-active training areas and conference facilities. The public has always been encouraged to visit the station but will now have the advantage of a more interactive experience with improved viewing areas.
Lifeboat Operations Manager, Chris Hardy said, "We're very excited about the plans for the new station, although naturally we'll be sad to say goodbye to the current boathouse. It has a long and distinguished history and it has served us well in providing a base for saving lives at sea."
Wells RNLI Chairman Peter Rainsford said, "We've been working on this project for several years. It is great news for the crew, volunteers and the local community that construction is about to commence."
It is expected that building work will begin in the autumn and will take about eighteen months to complete. The new Shannon Class lifeboat come into service in the spring or summer of 2020.
Lifeboats launch for Allen Frary's last exercise
Sat 24 Mar 2018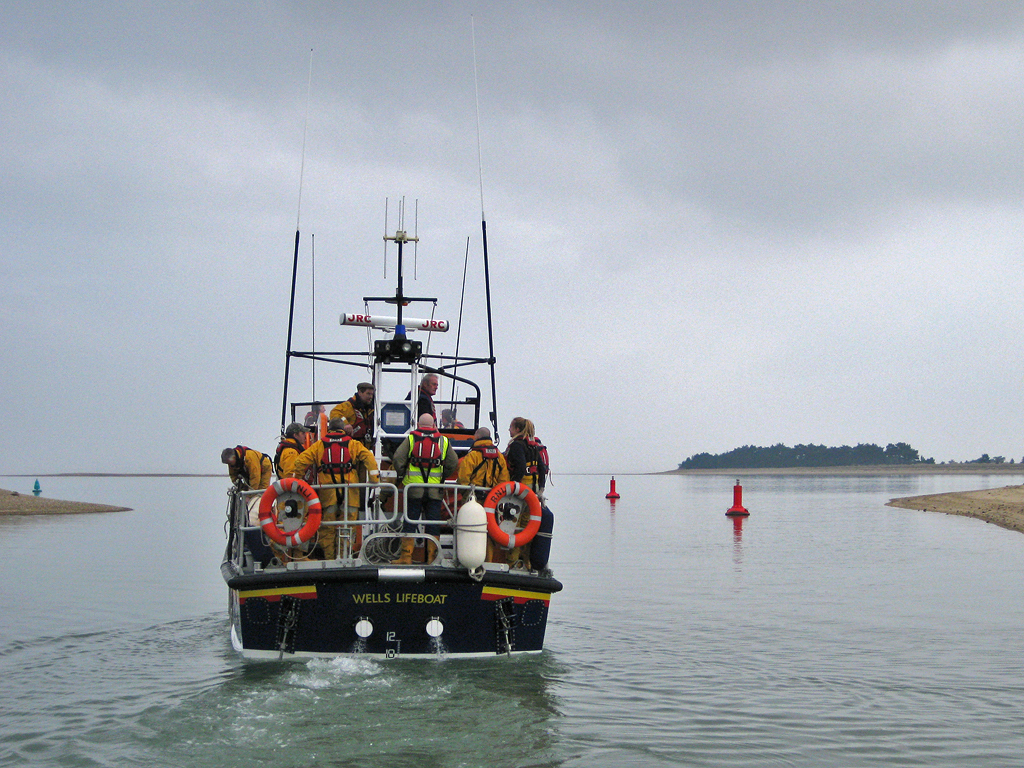 Coxswain Allen Frary took Wells Lifeboat to sea today for his last exercise prior to his retirement after 42 years on the crew, 21 as Coxswain.
The boat made several crew changes in the outer harbour so that crew, launchers, station personnel and guests could all come aboard. VIPs included station Vice President Sarah, Countess of Leicester, Tom Hill, MOD Chairman of the Civil Service Lifeboat Fund (which has so generously raised funds towards the station's forthcoming Shannon lifeboat), as well as old friends and former colleagues from the RNLI.
Wells Mersey class lifeboat and D-class inshore lifeboat were joined off Wells by Sheringham Lifeboat and Cromer Lifeboat who cruised along the coast from their stations to give Allen a fitting send-off.
After recovery, a celebration was held at the Golden Fleece pub on the quayside which kindly provided drinks and a splendid buffet. Our thanks to all who came and helped to make this a special day and our best wishes to Allen for his retirement.
Coxswain Allen Frary to retire
Mon 26 Feb 2018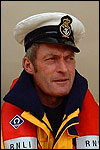 Allen has served as a member of the Wells lifeboat crew for 42 years and has been coxswain/mechanic for 21 years. He has received numerous commendations, including one for the rescue of the Dutch sailing vessel Albatros off Bob Hall's Sands and a velum award for rescuing a yacht caught on Wells Bar inheavy weather. Thanks in no small part to Allen's work, the station has sufficient well-trained personnel to cover his duties until his replacement is appointed. This was recently put to the test when he suffered a serious injury to his back and was confined to quarters for 18 weeks. Allen has made a full recovery and is looking forward to a long and active retirement.
The crew and volunteers thanked him for his service and wished him all the best for a happy retirement.
Operations Manager Chris Hardy said, "Nothing was ever too difficult for Allen. Through his time spent at sea, he can turn his hand to anything. It has been widely recognised within the RNLI, that how he maintained our Mersey class Lifeboat in such a pristine condition, set the standard which was the model for other Lifeboat Stations to follow. He is an excellent seafarer, leader of men, a great ambassador for the Institution and a natural public speaker. It has been a real privilege to work with him and I wish him every happiness in retirement."
Chairman Peter Rainsford said, "In the various roles that I have undertaken at Wells Lifeboat my work has been made easier and more enjoyable by Allen's guidance and support. He has set a gold standard for the Coxswain/Mechanic's job and has earned great respect around the coast not only for himself but also for the RNLI Wells Lifeboat Station."
Interview on ITV Anglia news 9/3/18
See our plans for the new Shannon boathouse in Wells
Thr 30 Nov 2017
Plans for the new lifeboat station in Wells to house the forthcoming Shannon-class lifeboat have been submitted to the planning authorities and will be available for the public to view at a specially organised event at Wells Sailing Club on the east quay on Tuesday 5th December. Please drop in at any time from 3pm to 7pm... all our welcome.
If you can't make this date, we will have the plans on display at the boathouse at our annual carol service on Sunday 17th December.
Bridlington lifeboat is the latest station on the East Coast to swap over from a Mersey class lifeboat to a new Shannon, joining Shannons already in service at Lowestoft, Skegness, Scarborough and Amble. Bridlington's boat 13-22 'Antony Patrick Jones' officially went on service this week.
Doris Mann back on station
Thr 30 Nov 2017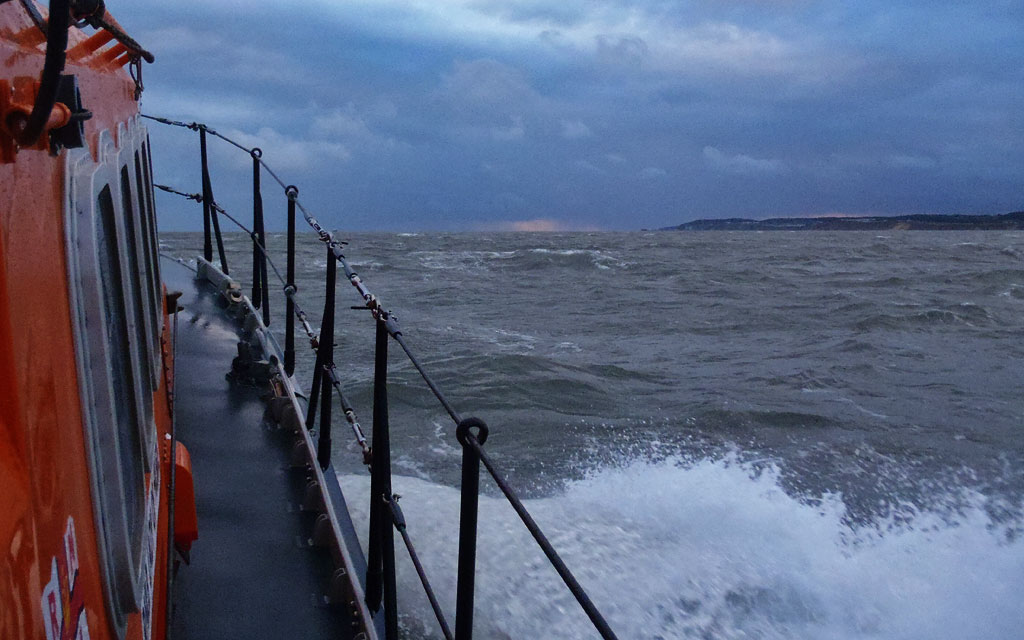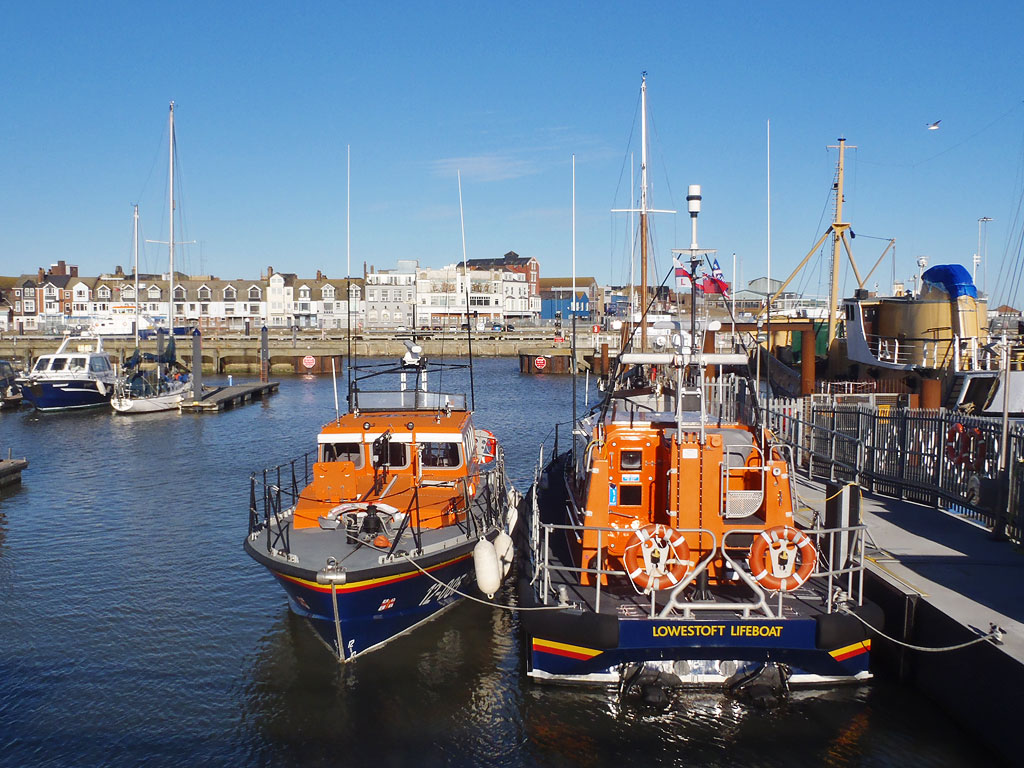 Our station all-weather lifeboat 12-003 'Doris M Mann of Ampthill' is back on service after spending some months in the outer harbour while repairs were made to a leaking engine exhaust which required custom parts to be produced. Former Hoylake boat, relief lifeboat 12-005 'Lady of Hilbre' filled in from August onwards, launching twice on service. A volunteer crew took 12-005 back from Wells to Ramsgate on 23rd November, stopping briefly at Lowestoft for fuel and a cup of tea during a 9 1/2 hour passage, returning by road the next day.
Thank you Barley Brigg & Lewisham Concert Band
Thr 7 Sep 2017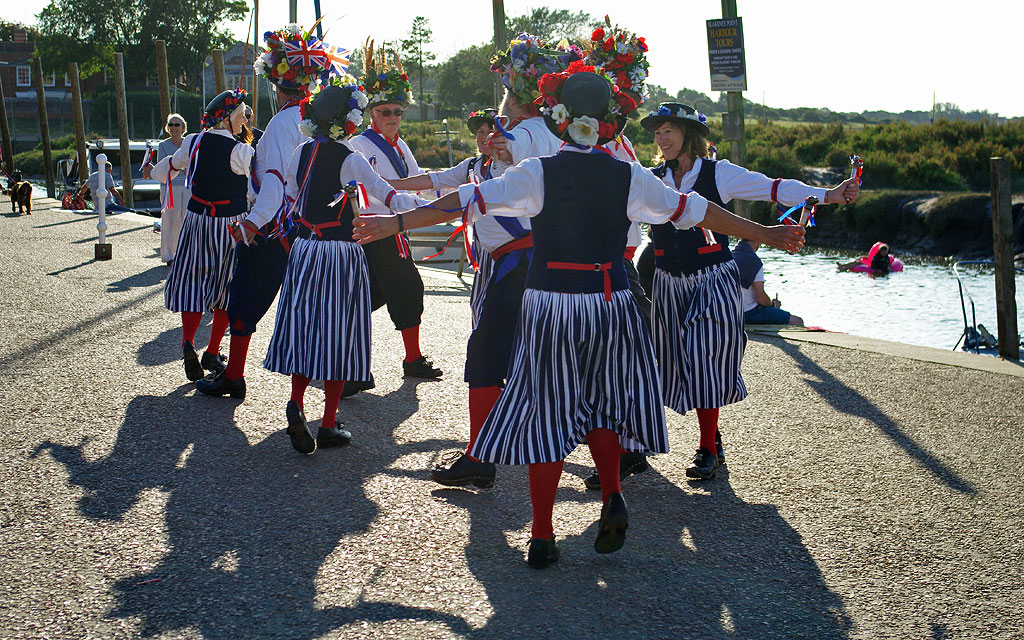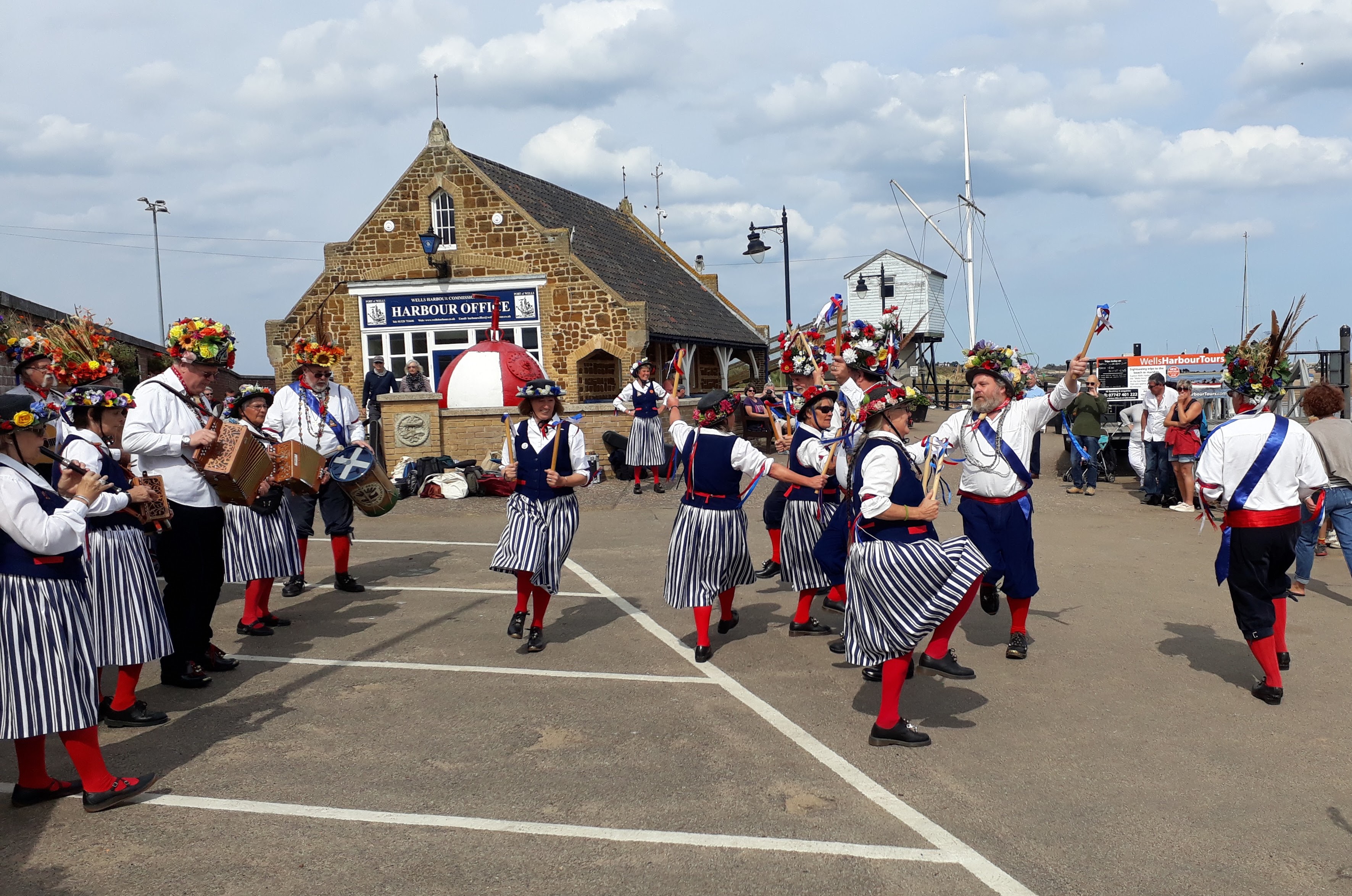 Our thanks to Suffolk-based morris side Barley Brigg who came up on a brief tour of North Norfolk last weekend. Dancers and musicians performed in Fakenham, Walsingham, Blakeney and Wells over the two days and collected £595 for Wells RNLI.
Thanks also to Lewisham Symphonic Concert Band who delighted the audience at a concert at St Nicholas Church in Wells on Saturday night organised by Wells RNLI Guild, raising £767 for lifeboat funds.
Alex Ellis-Roswell calls in at Wells
Thr 7 Sep 2017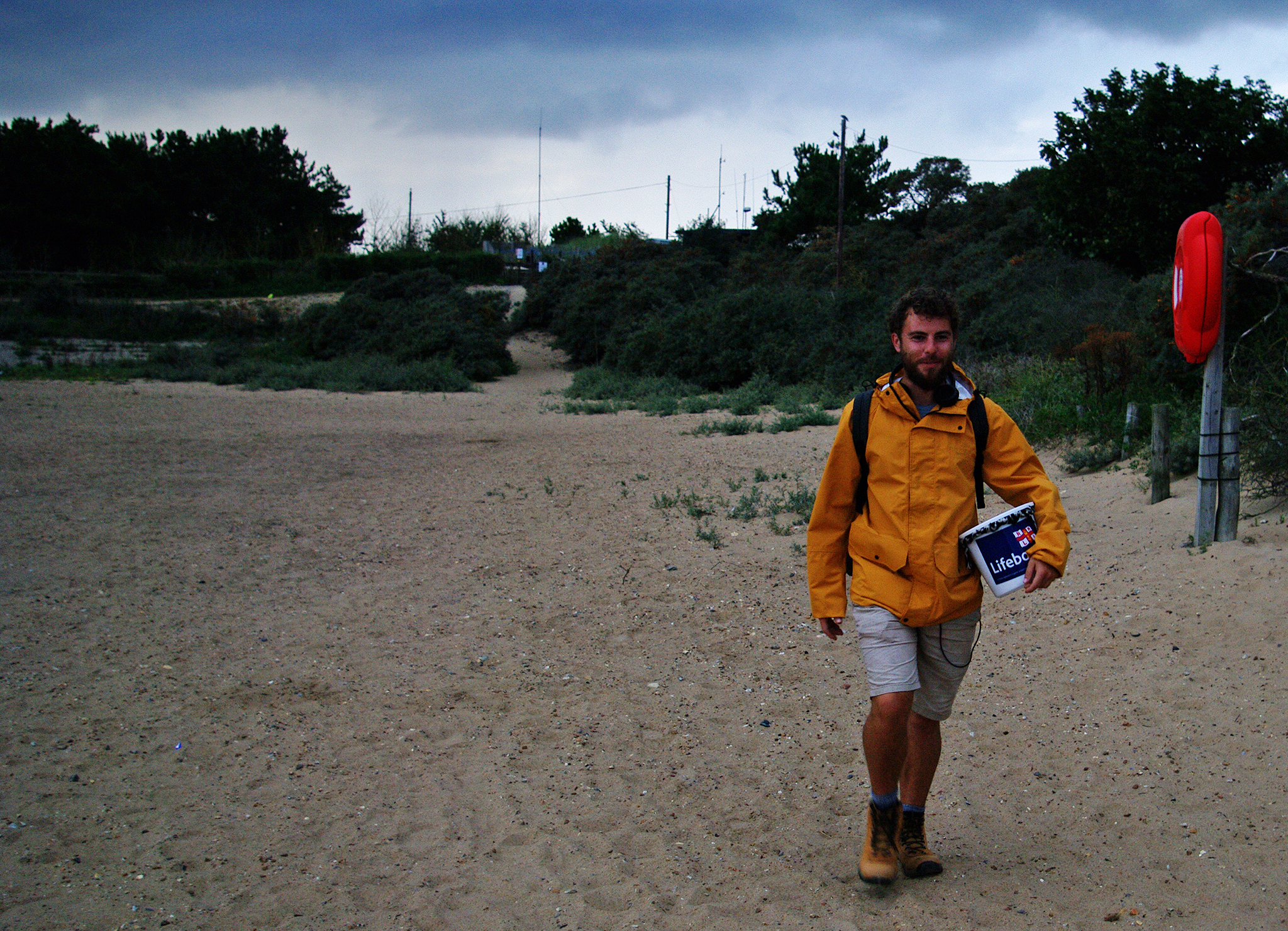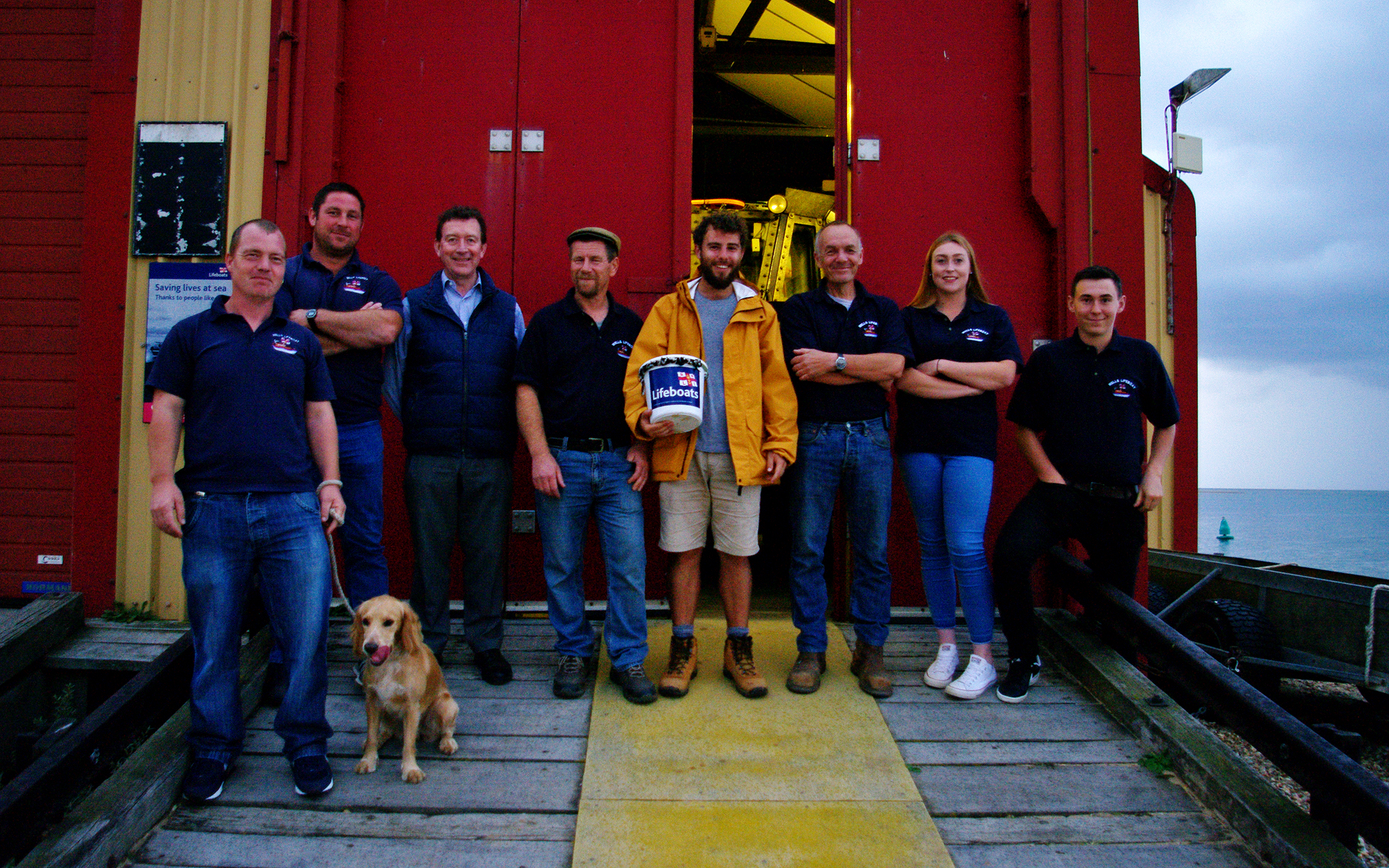 Alex Ellis-Roswell called in at Wells lifeboat station on Tuesday evening where he was welcomed by members of the crew along with chairman Peter Rainsford and Operations Manager Chris Hardy. Alex has spent the past 3 years walking the entire coast of Britain and Ireland raising money for the RNLI. He's on the home stretch now, having walked around 9000 miles since starting setting out from Margate in Kent in August 2014 but still has 500 miles or so left to go.
His epic journey has so far raised over £60,000 for the RNLI and Alex arrived in Wells at dusk having walked from Hunstanton, with a further £66 in his RNLI collection bucket.
We are hugely grateful for his support for the lifeboats and wish him the best in the final weeks of his walk. Our thanks too to those who helped with Alex's bags and lifts and to Ben and Imelda for putting him up.
You can follow and support Alex on Facebook
www.facebook.com/alexellisroswell
or on Twitter
https://twitter.com/@ELLISROSWELL
or make a donation at
Do say hello if you see Alex on his way down through Norfolk, Suffolk, Essex, London and Kent. He'd also be grateful if anyone could help with putting him up along the route...please message him on Facebook.