Wells Lifeboat News
Barley Brigg dancing for the lifeboat
Tue 29 Aug 2017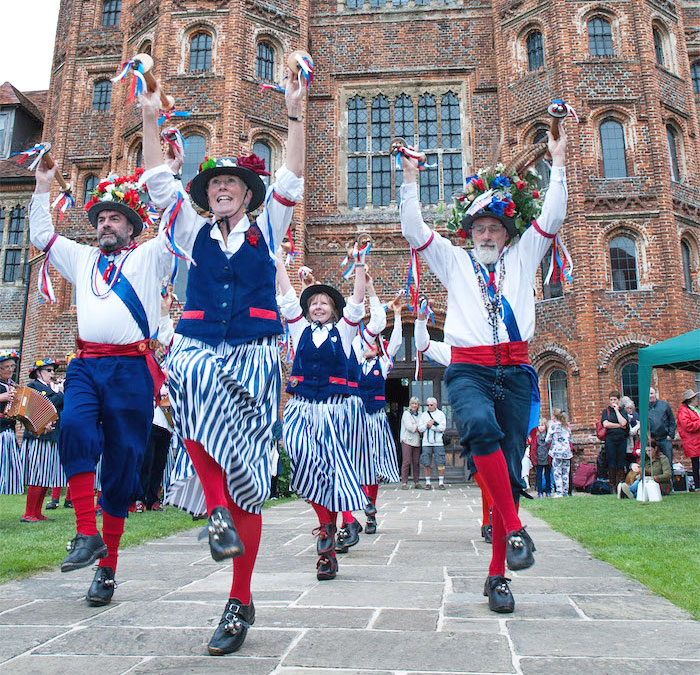 Look out next weekend for Suffolk-based morris side Barley Brigg on a brief tour of North Norfolk kindly raising funds for Wells RNLI.
Barley Brigg, a mixed morris side from Yoxford in East Suffolk dances the North-West tradition of morris which means colourful costumes and clogs with bells. They are instantly recognisable, with their patriotic colours of red, white and blue and impressive flowery hats!
You can catch Barley Brigg at:
Saturday 2nd
Fakenham Market Place, 11-11:45am
Black Lion, Walsingham, 2-2.45pm
Blakeney quay, 4.30-5.30pm
Sunday 3rd
Beach Cafe, Wells, 11.30am-noon
Wells quay, 12.30 1pm
Globe Inn, The Buttlands, Wells, 1.20-2pm
Wells quay, 3.15-3.45pm
Beach Cafe, Wells, 4.30-5.15pm
Our thanks to Barley Brigg for supporting the lifeboat. Please do come along and enjoy the show if you can...
Sheringham lifeboat celebrates 150th anniversary
Wed 12 Jul 2017
Congratulations to our flank station at Sheringham which is celebrating 150 years as an RNLI station this Sunday 16th July. There will be a parade from Station Road car park to Lifeboat Plain at 13:00, the unveiling of a plaque and then various displays and activities around the town until 17:30. All are welcome to attend.
More information...
Fundraising for Tommy's
Wed 12 Jul 2017
Wells RNLI station's former Divisional Operations Manager Neil Hancock will be running The Great North Run in September raising funds for Tommy's, a charity which funds research into pregnancy problems and provide pregnancy health information for prospective parents. Neil has worked for the RNLI in various roles for over 38 years but says nothing he's seen there had prepared him for a tragedy that overtook his family last year.
You can read more of Neil's story and support his fund-raising effort at the link below...
http://uk.virginmoneygiving.com/NeilHancock
Westminster to Wells cycle ride for Lifeboat Fund
Tue 23 May 2017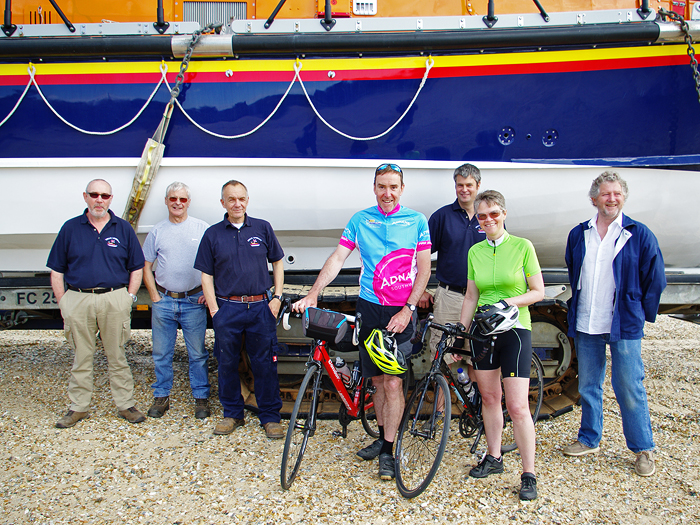 Jon and Claire Davies who both work at the Foreign and Commonwealth Office in London cycled from Westminster to Wells to raise money for the Lifeboat Fund as part of its 150th Anniversary Appeal to contribute over £1m towards the cost of our forthcoming new Shannon-class lifeboat. The ride started on Friday 19th May at Tower RNLI on the Thames and covered over 250 miles cycling to Southwold, Lowestoft and Norwich before arriving in Wells today. Jon and Claire were welcomed by some of the crew and both boats on display behind the boathouse.
The ride has so far raised almost £1000 for the Lifeboat Fund's appeal which with widespread support from civil service personnel and others across the country stands at £890,000. We are grateful for their support as well as the contributions of all those who've donated to or fund raised for the appeal.
You can see some pictures from the ride on Jon and Claire's on Twitter at @jonandclaired and read more or contribute to their effort at the link below.
Jon and Claire's JustGiving page
Shannon update
Fri 24 Feb 2017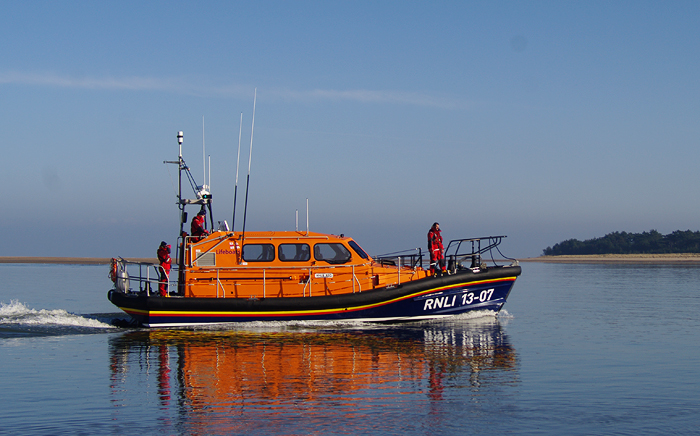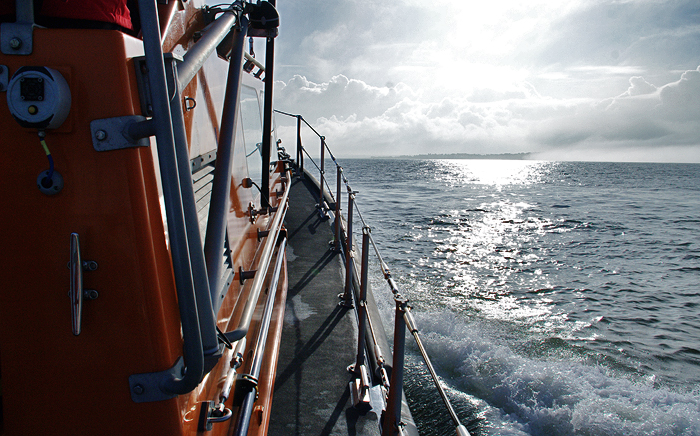 Relief Shannon-class lifeboat 13-07 Reg made a flying visit to Wells earlier this month while on passage from Skegness to Lowestoft, with a crew led by Lowestoft Coxswain John Fox. Volunteers from Wells crew were invited aboard to examine the boat and her equipment.
The lifeboat had been in Skegness to assist in crew training as the station changed over from its Mersey class 12-008 Lincolnshire Poacher to a new Shannon class boat. The new boat 13-17 Joel and April Grunnill arrived in Skegness on 28th January after a four day passage from Poole, and officially went into service as Skegness lifeboat last week.
Work continues in Wells with plans and preparation for a new boathouse to house our forthcoming Shannon lifeboat, with an environmental study into the new building having been completed.
Surge tide 13/1/17
Sun 15 Jan 2017
Surge tides and stormy conditions on Friday passed without major incident in Wells though there was more serious damage just along the coast at Cley nature reserve and Salthouse. As is usual for potential flood conditions, a volunteer skeleton crew stood by the lifeboats from the early hours of Friday morning and again from mid afternoon for the evening's larger tide in case the boats were required as the boathouse may get cut off. The doors to the boathouse are opened and pinned back to prevent damage and allow the boats to be launched if necessary, allowing the tide to wash through the building. Today's planned exercise was cancelled so the crew could help clear out sand and shingle that had been dumped by the tide through the boathall.
2016 statistics
Fri 13 Jan 2017
In 2016 Wells' lifeboats launched on service 38 times; the all-weather lifeboat (ALB) 12 times and the inshore lifeboat (ILB) 26. This included 14 services to walkers and people on shore, including cut off by tide and injured requiring medical assistance, twelve to yachts and leisure craft, including machinery failure, grounding, sinking and dismasting, seven to dinghies and kayaks, including capsized, equipment failure and found adrift, two to commercial vessels, machinery failure and a liferaft found drifting.
The station is presently manned by 40 volunteers; 23 crew, 8 shore helpers and 9 admin, and supported by the Lifeboat Guild with 40 volunteer fundraisers. We are always looking out for willing hands so if you would like to join us, please get in touch.
Coxswain Tony Jordan
Monday 19 December

We are sad to learn that former Wells lifeboat Coxswain A T Jordan passed away on Monday 19 December, age 85. A Wells fisherman, well-known, much loved and highly regarded right along the Norfolk coast, Tony joined the crew in 1946, moving to 2nd Coxswain in 1971 and being appointed Coxswain in 1986. He retired in 1989 and subsequently served on the Station Branch Committee until 2004. He remained, until very recently, a familiar face at station events.
Tony's funeral will be at St Nicholas Church in Wells at 1.30pm on 29th December. Family flowers only - donations for the RNLI and St Nicholas Church c/o T Sutton, Funeral Directors, Burnt Street, Wells.