Wells Lifeboat News
Shannon update
Fri 24 Feb 2017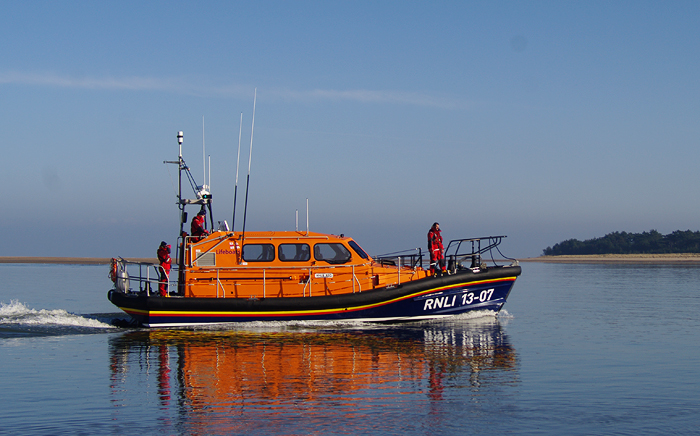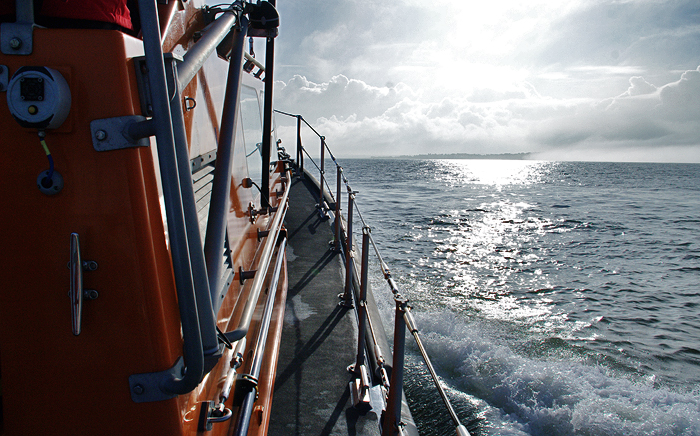 Relief Shannon-class lifeboat 13-07 Reg made a flying visit to Wells earlier this month while on passage from Skegness to Lowestoft, with a crew led by Lowestoft Coxswain John Fox. Volunteers from Wells crew were invited aboard to examine the boat and her equipment.
The lifeboat had been in Skegness to assist in crew training as the station changed over from its Mersey class 12-008 Lincolnshire Poacher to a new Shannon class boat. The new boat 13-17 Joel and April Grunnill arrived in Skegness on 28th January after a four day passage from Poole, and officially went into service as Skegness lifeboat last week.
Work continues in Wells with plans and preparation for a new boathouse to house our forthcoming Shannon lifeboat, with an environmental study into the new building having been completed.
Surge tide 13/1/17
Sun 15 Jan 2017
Surge tides and stormy conditions on Friday passed without major incident in Wells though there was more serious damage just along the coast at Cley nature reserve and Salthouse. As is usual for potential flood conditions, a volunteer skeleton crew stood by the lifeboats from the early hours of Friday morning and again from mid afternoon for the evening's larger tide in case the boats were required as the boathouse may get cut off. The doors to the boathouse are opened and pinned back to prevent damage and allow the boats to be launched if necessary, allowing the tide to wash through the building. Today's planned exercise was cancelled so the crew could help clear out sand and shingle that had been dumped by the tide through the boathall.
2016 statistics
Fri 13 Jan 2017
In 2016 Wells' lifeboats launched on service 38 times; the all-weather lifeboat (ALB) 12 times and the inshore lifeboat (ILB) 26. This included 14 services to walkers and people on shore, including cut off by tide and injured requiring medical assistance, twelve to yachts and leisure craft, including machinery failure, grounding, sinking and dismasting, seven to dinghies and kayaks, including capsized, equipment failure and found adrift, two to commercial vessels, machinery failure and a liferaft found drifting.
The station is presently manned by 40 volunteers; 23 crew, 8 shore helpers and 9 admin, and supported by the Lifeboat Guild with 40 volunteer fundraisers. We are always looking out for willing hands so if you would like to join us, please get in touch.
Coxswain Tony Jordan
Monday 19 December

We are sad to learn that former Wells lifeboat Coxswain A T Jordan passed away on Monday 19 December, age 85. A Wells fisherman, well-known, much loved and highly regarded right along the Norfolk coast, Tony joined the crew in 1946, moving to 2nd Coxswain in 1971 and being appointed Coxswain in 1986. He retired in 1989 and subsequently served on the Station Branch Committee until 2004. He remained, until very recently, a familiar face at station events.
Tony's funeral will be at St Nicholas Church in Wells at 1.30pm on 29th December. Family flowers only - donations for the RNLI and St Nicholas Church c/o T Sutton, Funeral Directors, Burnt Street, Wells.
Shannon update
Mon 19 Dec 2016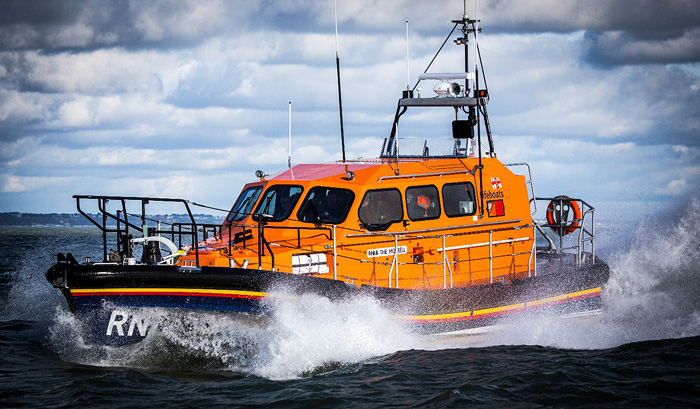 Behind-the-scenes work is now well underway for the arrival of the station's new Shannon class lifeboat. We have met with the project engineer for the new boathouse to house the new lifeboat and an environmental study, which has to be completed as part of the planning process, has commenced. We have seen some options for the design of the building and had an opportunity to feed in our own wish list. We hope to be able to set a date for an afternoon next March for a public presentation of the plans; details of the date and venue will be announced nearer the time.
The cost of the new lifeboat has been met by generous donations and legacies including a local appeal which raised £250,000 from supporters and public in the local area and across the UK. The Lifeboat Fund, a civil service charity which has long raised money for lifeboats is also supporting us, aiming to raise £1.1m towards the new boat in its 150th Anniversary Appeal.
Christmas Carol service at the boathouse
Mon 19 Dec 2016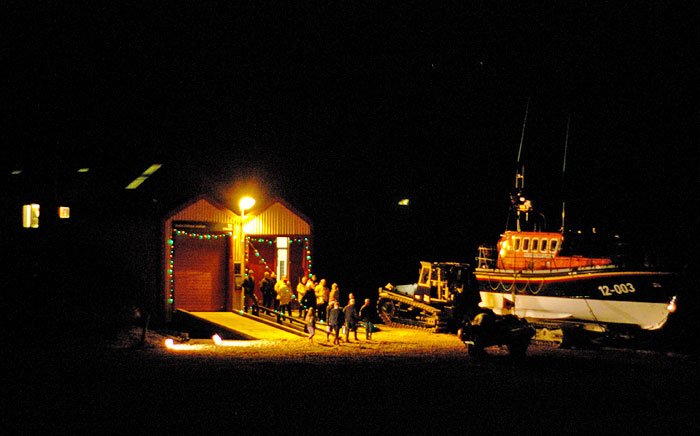 Around 150 people gathered at the boathouse for Wells' annual lifeboat carol service with plenty of festive spirit even though the mild weather wasn't exactly seasonal. The lifeboats were moved onto the beach to make space for the congregation and the boathouse was decorated with fairy lights and a Christmas tree.
Lifeboat Chaplain Neil Woodruff led the service and gave the blessing. Fakenham Town Band accompanied the carols, which were led by the Wells Churches Together Choir. Lifeboat Chairman Peter Rainsford, Coxswain Allen Frary, Operations Manager Chris Hardy and Crewman Martyn Flitcroft read the lessons and the Rev Alan Elkin of St Nicholas Church gave the address. Afterwards, the congregation was treated to mince pies and hot drinks courtesy of the Lifeboat Guild. A collection, which will go to lifeboat funds, raised over £350.
New Wells ILB 'Peter Wilcox' is named in style
Sun 9 October 2016
A service of dedication and official naming ceremony for the station's new inshore lifeboat was held today at the boathouse.
More than 200 guests and supporters of the RNLI took part in the ceremony. D-797 Peter Wilcox is the 12th D-class inshore boat to be stationed at Wells since this type of lifeboat was first introduced in the early 1960s.
The boat is named after the late Peter Wilcox, whose widow Jayne officially named her by pouring champagne over the bows.
Peter Wilcox, from Windsor in Surrey, was a keen supporter of the RNLI all his life. In his later years, he fell in love with North Norfolk and bought a holiday home in nearby Weybourne. Having supported many charities throughout his life, his ambition though was to sponsor a lifeboat. Friend, Robert Holland, who gave a reading called 'It's a Shout', said how he'd once been summoned by Peter to be told that they were going to sponsor a lifeboat. That wish came true after he had died, when, with the support of family and friends, he was chosen to sponsor the new lifeboat for Wells.
RNLI Council member, William Everard, accepted the lifeboat from Jayne Wilcox and then handed it into the care of Lifeboat Operations Manager, Chris Hardy, and Wells Lifeboat Station. Lifeboat Chaplain, Rev Neil Woodruff led the service of dedication.
The ceremony also had its light-hearted moments, with Fakenham Town Band playing 'Satisfaction' and 'Goodbye Ruby Tuesday', as Peter was a Stones fan. The Blakeney Old Wild Rovers and audience also sang 'Home From the Sea'.
At the end of proceedings, Lord Leicester, who is President of Wells Lifeboat, gave a vote of thanks. After being named, the lifeboat was launched and the crew showed her paces around the outer harbour. Guests were then treated to an extensive buffet and further entertainment from the Blakeney Old Wild Rovers.
More pictures in our photo gallery... (UPDATED 14/10/16)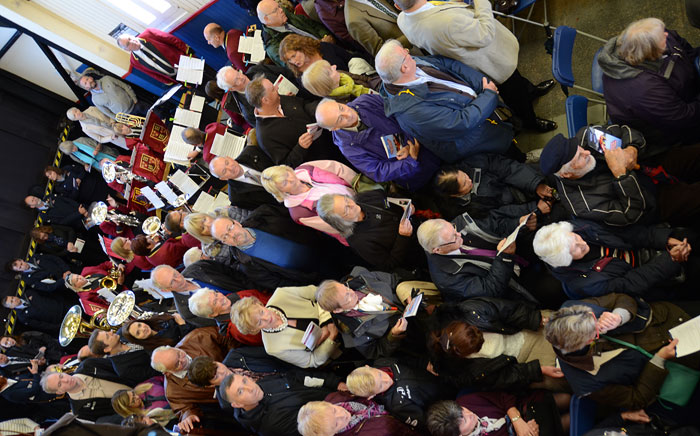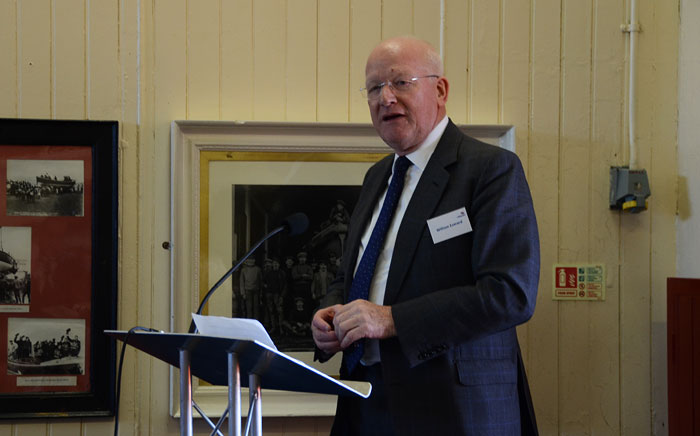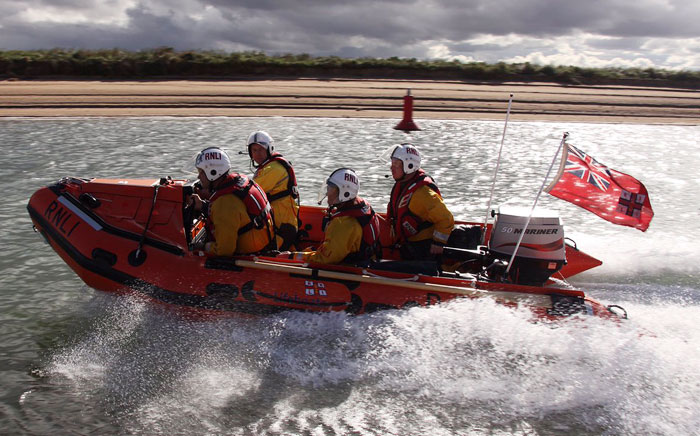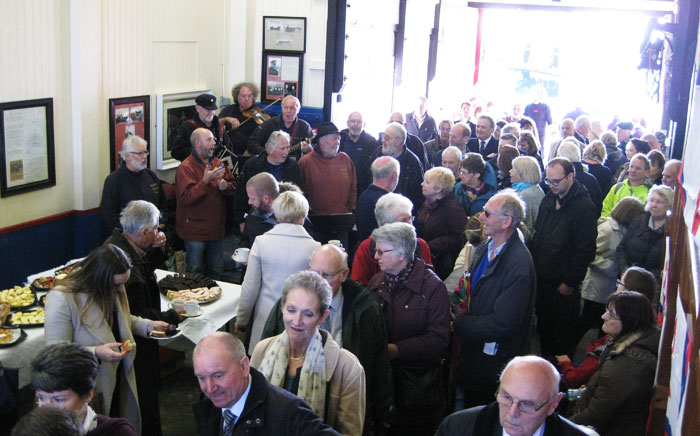 New painting celebrates horse-drawn lifeboat launches
Wed 3 Aug 2016
Artist Shirley Carnt's new painting is based on filming undertaken on Holkham Beach last year for a Lloyds bank advertisement featuring a horse-drawn lifeboat launch. The painting is to be donated to the station but will be on show at Shirley's summer exhibition at her studio at The Coastguard House, The Green, Thornham, PE36 6NH, which runs from 10am to 6pm every day from 20th August to 10th September 2016.
Five Wells crewmembers joined to help with the filming with the historic former Upgang and Whitby lifeboat William Riley. The television commerical along with posters based on still images from it received wide exposure last year.
Horses played a major role in launching lifeboats around the UK right up to the 1930s. At Wells, horses were rounded up from local farms to tow the lifeboat on its carriage out over Holkham Beach to the sea. Committee notes dating back to 1869, when the station was formed, show it was not always easy to persuade owners to let their horses be used. In Novemer 1872, the minutes note:
Mr. Lord having refused to furnish horses to take the boat down to Holkham Beach on the 15th inst. It was resolved that a letter be written to Mr. Walker asking him if he would provide horses when required for carriage of the Boat.
and again in 1876,
Proposed by C. Middleton, seconded by R.R. Rump that all the farms in Wells be asked if they are willing to supply horses to transport the Life Boat to any point required.
And in Sept 1877:
Proposed by Mr. J. Wilden that Misters H.R. Rump, R.R. Rump, H.A. Dewing and J. Andrews wait upon the farmers above or near this beach to know if they will supply horses to convey the Life Boat to any place required.
It seems that farmers were unwilling to volunteer their animals for free:
Jan 1878. Mr. Charles Middleton having offered the use of eight horses for one year to convey the Boat to any place required at the cost of 10s for each horse.
Nov 1879. C. Middleton Esq. has agreed to find horses to convey the Boat to any place for the sum of ten shillings per hour and two shillings and six pence for each driver.
Wells was the last RNLI lifeboat station to use horses to launch its lifeboat, with a tractor finally being installed to replace them in 1936.
Visit Shirley Carnt's website