Wells Lifeboat News
Newfoundlands raise over £700
Tue 26 Jul 2016
Our thanks to all at East Anglian Working Newfoundlands who once again came to Wells last month to put on a show on our behalf. A good crowd on the quayside were treated to seeing these amazing rescue dogs in action in the water, culminating in a mass staged rescue by one dog bringing 14 people to shore including two of our lifeboat crew. Over £700 was raised for the lifeboat service from sponsorship and a collection taken on the quay.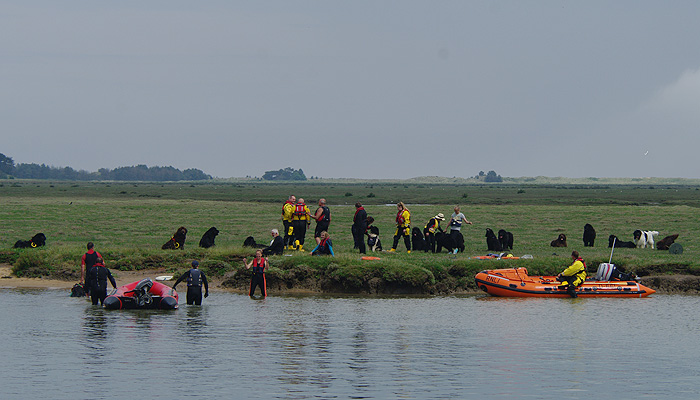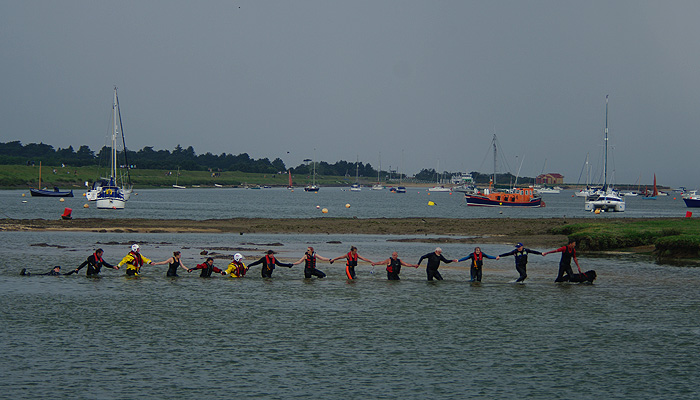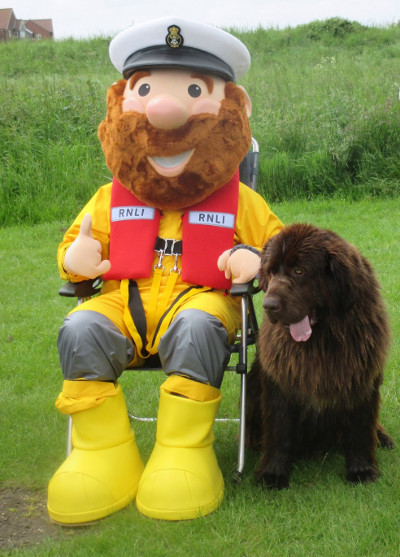 Station welcomes new inshore lifeboat D-797 'Peter Wilcox'
Tue 12 Jul 2016
A brand new inshore lifeboat D-797 Peter Wilcox was delivered by the RNLI and placed on service at Wells today. The IB1 D-Class lifeboat was generously donated in memory of Peter by Jayne Wilcox and his family and friends.
Jayne came to Wells to welcome the new boat and joined in helping crew members change the boats over and prepare the new boat for use. Once set up, D-797 was launched and given a brief test run around the harbour to ensure all was well before being washed down, rehoused and officially placed on service as the station's new inshore lifeboat.
Peter Wilcox is the 12th D-class inshore boat to be stationed at Wells since this type of boat was first introduced in the early 1960s and replaces the previous D-661 Jane Ann III which left the station to return to the RNLI, where she will likely serve in the relief or training fleet. D-661 was on station for almost 10 years, launching on service 223 times and was the third boat in sequence to carry the Jane Ann name, covering a period of 28 years.
A formal naming ceremony and welcome for the new lifeboat will take place later in the year.
pics: FW and MP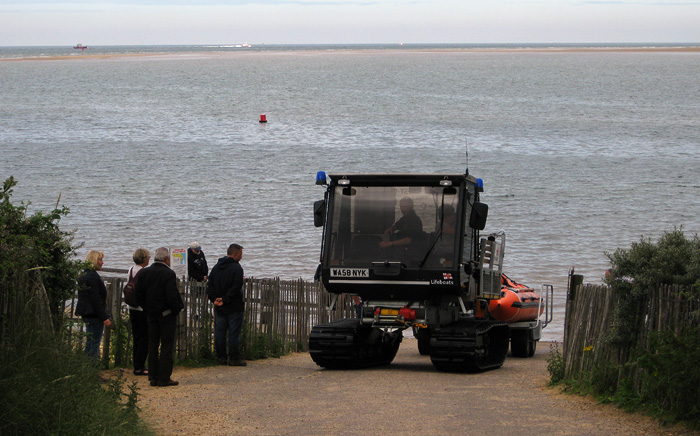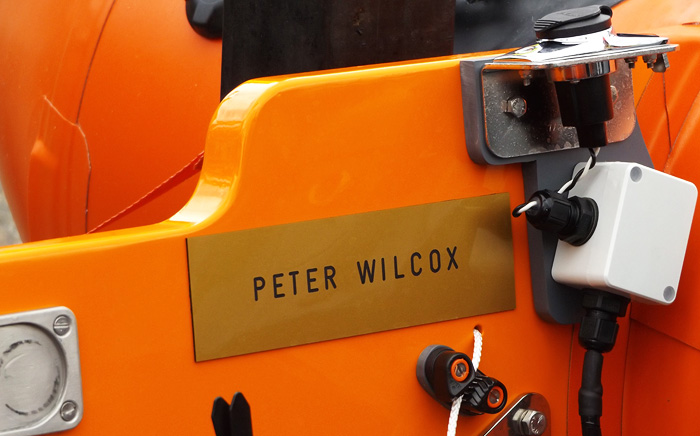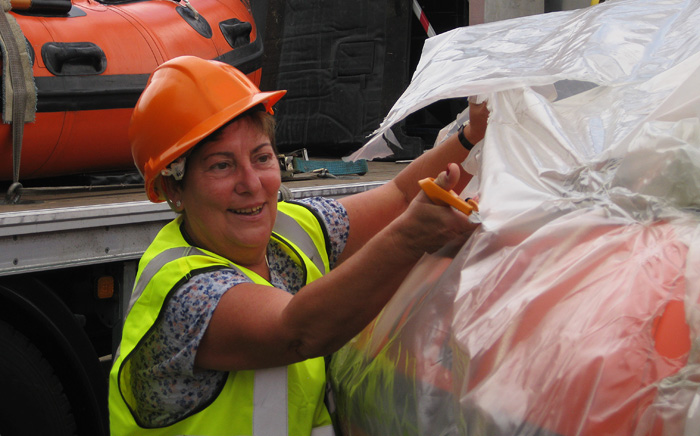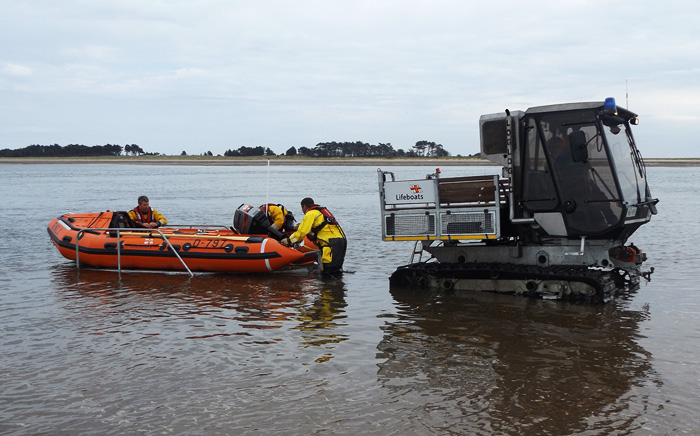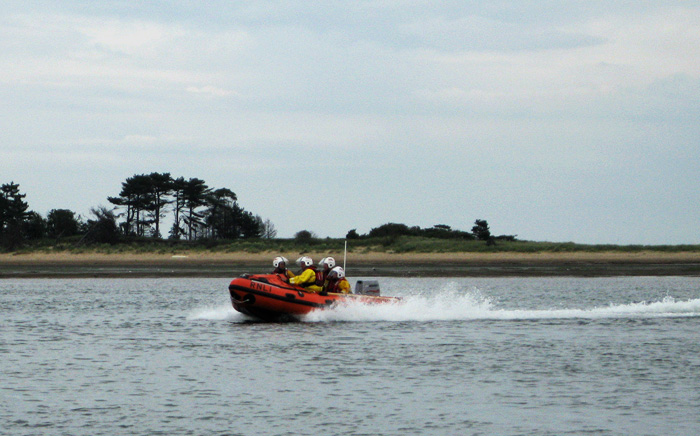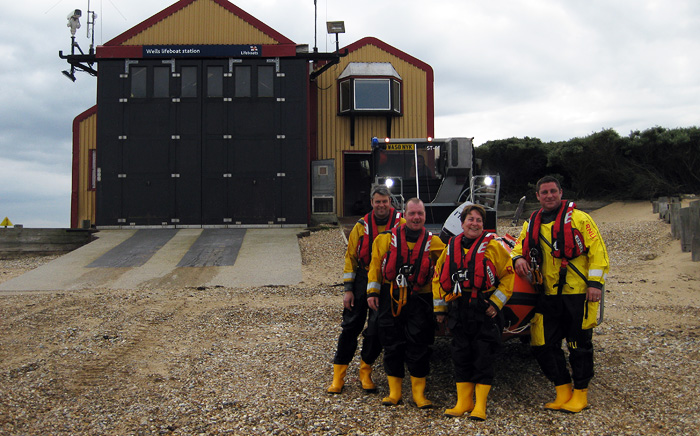 Walking the North Norfolk coastpath for the RNLI
Sat 4 Jun 2016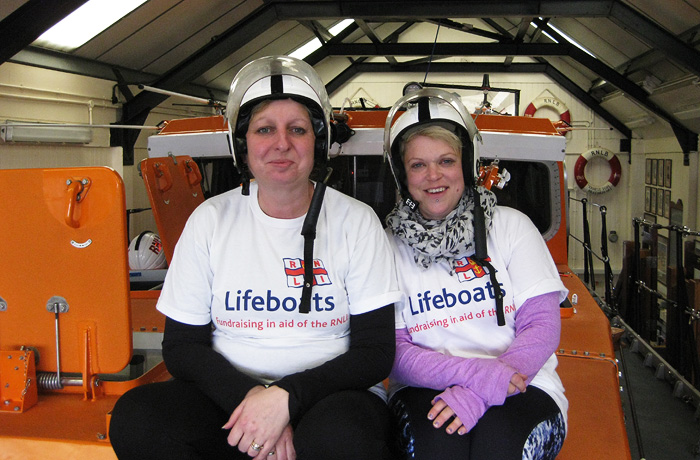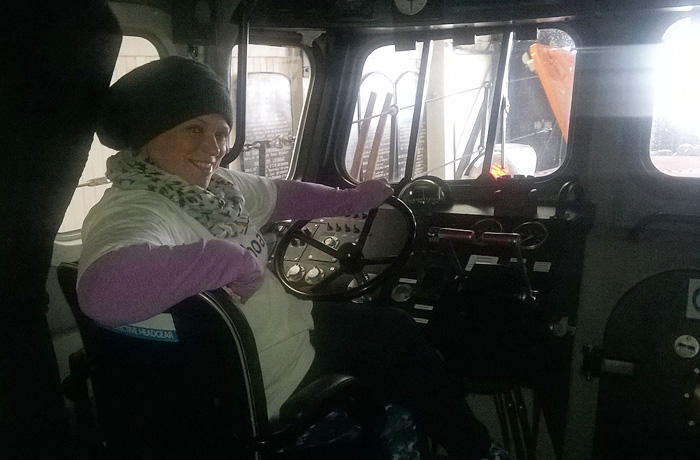 Hazey Coker and Tracy Mcgivern stopped by the boathouse today halfway into their 47 mile North Norfolk coast path walk to raise funds for the RNLI. The dynamic duo, who have no real history of hiking or camping, set off from Cromer on Friday and aim to complete their walk on Sunday 5th at Hunstanton, having camped over at Stiffkey and Burnham Deepdale and visited one or two pubs and eateries on the way.
You can read more, with lots of great pics, on their Facebook page at or support their efforts at their GoFundMe page or if you bump into them on the walk.
We really appreciate their support and wish them all the best with the rest of the walk...
Blakeney Old Wild Rovers raise £4000 for Shannon
Tue 5 Apr 2016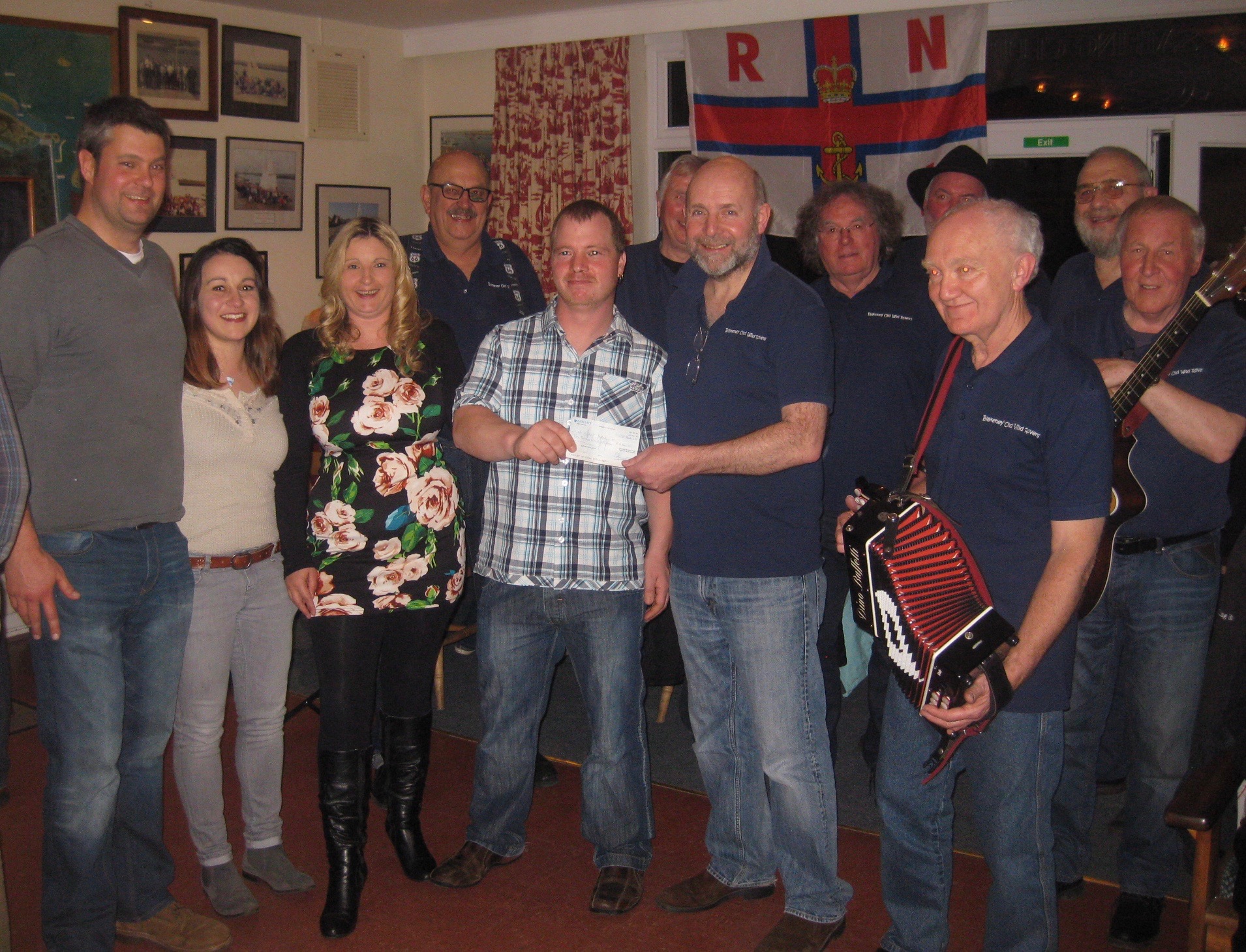 The Blakeney Old Wild Rovers presented Wells RNLI with a cheque for £4000 at a lively social evening at Wells Sailing Club this weekend. The shanty group has raised the money over the course of the last year at its gigs and through CD sales. The funds will go towards the cost of a new boathouse and launch and recovery equipment for the station's forthcoming new Shannon class lifeboat.
The cheque was presented by Brin Siller of the Old Wild Rovers to Deputy Second Coxswains Mark Frary and Martin Emerson, Mark's partner Charlotte Jordan and Martin's wife Amy Emerson.
The Old Wild Rovers raise money for a nominated charity every year and over 16 years have now raised in exceess of £190,000 for charities including the EDP Flood and We Care appeals, the King's Lynn Hospice and the air ambulance. This donation joins over £250,000 raised in 2014 and 2015 in a local appeal towards the cost of the new lifeboat and additional donations and fundraising towards the overall cost of the project.
An additional £190 was raised on the night from Jill and Peter Scillitoe who provided the catering and donated the evening's takings.
We'd like to thank the Old Wild Rovers and everyone for their continued support.
Packed boathouse for carol service
Wed 30 Dec 2015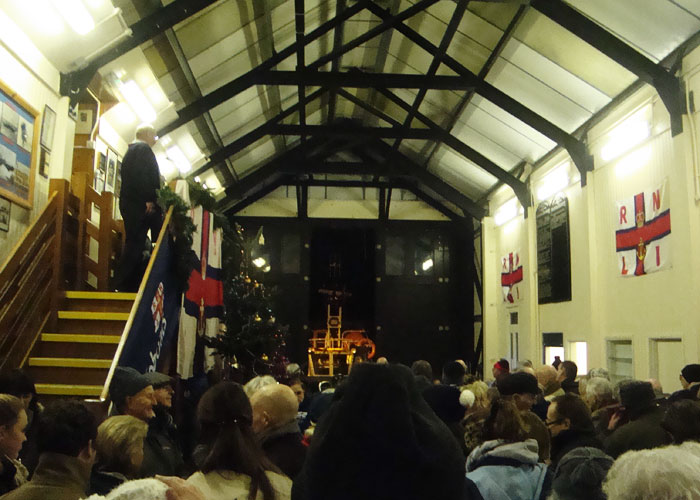 The station's carol service on 13 December saw the boathouse once again packed with local residents and visitors to the town alongside crew and their families. Our thanks for musical assistance provided by Fakenham Town Band and Wells Churches Together. and refreshments by members of Wells RNLI Guild. A bucket collection raised £386. We hope to see you all again next year.
DONG Energy supports Wells and 5 other RNLI stations
Tue 8 Dec 2015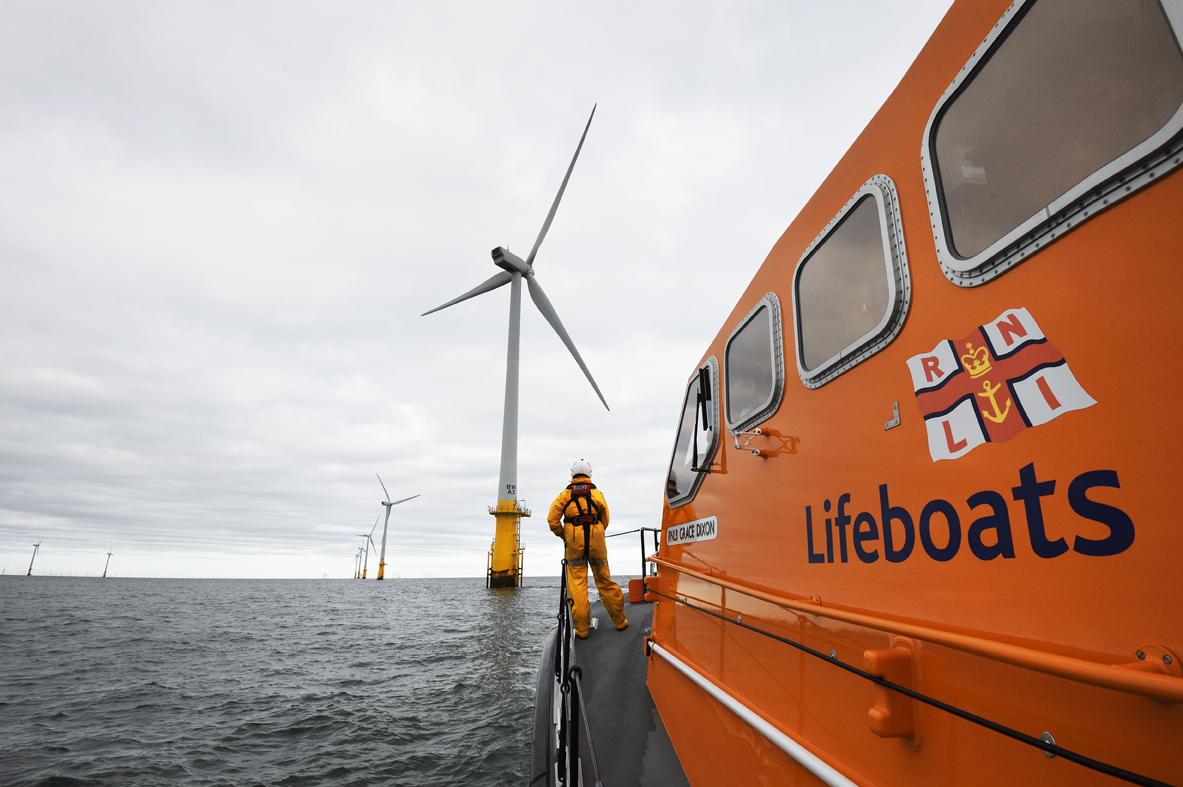 Global energy company DONG Energy has agreed to make a £120000 contribution over two years towards the running costs of six RNLI stations at Wells, Clacton and Humber on the east coast, Barrow and New Brighton in the north-west and Ramsgate on the south coast.
DONG Energy is a leading pioneer in offshore wind generation with currently eight operational offshore windfarms in the UK and a further four in development, all located in areas covered by the six selected RNLI stations. The funds will be used for day-to-day running costs of the lifeboats at the stations, mainly fuel used in launches and rescues as well as minor items replaced during routine maintenance.
Brent Cheshire, DONG Energy's UK country chairman, said: "The RNLI is a fantastic charity that does incredible work, and I am thrilled that we are making a major contribution to the lifeboat running costs for six stations across the UK.... As a company operating at sea ourselves, we know all about the extraordinary support that the RNLI provides to coastal communities. DONG Energy is fully committed to making a positive contribution to the local areas where we operate and that's why this partnership makes so much sense."
Wells Shannon Lifeboat Appeal
reaches £250,000 target!
Fri 16 Oct 2015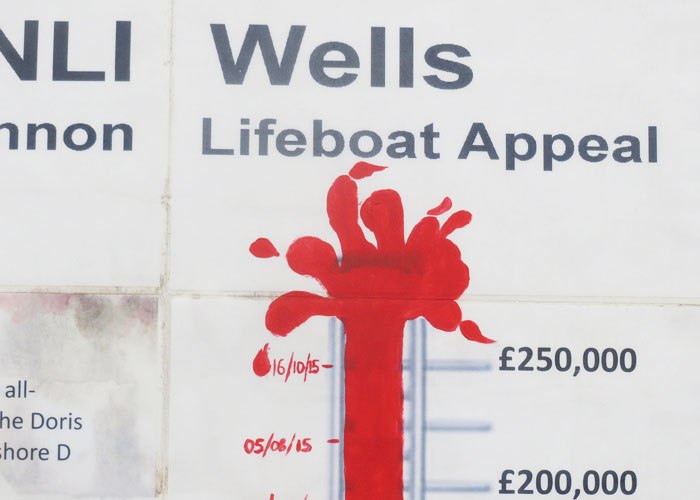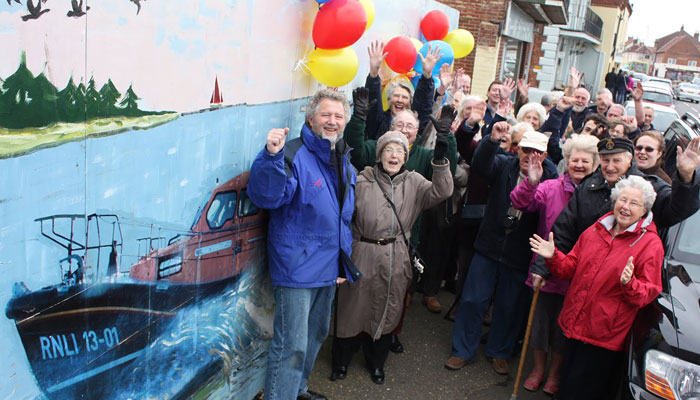 Delighted RNLI fundraisers are celebrating after reaching the £250,000 target in their appeal for a new Shannon class lifeboat on the Norfolk coast one month ahead of schedule.
The Wells Shannon Appeal reached the quarter-of-a-million pound mark this month following a Herculean effort of fundraising by the local community and supporters across the country. The appeal was launched at the beginning of June 2014 and set a target of eighteen months to raise the £250,000 by the end of November this year.
The money raised will go towards the £2.1million cost of a state-of-the-art new Shannon class lifeboat for Wells-next-the-Sea, replacing the current Mersey class, which after 25 years is nearing the end of its operational life with the RNLI.
Peter Rainsford, Wells Lifeboat Station Chairman, said: "To have raised £250,000 in under 17 months is quite frankly extraordinary and testament to the dedication of our volunteer fundraisers and the incredible generosity shown by the Wells community and supporters from further afield.
"My deepest thanks go to the cake bakers, rowers, swimmers, runners, bikers, singers, golfers, event organisers and everyone else who gave their time and energy to generously raise money for our appeal.
"All those involved should feel proud of the fact they will have directly contributed to enabling our volunteer lifeboat crew to save lives at sea for many years to come."
The Shannon is the charity's latest class of lifeboat. She uses water jet propulsion instead of propellers, making her more manoeuvrable and agile in difficult seas. As with other all-weather lifeboats she will be self-righting in the event of capsize and will be able to cope with the roughest of conditions.
Allen Frary, Coxswain at Wells RNLI, said: "Thank you to everyone who has donated sums of money large or small. Our Mersey class lifeboat has served us well but the new Shannon will be faster and more manoeuvrable which will better enable us to save lives at sea.
"The Shannon also has a lot of features which will make it safer for the crew to operate when they are risking their own safety to save others. We are very grateful to everyone who got involved in the appeal."
With money still coming in from fundraising events, the Wells Shannon Appeal is expected to overshoot its £250,000 target. Any money raised from now on will go towards the funding of a new boathouse to house the Shannon and her launching equipment. As part of this, the RNLI will be broadening its fundraising efforts to appeal to businesses in the wider region to provide corporate support.
The total cost of the Shannon class lifeboat, launch and recovery equipment and boathouse will be £5.5 million. As well as the money raised locally, this figure will be met though legacies, donations and the fundraising efforts of the civil service charity, The Lifeboat Fund, which has pledged to raise £1.1million towards the new Shannon.
RNLI Golf Day raises record amount
Tue 22 Sep 2015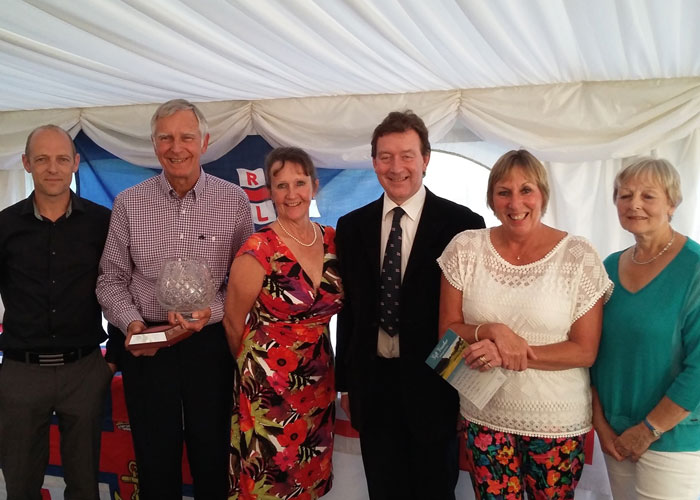 Fifty-two players took part in a mixed golf competition on 27 August and raised over £4000 for the new lifeboat at Wells, including £1000 from a charity auction and raffle which Barclays Bank have again offered to match with an additional donation of £1000.
The winners were Sue Hutchings, Rosemary Boyer, Keith Boyer from Weston Park and Martin Dunnell from Royal Cromer with a net score of 58.4. Second were Bernie Vaughan, Liz Vaughan, Lindsay Woods and Kevin Pratt, with a net score of 58.8. The team from Barclays, namely Tom Hall, Paul Knights, Will Sommerville and Raymond Johnson were third with 60.9 net.
The organisers. Sue Edwards and Wells Lifeboat Press Officer John Mitchell, would like to thank all who took part and the local businesses who provided sponsorship and donations.
The event was originally started in 2003 by Sue Edwards and has previously been hosted at Cosstessey, Bawburgh and Dunston Hall Golf Clubs as well as its current venue at Weston Park outside Norwich. In the last four years, over £14,000 has been raised for the RNLI. The present organisers intend to stand down this year and there may also be a need to relocate to a new course next year. If anyone would like to take up the reins and help organise and run the event next year, please get in touch with John Mitchell (via our contact page) or with Sue Edwards; it would be great to keep this popular and successful fund-raising event going in future...
Picture shows winning team of Martin Dunnell (Royal Cromer GC), Keith Boyer, Sue Hutchings and Rosemary Boyer (from Weston Park GC) with organiser Sue Edwards and Wells Lifeboat Operations Manager, Chris Hardy.