Wells Lifeboat News
DONG Energy supports Wells and 5 other RNLI stations
Tue 8 Dec 2015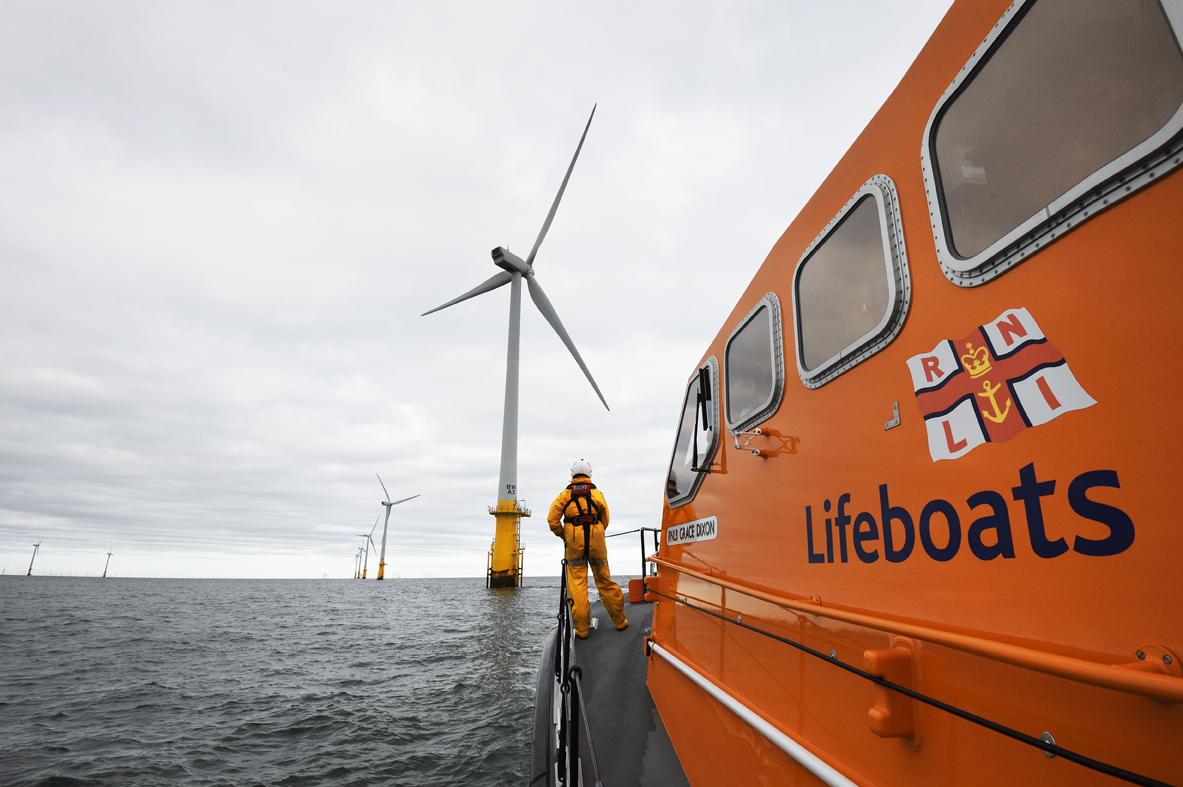 Global energy company DONG Energy has agreed to make a £120000 contribution over two years towards the running costs of six RNLI stations at Wells, Clacton and Humber on the east coast, Barrow and New Brighton in the north-west and Ramsgate on the south coast.
DONG Energy is a leading pioneer in offshore wind generation with currently eight operational offshore windfarms in the UK and a further four in development, all located in areas covered by the six selected RNLI stations. The funds will be used for day-to-day running costs of the lifeboats at the stations, mainly fuel used in launches and rescues as well as minor items replaced during routine maintenance.
Brent Cheshire, DONG Energy's UK country chairman, said: "The RNLI is a fantastic charity that does incredible work, and I am thrilled that we are making a major contribution to the lifeboat running costs for six stations across the UK.... As a company operating at sea ourselves, we know all about the extraordinary support that the RNLI provides to coastal communities. DONG Energy is fully committed to making a positive contribution to the local areas where we operate and that's why this partnership makes so much sense."
Wells Shannon Lifeboat Appeal
reaches £250,000 target!
Fri 16 Oct 2015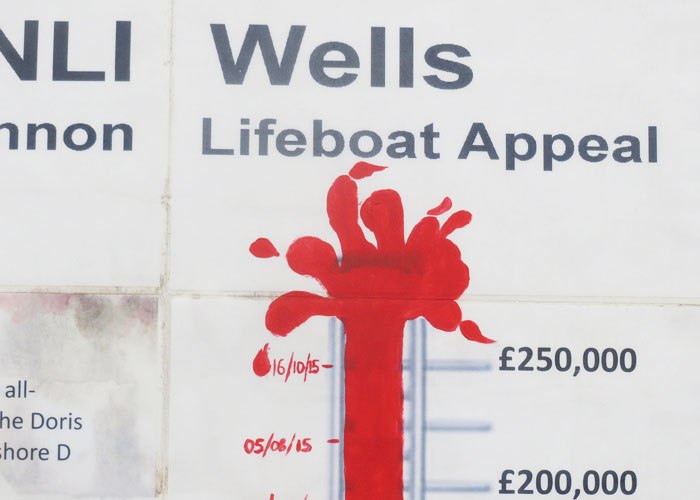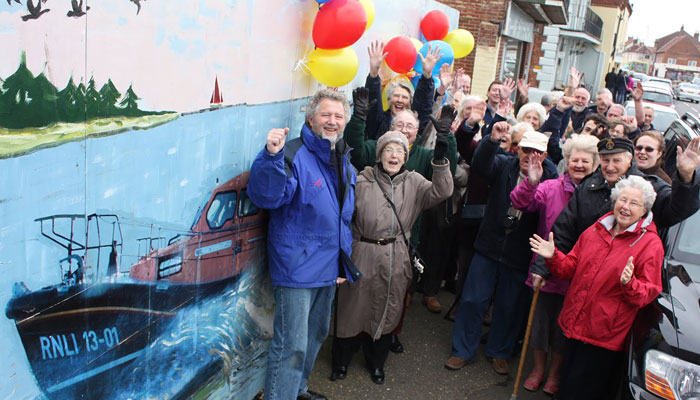 Delighted RNLI fundraisers are celebrating after reaching the £250,000 target in their appeal for a new Shannon class lifeboat on the Norfolk coast one month ahead of schedule.
The Wells Shannon Appeal reached the quarter-of-a-million pound mark this month following a Herculean effort of fundraising by the local community and supporters across the country. The appeal was launched at the beginning of June 2014 and set a target of eighteen months to raise the £250,000 by the end of November this year.
The money raised will go towards the £2.1million cost of a state-of-the-art new Shannon class lifeboat for Wells-next-the-Sea, replacing the current Mersey class, which after 25 years is nearing the end of its operational life with the RNLI.
Peter Rainsford, Wells Lifeboat Station Chairman, said: "To have raised £250,000 in under 17 months is quite frankly extraordinary and testament to the dedication of our volunteer fundraisers and the incredible generosity shown by the Wells community and supporters from further afield.
"My deepest thanks go to the cake bakers, rowers, swimmers, runners, bikers, singers, golfers, event organisers and everyone else who gave their time and energy to generously raise money for our appeal.
"All those involved should feel proud of the fact they will have directly contributed to enabling our volunteer lifeboat crew to save lives at sea for many years to come."
The Shannon is the charity's latest class of lifeboat. She uses water jet propulsion instead of propellers, making her more manoeuvrable and agile in difficult seas. As with other all-weather lifeboats she will be self-righting in the event of capsize and will be able to cope with the roughest of conditions.
Allen Frary, Coxswain at Wells RNLI, said: "Thank you to everyone who has donated sums of money large or small. Our Mersey class lifeboat has served us well but the new Shannon will be faster and more manoeuvrable which will better enable us to save lives at sea.
"The Shannon also has a lot of features which will make it safer for the crew to operate when they are risking their own safety to save others. We are very grateful to everyone who got involved in the appeal."
With money still coming in from fundraising events, the Wells Shannon Appeal is expected to overshoot its £250,000 target. Any money raised from now on will go towards the funding of a new boathouse to house the Shannon and her launching equipment. As part of this, the RNLI will be broadening its fundraising efforts to appeal to businesses in the wider region to provide corporate support.
The total cost of the Shannon class lifeboat, launch and recovery equipment and boathouse will be £5.5 million. As well as the money raised locally, this figure will be met though legacies, donations and the fundraising efforts of the civil service charity, The Lifeboat Fund, which has pledged to raise £1.1million towards the new Shannon.
RNLI Golf Day raises record amount
Tue 22 Sep 2015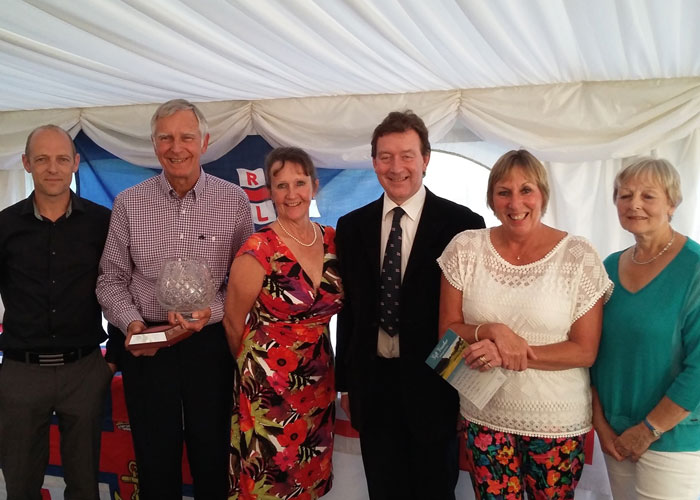 Fifty-two players took part in a mixed golf competition on 27 August and raised over £4000 for the new lifeboat at Wells, including £1000 from a charity auction and raffle which Barclays Bank have again offered to match with an additional donation of £1000.
The winners were Sue Hutchings, Rosemary Boyer, Keith Boyer from Weston Park and Martin Dunnell from Royal Cromer with a net score of 58.4. Second were Bernie Vaughan, Liz Vaughan, Lindsay Woods and Kevin Pratt, with a net score of 58.8. The team from Barclays, namely Tom Hall, Paul Knights, Will Sommerville and Raymond Johnson were third with 60.9 net.
The organisers. Sue Edwards and Wells Lifeboat Press Officer John Mitchell, would like to thank all who took part and the local businesses who provided sponsorship and donations.
The event was originally started in 2003 by Sue Edwards and has previously been hosted at Cosstessey, Bawburgh and Dunston Hall Golf Clubs as well as its current venue at Weston Park outside Norwich. In the last four years, over £14,000 has been raised for the RNLI. The present organisers intend to stand down this year and there may also be a need to relocate to a new course next year. If anyone would like to take up the reins and help organise and run the event next year, please get in touch with John Mitchell (via our contact page) or with Sue Edwards; it would be great to keep this popular and successful fund-raising event going in future...
Picture shows winning team of Martin Dunnell (Royal Cromer GC), Keith Boyer, Sue Hutchings and Rosemary Boyer (from Weston Park GC) with organiser Sue Edwards and Wells Lifeboat Operations Manager, Chris Hardy.
Our lifeboat back from refit
Tue 15 Sep 2015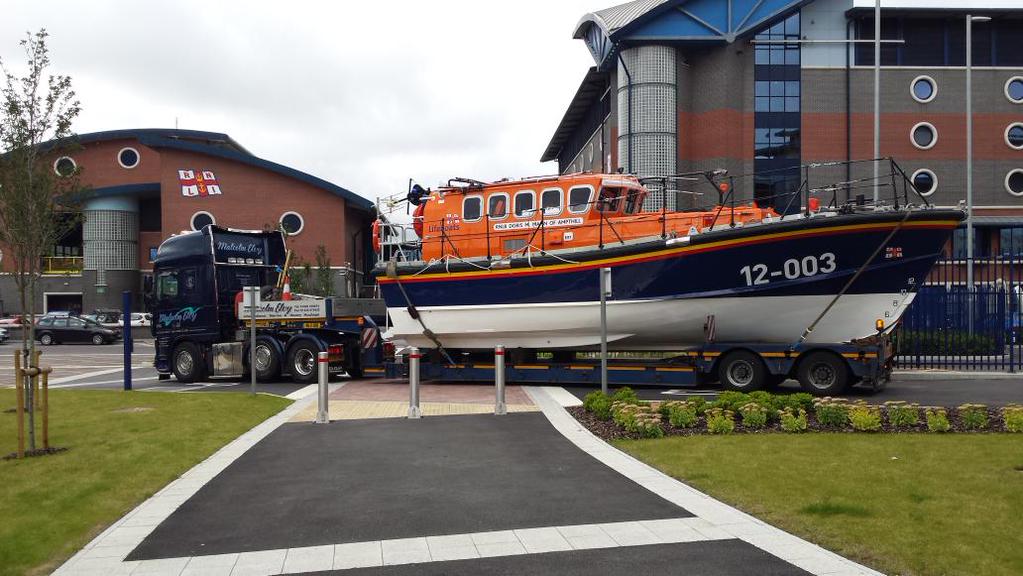 Wells' Mersey-class lifeboat 12-003 Doris M Mann of Ampthill has returned to the station following a minor refit over the summer at the new All-weather Lifeboat Centre in Poole. The boat travelled by road from Poole to Lowestoft where it was lifted in at the Haven Marina.
Coxswain Allen Frary and crew made an early start on 15 September from Wells with the relief lifeboat 12-005 to swap the boats over at Lowestoft, returning with 12-003 for the evening tide.
This should be 12-003's last scheduled refit before she is replaced by a new Shannon class lifeboat, having served the station now since 1990.
Joint exercise with Sheringham Shoal windfarm
10 Sep 2015
Both Wells and Cromer lifeboats joined in with 'Exercise Sheringham Response' on 10 September, a simulated emergency at the Sheringham Shoal windfarm to test procedures for a major incident at the windfarm. With a simulated stretcher casualty needing to be safely evacuated from one of the turbines, the exercise provided valuable experience and practice for staff and crews at the windfarm, RNLI and coastguard.
Pictures by Wells crew member Fred Whitaker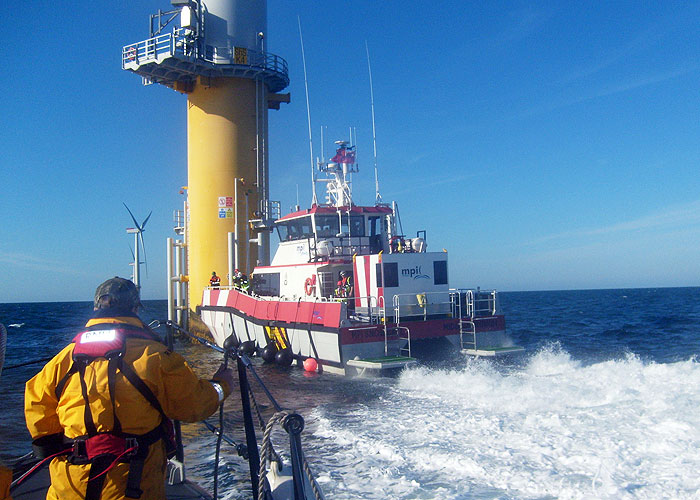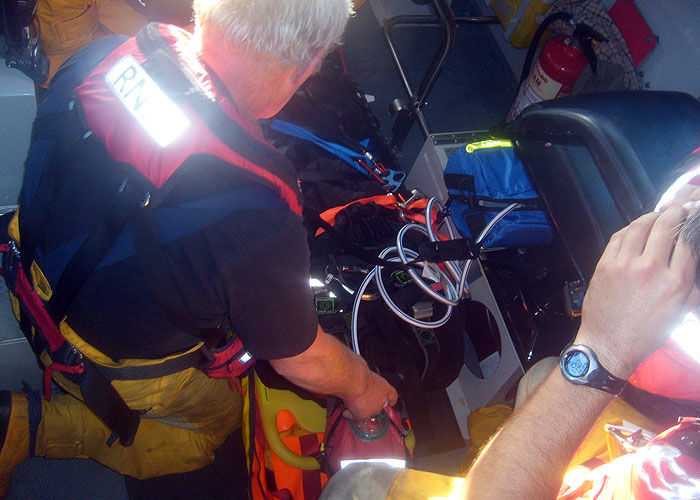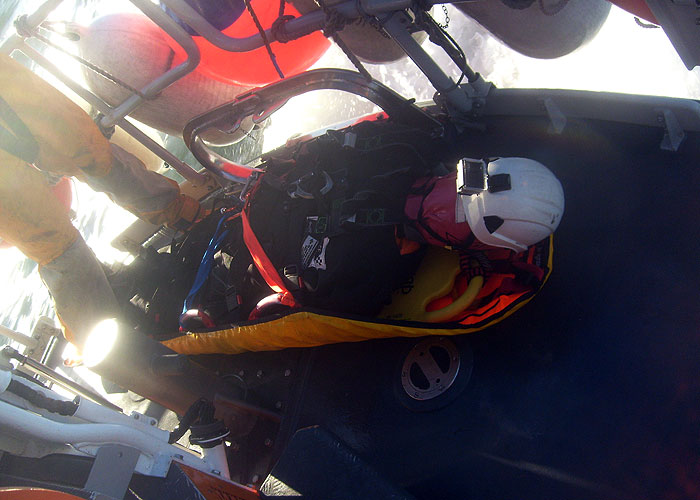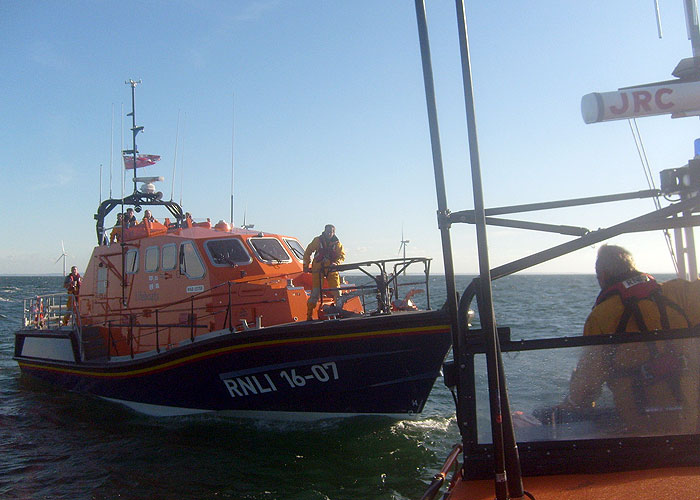 Wells Skydivers present cheque for over £5500
Wed 26 Aug 2015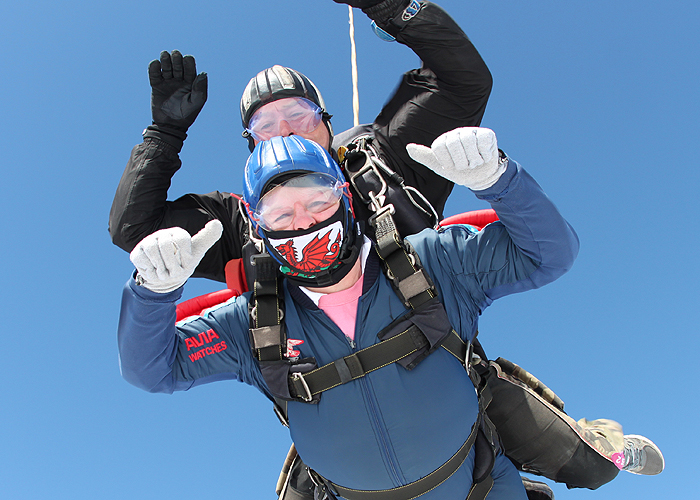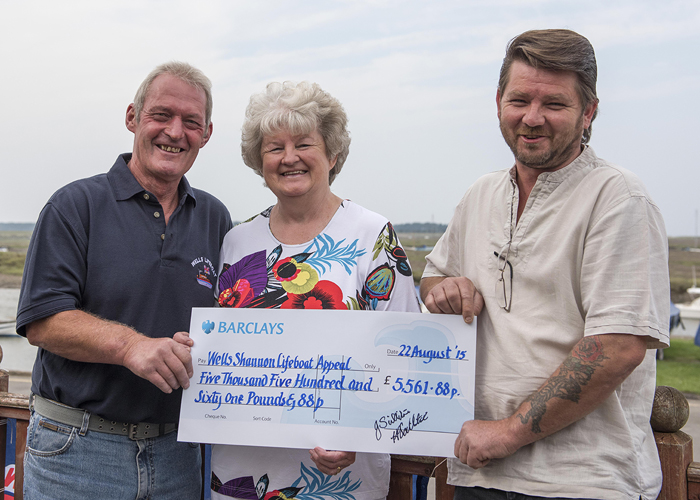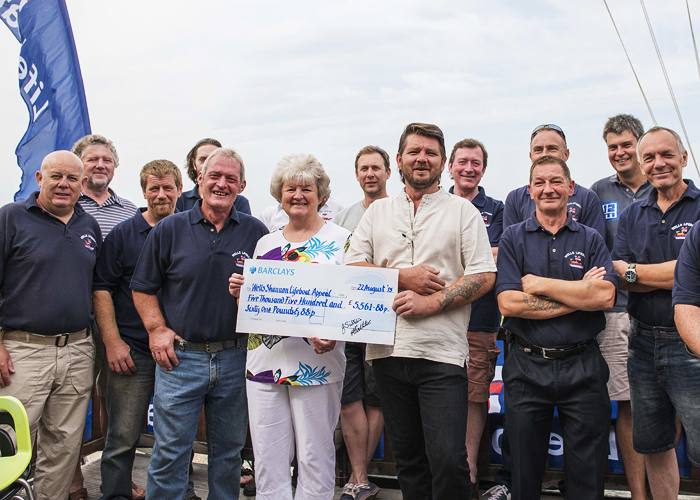 Great-grandmother Jill Scillitoe and her son Kieron presented a cheque for over £5500 to the crew of Wells lifeboat at a presentation luncheon on Sunday.
Jill and Kieron made their parachute jump on 15 May at Beccles Airfield in aid of the Wells Shannon Lifeboat Appeal. Normally Jill prefers less demanding hobbies like gardening, reading and knitting but she was undeterred and raised £5,561.88. She said, "It was fantastic, people have been so generous. I couldn't have raised this amount by just falling out of a plane without the support of Wells people. It shows just how much they value the lifeboat." She and Kieron put on the presentation luncheon at Wells Sailing Club as a way of saying 'thank you' to all the people who have generously supported their efforts... and to the crew for giving them a good reason to do a skydive.
RNLI Chief Executive Paul Boissier said: "I think Jill was incredibly brave and I can't thank her and Kieron enough for being willing to jump out of an aeroplane to raise money for the RNLI. It's only through the dedication and support of people like Jill that our charity is able to fund the lifesaving work of our volunteer lifeboat crews. I'd like to offer my thanks to all those people who have helped raise money for a new lifeboat at Wells-next-the-Sea."
The Great Superhero Run
Tue 25 Aug 2015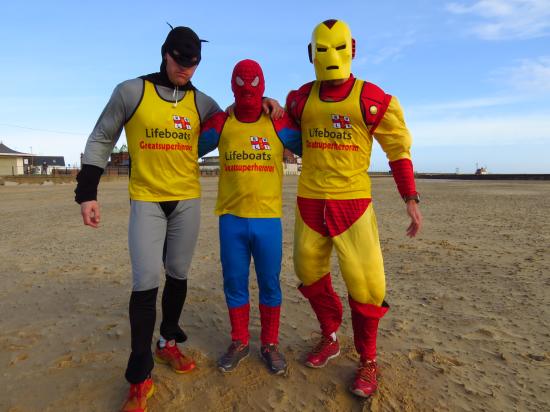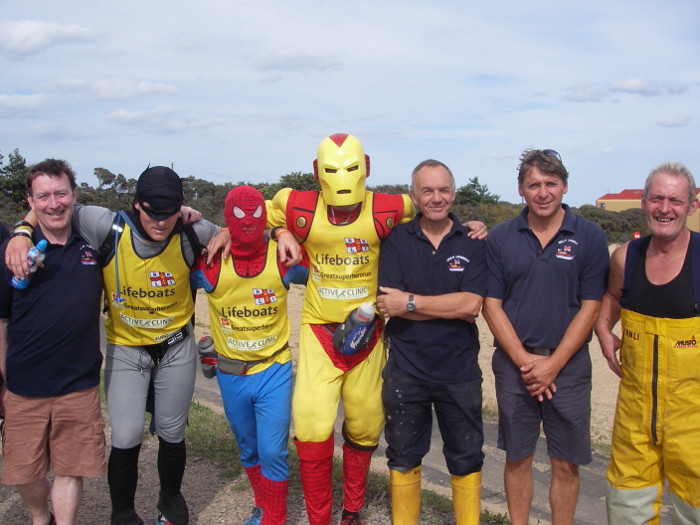 RNLI fund raisers Iron Man (John Figiel), Batman (Lee Jones) and Spiderman (Paul Greensides) are set to take part in the 2015 Great North Run... but to get to the start line they are taking on the incredible challenge of running over 400 miles in 18 days from Norfolk to Newcastle, visiting 15 east coast lifeboat stations on the way!
This 'marathon of marathons' starts on Thursday 27th August at 10am from Great Yarmouth & Gorleston lifeboat station and should, if all goes to plan, pass through Wells on the coast path and down the beach bank on Saturday, with a leg from Sheringham to Burnham Deepdale.
To find out more, please see their Facebook page... www.facebook.com/greatsuperherorun
The team has already raised over £10,000 for the RNLI. Please look out and give them a cheer as they pass if you can or add to their fabulous fundraising with a donation at the link below.
And good luck guys from all of us here at Wells RNLI...
Support Spidey and his pals...
55th Annual Lifeboat Service
Mon 10 Aug 2015
An estimated 1700 people attended the 55th Annual Lifeboat Service on Wells Quay on 2 August, with the ILB being called to persons cut off by the large spring tide both immediately before and a short while after the event.
The lifeboat chaplain, Reverend Neil Woodruff, led the service from on board the relief lifeboat Lady of Hilbre. The address was given by Father Roger Arguile and the prayers and blessing by Father Keith Tulloch, Minister of Our Lady of the Sea Roman Catholic Church. The readers were Coxswain Allen Frary and 2nd Coxswains, Nicky King and Mark Frary.
Before the service Lifeboat Chairman Peter Rainsford paid tribute to all the people who have supported Wells lifeboat and our Shannon Lifeboat Appeal. He said:
We have been astounded by the response, here in Wells and along the coast to the East and to the West; in Fakenham, Dereham, Swaffham and Norwich and further afield in Cambridge, Peterborough and Leicester - the list goes on. It seems that we have friends and supporters everywhere. Your enthusiasm, imagination and generosity have been magnificent.

...

So far you have helped us to raise £217,000 - we are nearly there and it seems possible that we will reach our target of £250,000 in October. Although we are not there yet, this is a perfect opportunity for all of us to show our gratitude and to say to all of you - thank you!
In his address, Father Arguile, from St Nicholas Church in Wells, told the congregation that, as a leisure sailor, has twice had to call on the services of the lifeboat to come and rescue him. He paid tribute to the professionalism and dedication of the RNLI and described it as an unique institution, envied throughout the world.
The traditional seafarers hymns were accompanied by the Fakenham Town Band and led by the Churches Together choir. During the final hymn, Abide With Me, the inshore lifeboat went round to all the boats anchored in the harbor to take a collection while Guild members collected from those on land. As this was taking place the Mersey Class all-weather lifeboat did a circuit of the harbour sounding her siren and then as she departed, let off two parachute flares over the marshes.
The total collection came to £1,802, which goes to lifeboat funds.