Wells Lifeboat Guild
The Wells-next-the-Sea Ladies Lifeboat Guild was formed in the spring of 1969 to raise funds locally for the RNLI and Wells Station in particular. In the autumn of 1996 it was decided to expand the membership by inviting men to join and, therefore, "ladies" was dropped from the title.
The Guild remains very active, with over 40 members putting on at least 12 to 15 fund-raising events each year. When planning the events, the members try to have as much variety as possible so as to cater for different tastes.
The Guild also manages the sale of RNLI souvenirs at the small shop at the boathouse during open days and special events and also at many other events throughout the year and this is always a successful fundraiser. Souvenirs, Christmas cards and calendars are, of course, very popular and would-be customers are advised to purchase early before stocks run out (the same can also be said for the Guild's famous cake stalls and regular plant sales).
Open evenings are held at the Wells Lifeboat House on Wednesdays during the school summer holidays and the souvenir shop is open on these occasions. For mail order from the RNLI directly, you can visit the RNLI's on-line shop.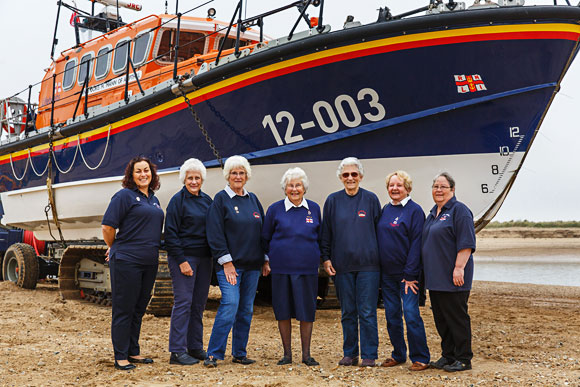 Join the Guild
The Guild always welcomes new members. Please contact us for more information.