Boathouse Build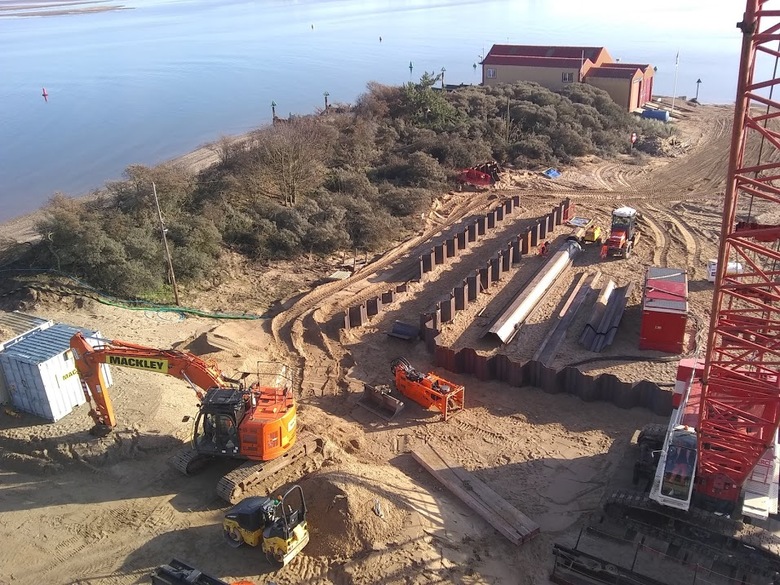 Building work is progressing well on our new boathouse. See news story below for more information or view photo gallery.
The new building will will take around 18 months to complete with work preparing the foundations and piling for the building and ramp scheduled to take place from September 2020 to May 2021.
The building is required to house our forthcoming new Shannon-class lifeboat which was funded in part with a station appeal for £250,000 in 2014-15 and also by the Civil Service charity The Lifeboat Fund with its 150th Anniversary Appeal. We are hugely grateful to everyone who has donated, fund-raised, helped and supported us both locally and across the UK and even further afield. Your contribution is appreciated and will help to save lives and keep our volunteeer crews safe in the years to come. Read more about the station appeal
COVID-19 restrictions
Wells lifeboats and the lifeboat crew remain operational and ready to launch if needed during the coronavirus outbreak. New procedures have been adopted during service calls, training and exercises to reduce the risk of transmission of the virus. For example, crews muster outside the boathouse before a service call and only those selected remain on station and boats, equipment and the boathouse are cleaned and sanitised after use.
All public visits to the lifeboat station are cancelled. Please do not enter the boathouse except by prior arrangement.
All our usual public and fund-raising events and activities over the year have also had to be cancelled, including our annual lifeboat service and our open day and open evenings. We're sorry not to be able to meet and chat with you as we usually do and thank you for your support during these difficult times.
Exercise Launches
Our next scheduled exercise launches are shown below. You are welcome to come and watch the lifeboats launch on the beach at the front of the lifeboat house... but please ensure you keep well to one side and that children are supervised. Exercises may be cancelled or rescheduled at short notice due to operational reasons.
Training exercises are taking place at the moment, having been suspended during the summer, but typically with the inshore and all-weather lifeboats exercising separately with pre-chosen crews only when the situation allows. Because of this, we are sorry but we are unable to show exercise dates in advance at the moment.


Find us on Facebook