Launch A Memory Wells Frequently Asked Questions
Launch A Memory    Back to RNLI Wells home page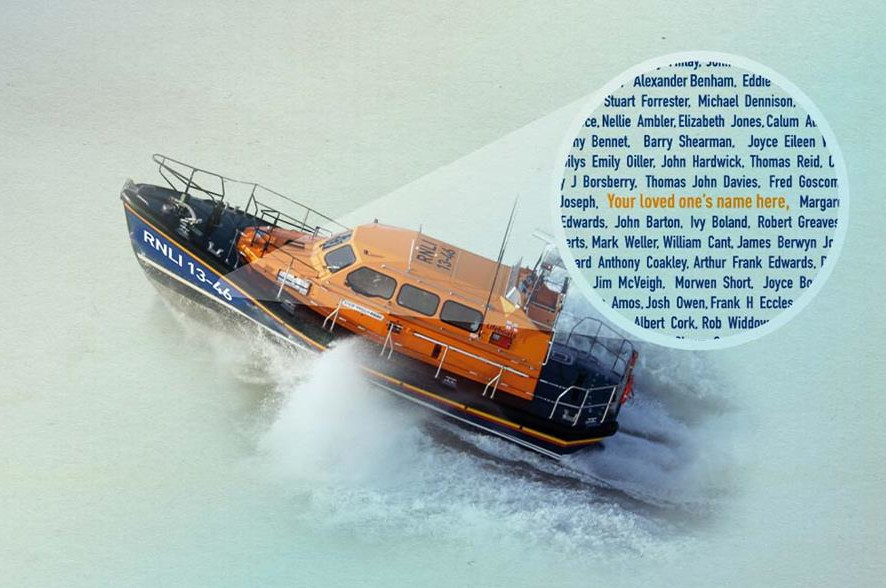 We're proud that Wells lifeboat station has been selected take part in the Launch A Memory scheme, and that our new Shannon-class lifeboat will carry the names of supporters' loved ones within the large white numbers on her hull.
Launch A Memory is organised and managed by the RNLI at the head office in Poole where the new lifeboat will be built in the RNLI's All-Weather Lifeboat Centre and you can take part by making a dedication and a donation directly on the RNLI's website.
But our volunteers have been asked a few questions locally by people who've contacted the station or know us in person so we've compiled this page which might help answer your queries. The Launch A Memory team are best placed to help but if you do have questions or difficulties that you can't sort out, do make sure to ask and we'll try to help or find the best person to help you.
Can I submit more than one name?
Of course; but you need to complete a separate form for each name, making a separate donation each time.
Can I add the names of my loved ones together? For example, my parents, Henry and Amelia Slazenger.
No, unfortunately each name must be submitted as a separate entry, one for Henry and another for Amelia.
Can my loved one's names be placed together on the decal so that they are together on the boat?
Names will be placed to best fit the decal on the boat; however, the Launch A Memory team will make every endeavour to place names together where this is the expressed wish of the donor. In order for the team to realise this, names should be submitted by the same person, one straight after the other. You can confirm this by emailing
Is Launch a Memory only for the deceased?
No, anyone can be celebrated in this way. Launch a Memory is primarily a way of paying tribute and remembering a loved one, but they do not have to be deceased.
My Dad was known by his nickname all his life. Is it OK to include it as part of his name?
Yes, as long as it could not be deemed offensive. Contact the Launch A Memory team for advice if you are unsure by emailing
We have a very long family name - what is the maximum length of an entry allowed?
Your submission must be no more than 35 characters in total.
What is the Much-Loved dedication page for? I have noticed it at the end of the Launch A Memory page.
You are invited to make a dedication to your loved one with a photograph if you wish. It is a web page which will stay throughout the campaign and may give you insight into the ways others have expressed their love and admiration.
Why is there a question about employment in the Civil service, Royal Mail or Post Office?
Much of the funding for our Shannon came through the Civil Service Pension Fund. This question is simply so the amount raised through this route can be tracked.
I am not happy using IT, online forms and payments, can I still contribute?
Yes! Contact the Launch A Memory Team on 0300 300 0061 (UK) or 01 511 9871 (Ireland) pr (+)44 1202 336395 (outside of UK and ROI) and make your dedication and donation over the phone.
How is the campaign doing? Will my donation make a difference?
Launch a Memory has begun well and we are delighted at the support so far. With the potential for 10,000 names on our new boat, there are still lots of opportunities for your loved one's names to sail with us and every donation means we can continue to provide help and save lives around the UK's coast.
Where can I find more information about Launch a Memory, so I can tell my friends and family how to Launch a Memory?
You can find all the information and forms you need on the RNLI website rnli.org/WellsLaunch.
Thank you for your support.