Wells Lifeboat News
Commander Mike Woodroffe, 1942-2022
Tue 15 Feb 2022
It is with great sadness that we announce the passing of Lt.-Commander Mike Woodroffe, who died on 8 February 2022 in his 80th year. Mike served in the Merchant Navy from 1958, before joining the Royal Navy. In 1972, he took up a career with the RNLI, where he served as Divisonal Inspector for the South East region from 1975 to 1982 and later as Deputy Chief of Operations before his retirement in 2002. Mike is particularly known for his pioneering work on the design and safe operation of the smaller lifeboats, the D Class inshore lifeboats and Atlantic class.
Mike retired to Wells where he had previously been involved in his operations capacity with the station and he soon became active in the harbour and community, serving as a Wells Harbour Commissioner from 2004-2012. His involvement with the RNLI continued long after his retirement. Mike was very active in maintaining the important conduit with 'the coast' and looking after the welfare of the retired members of the lifeboat crew and their families who needed support. He will be dearly missed by those who knew him.
His funeral will be held at St Nicholas Church, Wells-Next-the-Sea on Thursday 24 February at 1pm, followed by Cromer Crematorium at 3pm. All are welcome.
Boathouse build - new time-lapse
Tue 8 Feb 2022
Our newly-updated time-lapse video shows the construction of our new boathouse right up to date from its start in October 2020, beginning with the site being cleared, the ground level raised, piling and the building of the concrete slab, and now going right up to the recent addition of external insulation and windows. The building should be finished by the end of May.
The station's new Shannon-class lifeboat will be no. 13-46 and named RNLB 'Duke of Edinburgh' and is currently being built at the RNLI's All-Weather Lifeboat Centre in Poole. The boat will be launched and sea trials conducted in Poole and all being well it is envisaged it will arrive in Wells by the Autumn.
The new lifeboat will carry the names of supporter's loved ones in small type within the RNLI 13 46 lettering and numbers on the hull and on top of the wheelhouse. There are still some spaces available for this if you'd like to Launch A Memory for your loved ones this way.
For more information and photos of the boathouse build, see our boathouse build pages.
Sunday's Carol service CANCELLED
Wed 15 Dec 2021
Unfortunately, a decision has had to be taken to cancel the Christmas Carol Service this coming Sunday due to concerns about Covid. The service will now not take place.
The station would like to thank Neil, Sue and Abi and everyone who had planned and arranged this event, stepping in when our normal carols at the boathouse couldn't be held because of construction work on the new lifeboat station.
Lifeboats gather at Skegness for commemoration
5/12/2021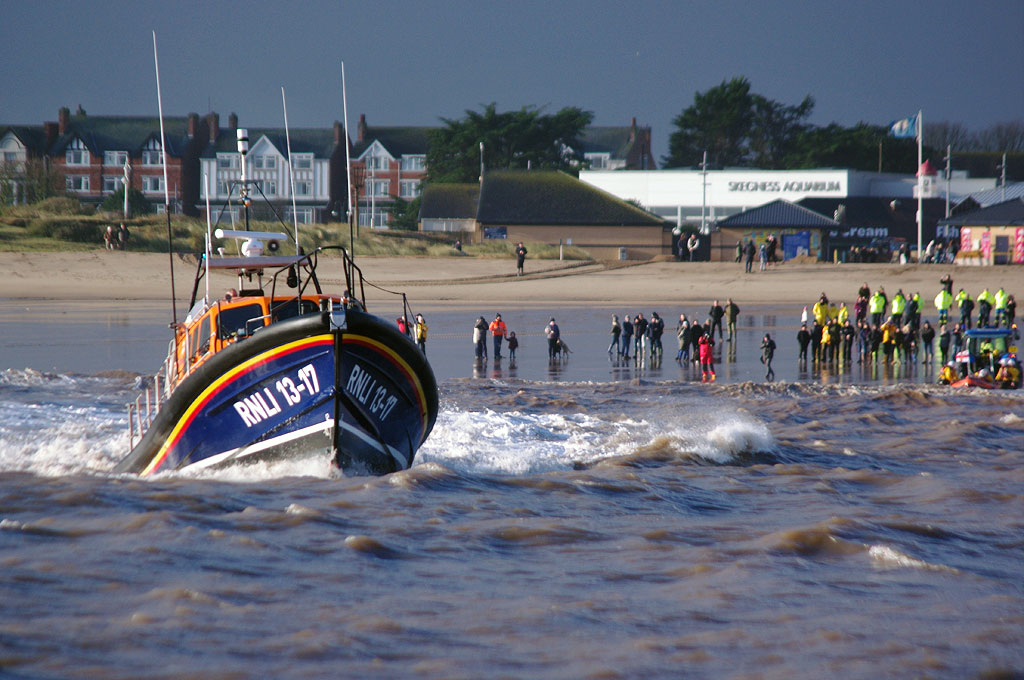 MP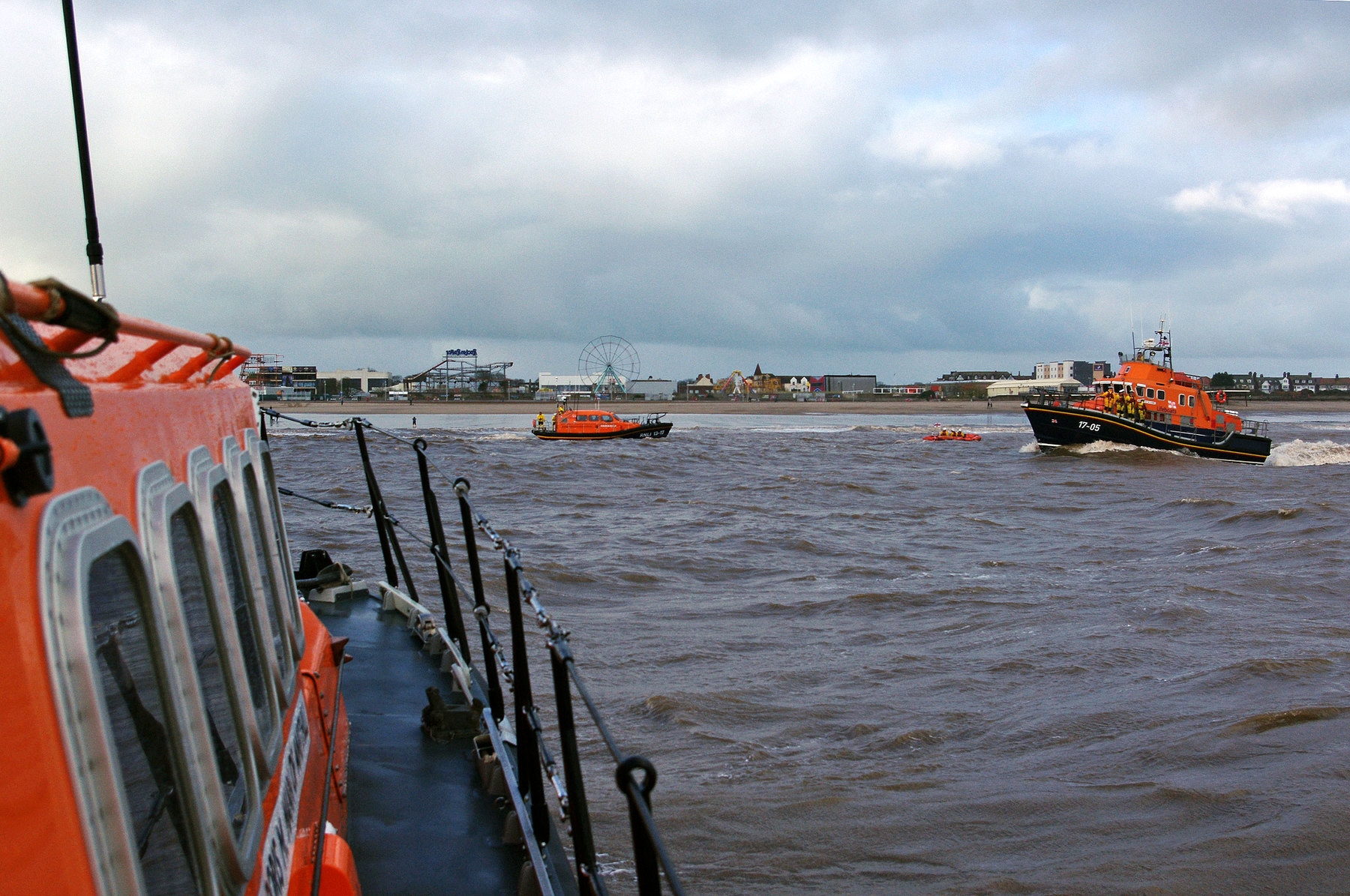 MP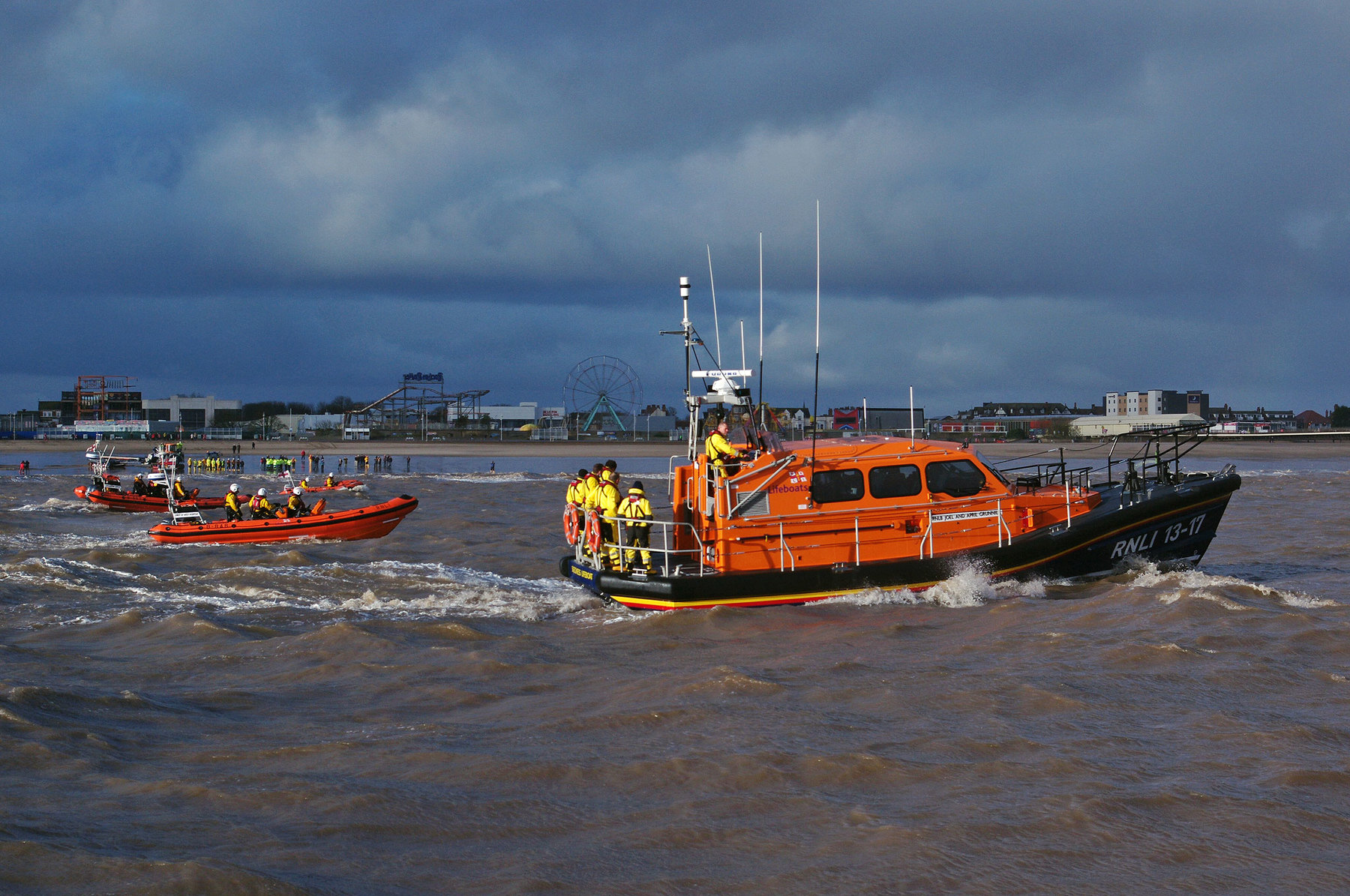 MP
As a change from a typical Sunday morning exercise, Wells Lifeboat made the short passage to Skegness on 5/12/2021 to meet up with lifeboats from Skegness, Hunstanton, Mablethorpe and the Humber to commemorate long-serving RNLI crew member and Coxswain of Skegness lifeboat Richard 'Watty' Watson. Both Skegness inshore and all-weather lifeboats launched from the beach and there was a short service during which his ashes were scattered. The six lifeboats then formed a line abreast for a 'fly-past' of the beach and lifeboat station, watched from the shore by crew members, families and the public.
Watty joined Skegness lifeboat crew as a vounteer shore helper in 1987 and served at the station for 32 years, taking on many roles including Senior ILB Helm, 2nd Coxswain and eventually Coxswain in 2017.
More photographs...
Launch A Memory extended
Fri 29 Oct 2021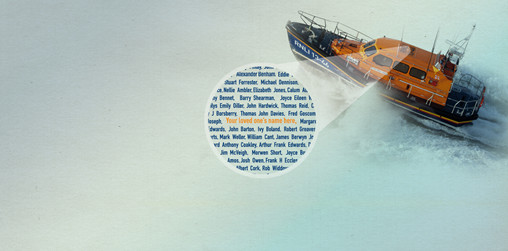 The Launch A Memory scheme that allows people to remember a loved one by including their name in the decals on our new lifeboat has proved hugely popular. We're delighted to announce that the new boat, due now late in 2022, will now carry dedications in the black lettering RNLI 13-46 on the wheelhouse roof, as well as the large white lettering on both sides of the hull. This creates room for an additional 5000 names and you can celebrate a loved one by making a dedication and donation on the Launch A Memory website below.
Please see our updated our frequently asked questions page if you have any queries or contact the Launch A Memory team by e-mail or telephone on 0300 3000061.
Add your loved one's name to our new lifeboat here...
Shannon name announced
Thr 2 Sep 2021
On this day in 1950, HRH The Duke of Edinburgh assumed command of HMS Magpie and we're excited to reveal that Wells-next-the-Sea's new Shannon class lifeboat will be named Duke of Edinburgh, in honour of his maritime service
Our first public event for 19 months!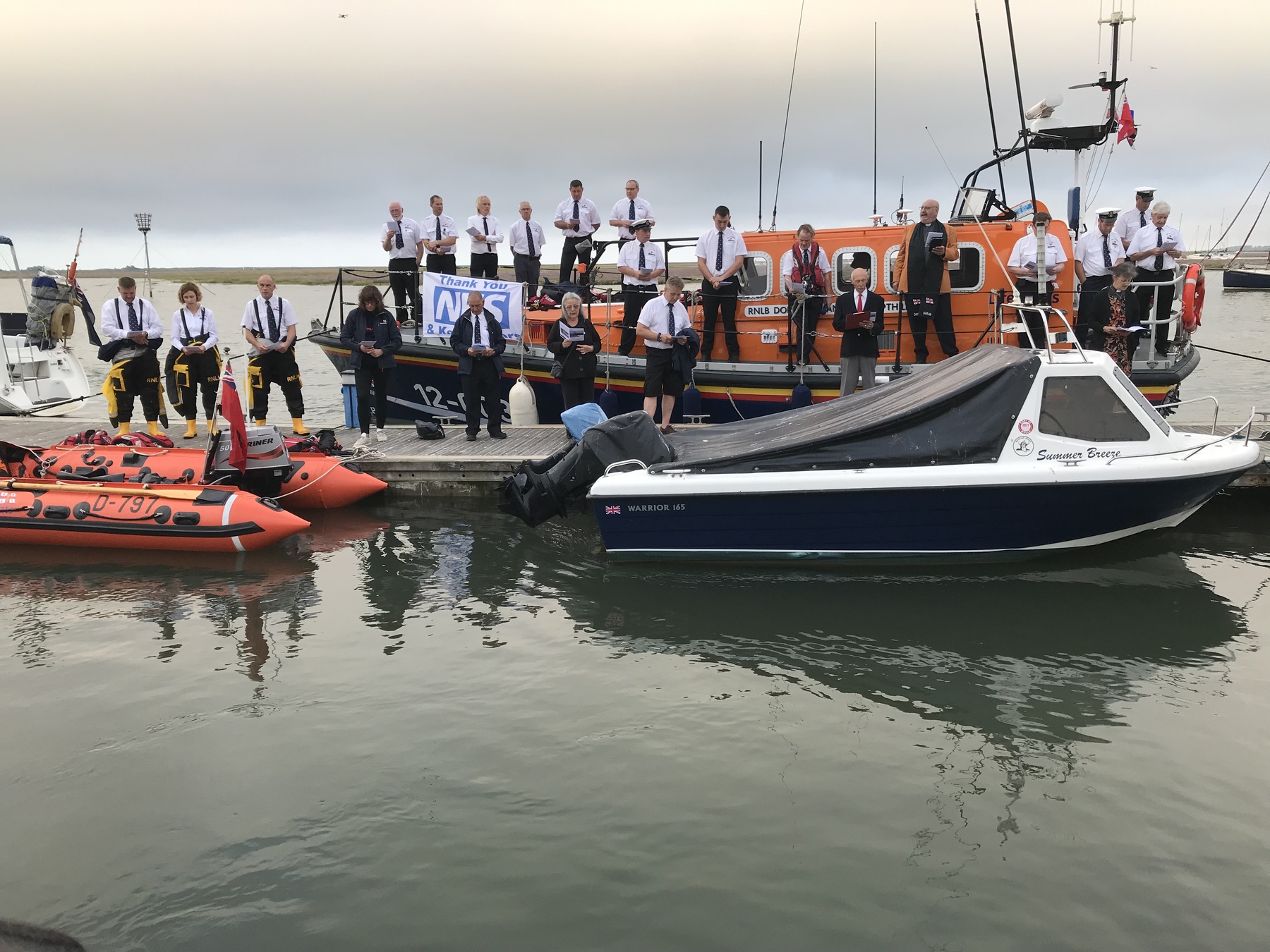 CF
Our thanks to everyone who came to our 60th Annual Lifeboat Service at Wells Quay on Sunday and to all those who worked in front of and behind the scenes to make it happen. This was our first public event since the pandemic started and it was lovely to once again have a crowd out to see the boats and join in.
We were also joined by NHS staff and volunteers from the Fakenham medical practice and vaccination centre on the restored historic lifeboat 'Lucy Lavers' as a thank you for their efforts this Summer. A more regular special guest was retired Coxswain David Cox, now age 95 and attending the event which he helped to start for the 60th time!
A collection raised just over £1600 for the RNLI.
Happy Birthday Peter!
13/6/2021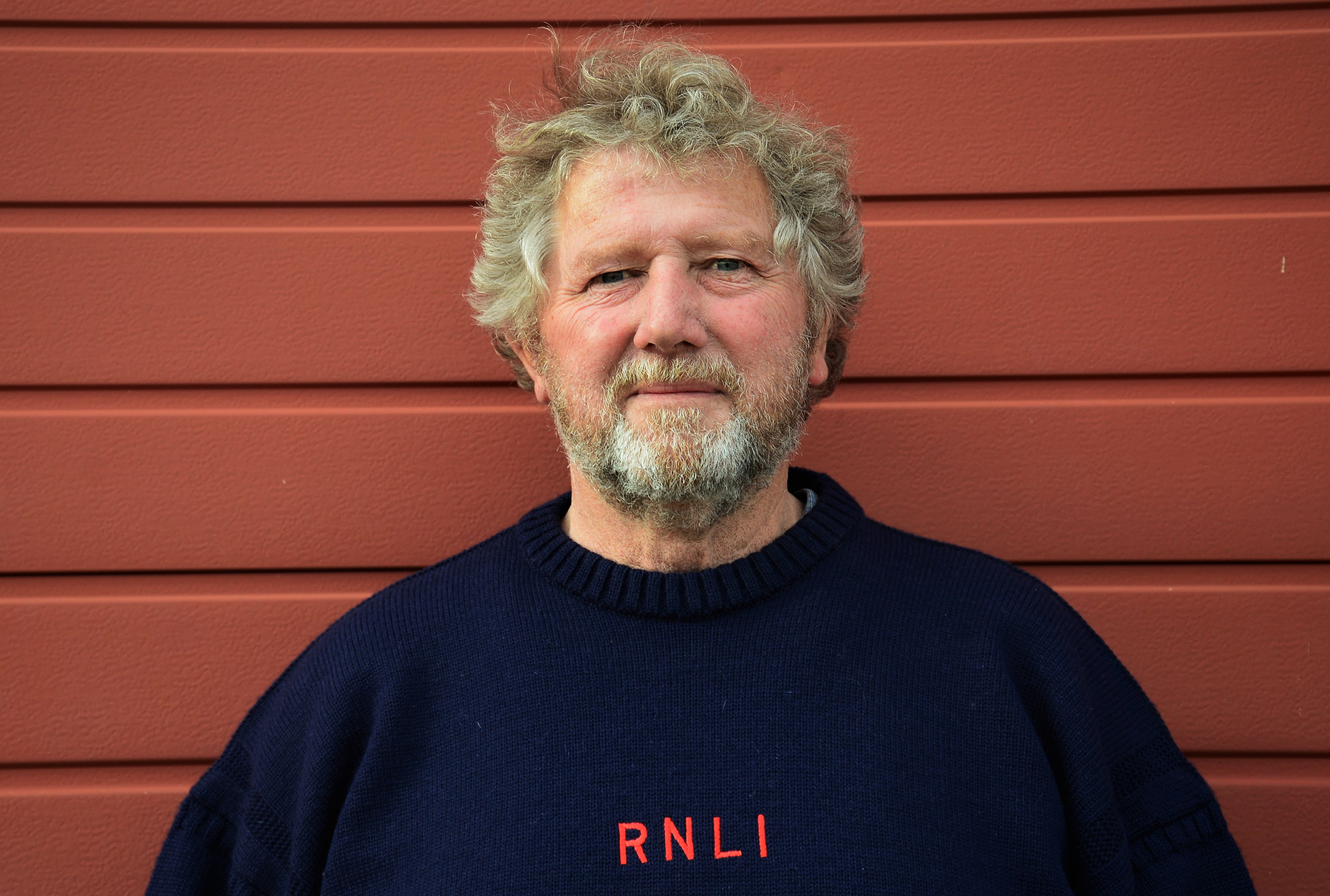 RW
The crew and everyone at RNLI Wells would like to offer our Chairman, Deputy Launching Authority and erstwhile Lifeboat Operations Manager Peter Rainsford our congratulations on his 70th birthday today. Our thanks for his continued voluntary service behind the scenes, in front of the press and cameras as well as responding at any time of the day or night to the Coastguard when the lifeboat is needed and being down the boathouse during shouts. We hope you have a great day Peter and trust you'll be out sailing first thing on the morning's tide.