Thank you!
We'd like to say thank you to everyone who has generously made a donation, no matter how large or small, or who has helped raise funds for our appeal! Here are just some of the people and organisations who helped and how they helped. We are sure that this is far from a complete list but we've done our best to mention everyone we know about and who doesn't mind being listed. (If you should be on this list and are not then please get in touch.)

Our first thank you to North Elmham Young Farmers who have got us off to an amazing start by raising £2358.
And to Blakeney Harbour Room for a donation of £300.
Russ Malkin for directing, filming and producing the appeal video free of charge.
Wells Carnival for making our appeal the carnival's principal charity in 2014.
The bikers of the Saturday Morning Club who kindly raised £500 towards our new lifeboat.
Personal donations from Mr Rex Vick and others
Sara Phillips for kindly offering a Wells-pattern traditional fisherman's gansey which she has hand-knitted as a lottery prize. The gansey was won by Wells resident Paula Baldry when the winning ticket was drawn on 8th November 2014 and the competition raised £650 for the appeal fund.
Everyone who has pressed the Donate button on this website or sent us a fiver by texting RNLI WELLS to 70300 as well as the many more who have put notes and coins in our collection boxes around the town or at special events. These donations are hugely appreciated and add up to a major contribution towards the new lifeboat.
The Holme & Calder National Trust Association who held a spontaneous table-top collection at a Nelson's Shantymen gig in Kings Lynn!
Mr Adrian Whyntie for a £1000 donation in memory of former Wells coxswain Graham Walker MBE.
Former Wells resident Mrs. I. Brkich for a £2000 donation.
Crew member Max Phillips for pedalling his bike across Norfolk on a hot day, raising £592 in sponsorship
Wells Sailing Club, Nelson's Shantymen and French's Fish Shop for housing, entertaining and feeding everyone on a stomping great Summer evening organised by the Guild... and then donating their costs to the cause.
Victor and Sarah Pierce from the Isle of Arran for a £500 donation on behalf of Victor's late mother, whose grandfather Thomas Kew was a Wells lifeboatman and a survivor of the Eliza Adams disaster.
Mrs. Jenny Youngs, for a donation in memory of her father Jim Perowne, a past chairman of Wells Harbour Commissioners
Andrew Billington, for running his first ever Triathlon at the age of 55 in May! Andrew raised £1220.50 plus £128.88 gift-aid through Virgin Giving for Wells RNLI which has been generously donated to the Shannon Appeal.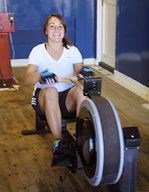 Amy Emerson, wife of Deputy Second Coxswain Martin, for gallantly rowing 10km in the boathouse at our open day, raising £800 £962.70 for the appeal.
Sarah Green, Event Organiser, very kindly nominated the Wells Shannon Lifeboat Appeal to receive a generous donation of £500 from Chatsworth Country Fair, Chatsworth House Trust.
Mrs. Joan Wheeler-Baker, a former Wells resident who used to run the quayside shop Arcadia with her husband, selling sheepskin jackets and clothing.
And the gentleman who handed in an exceedingly large bag of change at the first of the Summer open evenings!
The Edinburgh public house for pulling pounds for pints for us, supporting other appeal events and fund-raising with its Lifeboat room, a collection box and helping with RNLI souvenir sales.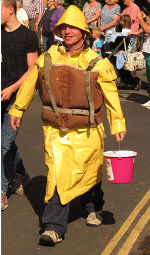 Robin, Shirley and Annie Golding for their unstinting help and support... and in particular Annie's shop The Picnic Hut where the new collection box has raised an amazing £303.61 for the appeal over the Summer.
Thank you once again to the gentlemen of Nelson's Shantymen for a further £150 raised at a recent gig.
And to Wells Carnival for a fabulous week with much fund-raising on our behalf. Contributions include the Carnival Fun Run which raised £380 including £80 sponsorship raised by runner Justin Elvidge and £111 collected by crew member Max for running in yellows and a lifejacket, Guess the displacement of the Coxswain (£95), an auction at the Beach Party which raised £100 and several hundred pounds collected by Guild members at various events and with the demonstraton ILB on the quayside.
Wells WI for putting on a scrumptious Strawberry Tea which raised £340.
Local artist Linda Pattrick for offering her original painting 'Morning Light on Wells Quay' as a lottery prize. All 500 raffle tickets were sold raising £500 for the appeal and the painting was won by Lehr Perowne of Wells when her ticket was chosen at the draw on 31 August 2014.
Crew member Harmen Brauwer who raised nearly £250 by preparing Dutch pancakes at the first two open Summer open evenings at the lifeboat station... as a change from his day job of doing the same thing aboard the Albatros at Wells quay. We're secretly hoping he'll be back for the remaining evenings on 20 and 27 August 2014...
Barry Maxwell for a £25 donation... we're glad your grandchildren enjoy our Summer open evenings!
Kate Hynes and Mrs Doreen Ezard for donations in memory of Mr. Peter Vyse, late in-law to Brian & Kate Haynes and son-in-law to Mrs. Doreen Ezard.
The Earl of Leicester Lodge of Freemasons for funds raised from a Sea Food Supper and a raffle held at their Ladies Festival.
Wells Craft Group for collections made at the entrance to its regular craft fairs at Wells Maltings, so far totalling £616.57 towards the cost of Wells' new lifeboat.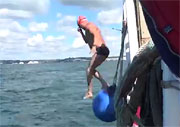 Alan Jackson and his colleagues in the Over 70's Relay Team for almost swimming the English Channel on 23rd August 2014 before being beaten by poor weather just four miles off the French coast. Alan has so far raised over £700 over £800 £950 for the appeal.
Lifeboat press officer John Mitchell, Sue Edwards, Weston Park Golf Club, Barclays Bank and everyone else who helped, organised, provided sponsorship or prizes or came to play at our RNLI charity golf day on 28th August... the event raised £4000 for the appeal fund, including £1000 from a charity auction and a matching £1000 donation from Barclays.
Hempton PCC for a donation of £100.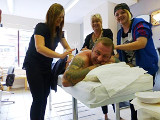 Tatooist and former fisherman Ian Dye for getting his body waxed at the hands of Rachael Williamson and Caroline and Rachael Olive at Contrasts Hair and Beauty in Wells. Ian's sacrifice raised £285... thanks guys!
Thanks also to Janey Sugden and Mike Somerset of Stiffkey for successfully completing the North Norfolk Triathlon (without any dawdling or walking!) on 14 September 2014, raising over £600 £856.25 in sponsorship.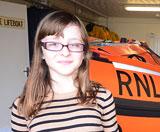 Crew member's daughter Kelsie Beck for raising £72.50 for the appeal by selling her stuff at Car Boot sales.

Whin Hill Cider for producing a special edition Shannon cider for the appeal. Owners Mark and Lisa Jarvis presented a cheque in August 2015 for £1120 raised through sales of the cider.-
... and The Real Ale Shop for organising a competition to brew a special Shannon Ale to also raise money for the appeal. In its first few weeks on sale, sales of 'The Shout' ale have raised £120.
Long standing guild and RNLI supporter Avril Nelson who has sent us £200 from sales of her handmade handkerchiefs.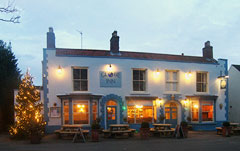 The Globe Inn on the Buttlands for organising The Talk of Wells, a series of dinners with an after-evening speaker through the winter, with each meal served including a £5 donation towards the Shannon. See our events page for more details if you'd like to come. Stephen and Antonia Bournes of the Globe presented the appeal with a cheque for £5000 at the talk by Sir John Scarlett on 1st December, and a second cheque for £5000 in March 2015.
Nigel Pickover and the staff at the EDP newspaper for reporting about the lifeboat's work and fund-raising events, for supporting the appeal directly with a £2570 donation and for buying the crew a drink the other night (our thanks too to the Golden Fleece for hosting the evening).
Thanks to the Sheringham Shantymen who have been vocal supporters of the RNLI for a quarter of a century now (just as long as we've had the Mersey) and have pledged £500 towards our new lifeboat.
Mrs Harris and her late husband, who have long been kind supporters of the station. Mrs Harris and her son raised £20 at the Lincoln Steam Rally in memory of Mr Harris. Mrs Harris and a friend will also be fund-raising for our appeal through their businesses in a Newark craft centre.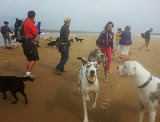 And the Fun 4 All Dog Club for sending donations totalling £455 towards the appeal... Helen, Sue and Shirley have already generously donated £655 following their rescue by the Wells ILB when they and five dogs found themselves cut off by the tide in June.
Wells resident Mrs Gill Emmett for donations totalling £877 in memory of her late husband Mr Richard Emmett. Mrs Emmett also wishes to thank everyone who supported her coffee morning in December which raised a further £376.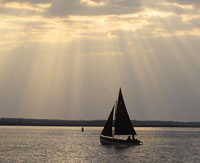 The Stiffkey Cockle Club at Morston for a donation of £100.
Thank you to Wells Beach Café which has provided much help and support for the appeal and raised a total of £836.83 in donations with its innovative and very popular Wash & Wag dog washing station over the summer.
And Commodore Steve Burgoine for a donation of £100. Steve joined P&O as a deck cadet in 1966, working his way up to Commodore of the P&O Cruises Fleet by 2007 and will be giving the after-dinner talk at the 'Talk of Wells' dinner at The Globe Inn on 23rd Februrary 2015.
The RNLI Cambridge & District Fund-raising Branch which has contributed a wonderful £5054.63 to the appeal between June and mid-December 2014 with a series of events including street collections, a brass band concert and SOS coffee mornings; our thanks for all the hard work and to all who've donated.
Deputy Second Coxswain Martin Emerson and his colleagues who walked the length of the North Norfolk coast path, raising £650 for the appeal... and to his employer Statkraft for adding £500 to the pot, bringing the total to £1150.
The Hempton Dog Training Group who raised £800 at their August Dog Show for our appeal.
And the Peterborough Branch in association with CAMRA who have very generously donated £35,842.44 to the Wells Shannon Appeal raised through the CAMRA Peterborough Beer Festival over the last 4 years... and they have pledged further support in 2015!
Jeremy Preston-Hoar for a £100 donation. Mr Preston-Hoar used to visit Wells on holiday in the early 1980s and said that watching the Ernest Tom Nethercoat launch on practices and sometimes for real inspired him to become a regular RNLI supporter.
Year 5 (now Year 6) pupils at Focus School in Swaffham who organised a cookie stall on the school's open day and raised a fantastic £102.07 for the Wells station Shannon Lifeboat Appeal. Thanks guys!
And thanks to pupils and staff at Alderman Peel High School in Wells who held a sponsored walk to Holkham beach and back, raising £1745 for our appeal.
And Mr. & Mrs. Kirby and container leasing company Cronos for their generous support and donations totalling £240, having arranged a bucket collection on their company stand at this year's Multimodal Exhibition in Rotterdam. (Thanks also to lifeboat crew-member Nathan Hart of Swire Shipping for coordinating matters.)
Peter and Joan Sandbach who donated £30 and mentioned they have had many happy holidays in Wells and North Norfolk and give regular support to the RNLI.
The Crown Hotel in Wells for hosting a French & Jazz Dinner on 28th November, raising £250 for the appeal. At the dinner, Stuart & Christine Smith, who love coming to Wells and have a caravan on Pinewoods, also very kindly made a donation of £40.
The RNLI Dereham Fund-raising Branch for raising £907.16 from a tea party which has been donated to the appeal.
And our thanks to the Gressenhall Clairvoyant Group and Gressenhall Social Club for raising £609 for the appeal.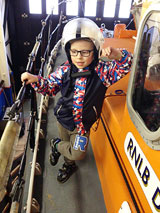 Congratulations to David and Sue Beale on their golden wedding anniversary! David and Sue very generously donated £579.64 £794.64, being monies given to them for our appeal in lieu of golden wedding anniversary presents. They visited the boathouse with their 4 year old grandson Harry when making the donation... and Harry thought it was all very cool! David and Sue have supported the station for several years; Sue's great great grandfather was John Elsdon, one of the crew lost in the 1880 Eliza Adams tragedy.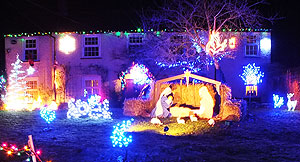 Thank you to
Leslie Iles-Hunt
of the
RNLI Swaffham Branch
who raised
£540
£750 for the appeal at the grand switch on of his spectacular christmas lights at his home in
Sporle
... and to residents and visitors to the village who came to support the event... and in particular Mrs. Marion Iles-Hunt and Mrs. Joy Dobson for their donations.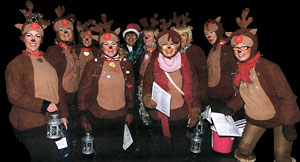 And to
Wells Belles
whose singing, while disguised as reindeer, at Wells Christmas Tide raised £606, split evenly between the Shannon appeal and Wells United Charities.  
Thank you, too, for donations totalling £1,120.20 made in memory of the late Mrs. Doreen Elsie Streeter of Burnham Market, which will go directly to paying for the new Shannon-class lifeboat. The station also received £974, donated in memory of the late Mr. John Brian Streeter, back in August 2012.
John Harrison and his team at The Captain's Table public house for £163.45 raised from an Iceni C.A.R. Club Rally and a raffle.
John and Gloria Smith who have donated £275 to the appeal, having asked for donations in lieu of gifts for their Golden Wedding Anniversary - thank you and our congratulations to you both!
Mike & Shelley Woodroffe for sending the appeal £50 in lieu of sending out christmas cards this year!
Carolyn and Tim Stocker who have kindly donated £250 to the appeal by arrangement with Kevin Sisman of Belton Duffy Estate Agents for his assistance with the sale of Beachcomber on Staithe Street.
RNLI Cambridge Branch - again! - for £184.17 raised at its January coffee morning and £549.18 from a bucket collection at Sainsburys on 21st February (our thanks to Sainsburys and all who donated).
Gerry and Mags Smith, regular supporters of the Wells Station, for £530 raised by holding two Burn's Night suppers.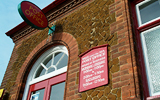 Our thanks also to
Postmistress Carol Starkey
and all the staff at
Wells Post Office
for their help and support and handling appeal donations and letters for us.
And Iris and Margeret for making greeting cards to be sold to raise funds.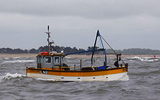 The Chairman and members of the
Wells & District Inshore Fishermen's Association
who have generously donated £2000.
John Millwood for a donation of £50.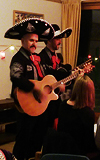 Crew member's wife Jenny Parr and friends who raised £745 by putting on a Mexican evening at Binham Village Hall.
The Real Ale Shop for a further £48 from the sale of 4 cases (48 bottles) of The Shout Ale (which ought to last someone a goodly long time).
Thank you to the 2nd Wells Rainbows and the Gallow District Guide Association who have sent us a cheque for £70 raised on World Thinking Day 22nd February when guides around the area met at Fakenham for a promise renewal ceremony and an afternoon of activities and games.
And a long-time Wells resident, who wishes to remain anonymous, for a donation of £1000.
8th Rushden Cub Pack from Northants who recently visited the boathouse and made a £30 donation to our appeal.
Swaffham & District Lions Club; treasurer Nick Ashford presented us with a cheque for £125, money raised at an illustrated talk given to the Lions Club by the engineer in charge of raising the Mary Rose in 1982. Nick also most generously donated a further £75 towards the appeal.
Thank you to a guest at the MI6 Shannon supper at The Globe on 23rd March for a £20 donation.
And thank you — and our congratulations — to Nigel and Janet Slegg of North Creake, supporters of the Wells Station, who asked for donations to the appeal in lieu of presents for their Ruby Wedding Anniversary, raising £351.42.
And Teddy Maufe at The Real Ale Shop for a further £72 from sales of another 72 bottles of Shannon Ale.
The appeal is also grateful to have received the sum of £787.89 donated in memory of the late Mrs. Myrtle French who was such a prominent person in Wells, having been a district and town councillor and involved in the running many local charities. She was also a trustee and past commodore of Wells Sailing Club, where she sailed her Sharpie for many years... and the first person to run to for injured swans and birds in the quay.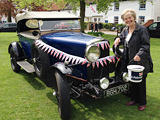 Our thanks, too, to regular supporter
Christine Adams
who made a collection on the VE Day Buttlands celebration beside her Talbot motor car, raising £76.40.
The Lennox Hannay Charitable Foundation which made a very generous donation to the appeal via the Norfolk Superhero event which is supporting us this year.
And Holkham Parish Council which has generously donated £100 towards the new Shannon lifeboat.
Further thanks to Annie Golding and staff at The Picnic Hut on Staithe Street for another £75.23 from their collection box for both customer donations and staff tips, bringing the total raised to an incredible £604.97.
Thanks to David Whitaker who raised £158 by way of donations for the Appeal at his 70th birthday party held at Fakenham Race Course recently.
And to Wells Town Council which has made a generous donation of £2500 towards the appeal.
And the The Real Ale Shop again for a further donation of £84 from the sale of its Shannon Ale, bringing the total raised to £204.
The indomitable Cambridge & District Branch with further donations including just over £500 from a Tesco Collection; the branch and the people of Cambridge have now contributed a remarkable £7.963 to the appeal.
The Wells & District Inshore Fishermen Association which has added a further amazing donation of £11,232 to the £2000 contributed in March.
Our thanks to Mrs Tina Hicks and her daughter who donated £100 following the scattering of Mrs. Hick's father's ashes (Mr. M.W. Butcher) from the lifeboat in June.
And to Mrs. Pat Chew who sent a cheque for £500 from her family in memory of her late father Mr. Richard Sutton who was born in Wells in 1921. In 1939, when he was 18, he joined up and left Wells, returning to the town on visits for a few days most years until he died on 20 May 2015 at the age of 93.
And Mine Jewellers of Wells have donated £100, being £2 on every RNLI Lifeboats bracelet they have sold.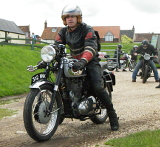 Thank you to
1st Wells Sea Scouts
, and all the bikers and visitors, for dedicating this year's
Wheels next the Sea motorcycle show
to our appeal, raising £2000 towards the new lifeboat.
And Lorna Fulford and family for £1120 raised at a coffee morning at their house in Wells on 12 July.
Class 1 of Parkers Primary School, Saham-Toney who visited the Wells Station and enjoyed a talk and tour given by Coxswain Allen Frary. Following the visit the children raised £57.60 for our appeal at a cake and toy sale after their sports day.
The Picnic Hut, again, for a further £142.49... the shop's Shannon collection box has now raised the fantastic total of £747.46.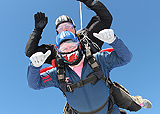 And
Jill and Kieron Scillitoe
of Wells who undertook a sponsored Sky Dive in May for the appeal; pledges and donations have now been counted and the daring duo have raised an incredible £5,561.88 towards our new lifeboat. A further £208.33 was donated at a presentation lunch held at Wells Sailing Club on 23 August at which Jill and Kieron presented a cheque for £5,561.88 to Coxswain Allen Frary.
Wells Crafts Group, again, for donating a further £312.55 raised at their recent fairs, which brings the total they have sent us to £929.13.
Thank you also for donations of £270 received in memory of the late Mrs. Jean Audrey Hayes, an avid supporter of the RNLI and, with her husband and family, regular visitors to Wells since the 1970s. Her daughter Sue Bailey noted that her brother Philip Hayes met and married a local girl Jackie Frary while holidaying in Wells (several members of Jackie's family have volunteered on the lifeboat over the years) and that her mum would have been so pleased to know that the money raised is going to such a special cause that was very close to her heart.
And thank you to Wells Health Centre which raised an amazing £436.20 at a coffee morning on 1st August; delicious cakes were provided by staff and patients.
Our thanks for a donation of £40 from Matthew Sands in memory of his brother Shaun Sands who tragically died, aged 49, in a kite surfing accident at Hunstanton in March 2015.
And for donations totalling £761.64 from family and friends in memory of Mr James S Tunstall who sadly passed away on Christmas Eve 2014. Mr Tunstall and his family have an attachment to Wells going back to the mid-1950s and have always had (and still have) a caravan at Pinewoods as well as numerous boats over the years. As young children on holiday, his daughters Jo Harrington and Jane Tunstall remember their father getting them to run with him to the lifeboat house whenever the maroons went off - even in the middle of the night.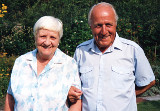 Doctors Terry and Anne Mitchell and family
who donated £500. Anne's parents,
Reg and Peggy Gerken
, were well known residents of the town and were involved in raising funds for the current lifeboat. The Mitchells maintain their association with Wells and plan to spend a lot of time at the family home.
Rita and Norman Smyth and family who asked for donations towards our Shannon appeal in lieu of gifts at their joint 90th and 80th birthday party. The Big Birthday Bash on 1 August raised £1025 and the family would like to thank all their guests who attended and gave their support.
And the Earl of Leicester Lodge of Freemasons, once again, for £360 raised by a raffle at a recent Fish Supper, bringing the total raised by the lodge towards the new lifeboat to nearly £1000.
Thanks to the Peddars Inn Sporle for a further donation of £35.73; the Iles-Hunt family and friends have now raised over £780 for the appeal.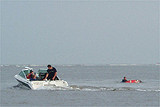 And
Wells And District Ski Club
for a donation of £50 to the appeal, which was the total amount received last season from guest fees.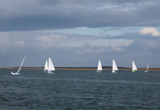 And
Overy Regatta
which very kindly donated £106.28 to our appeal, being money raised at the recent Haines Cup sailing event.
And the Wild Rovers from Blakeney who raised £325.03 visiting hotels and pubs in Wells on a very wet Saturday at the end of August.
And the The Lewisham Concert Band - a very successful concert was held at St. Nicholas Church on 12th September with over 80 people attending, raising over £700 for the appeal. Thank you to all who came and to Hopkins Homes and the Sheringham Shoal Offshore Windfarm for generously sponsoring this event.
The Picnic Hut in Wells whose customer and staff collection box has now brought donations to the appeal totalling £886.99.
And the Beach Cafe dog wash raised £646.81 this year, bringing their total contribution to the Shannon Appeal to £1483.64.
Thank you to Judith Wells who sent £70 for the appeal, proceeds from the Hidden Places of Wells Photo Competition 2015.
And to Teddy Maufe and The Real Ale Shop again for a further donation of £204 from the sale of its Shannon Ale; this brings the total by the special edition beer so far to £408.
And a huge thank you to all the organisers, competitors and supporters of the The Norfolk Superhero Challenge. The total raised for the Shannon appeal from entrants and sponsors since that thrilling day in June reached over £57,000!
And Susan and David Beaumont who made a generous donation to the appeal, the money having been given to them in lieu of gifts for their Golden Wedding celebration. Our thanks and congratulations to you both!

And the staff and customers of Wells Post Office, once again, for dressing up for the appeal, raising £448.88.
And our thanks to the Wells & District Inshore Fishermen Association, once again, for a further amazing donation of £11,000. This gift took us over the appeal's target of £250,000 for the new lifeboat and some of the funds will be used towards the new boathouse that will be built to house the Shannon and her launching equipment.