Wells Lifeboat News
Gressenhall Social Club donation
Sun 2 Feb 2020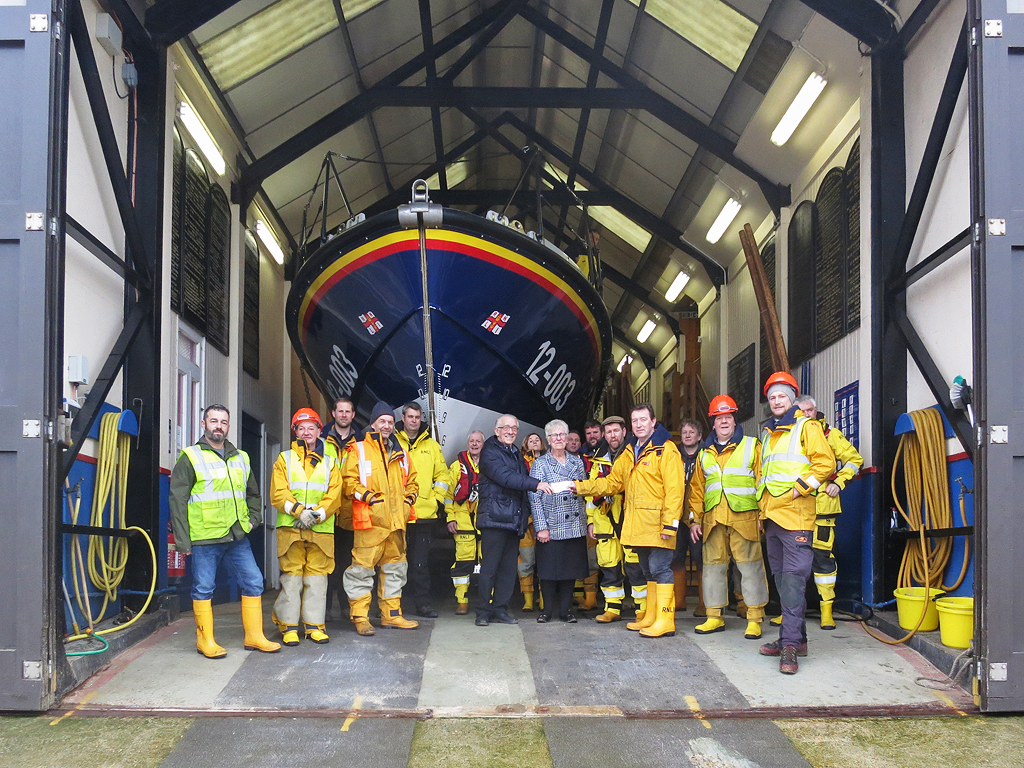 Our thanks to Gressenhall Social Club for once again raising money for the station through its popular Clairvoyance evenings. Mr and Mrs Gray from the club called in to the station at a Sunday practice launch to present a cheque for £675.50,
Battle Of Heligoland Bight remembered
Wed 18 December 2019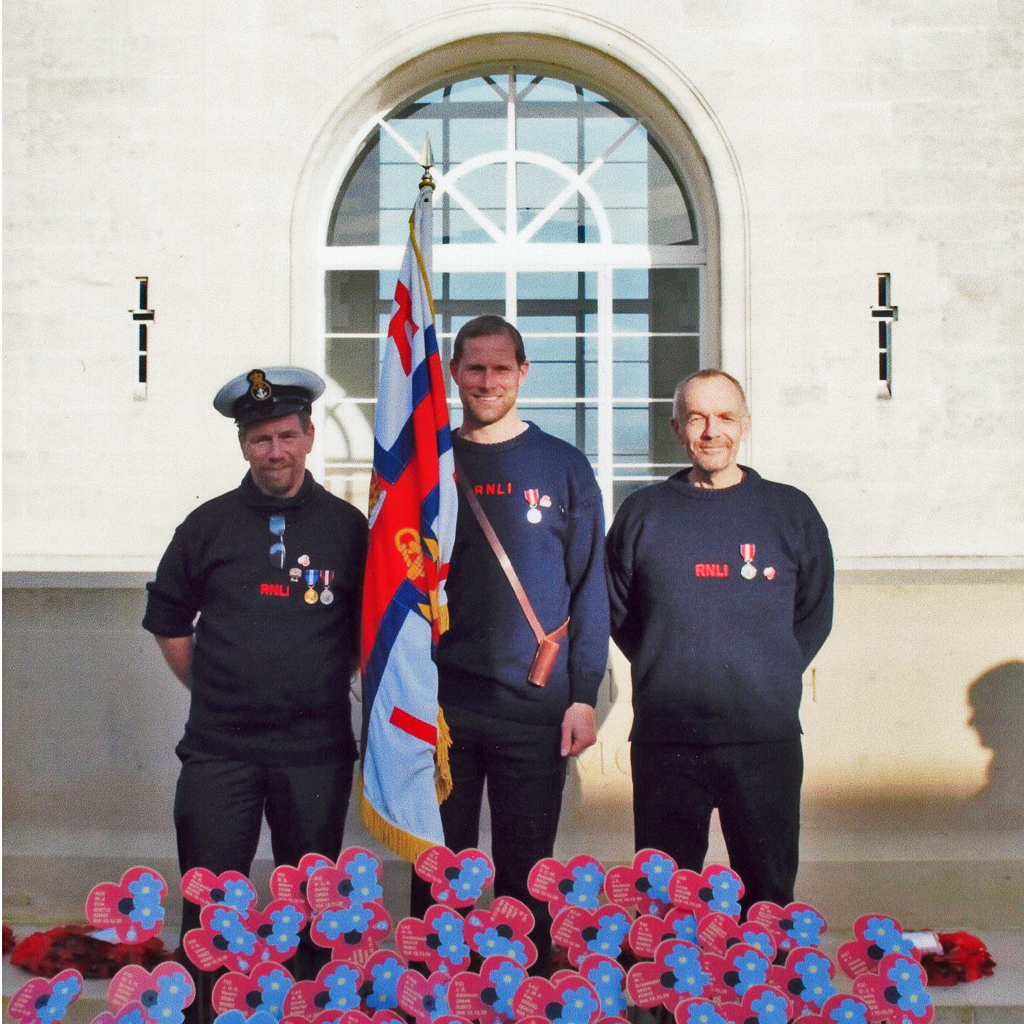 On 18 December 2019, a memorial service was held at the Air Forces Memorial at Runnymede to commemorate the 80th anniversary of the Air Battle of Heligoland Bight. This was the first named air battle of Word War II and took place on 18 December 1939. Twenty four RAF Wellington bombers were tasked with attacking shipping in the Heligoland Bight, in the north of Germany. Disastrously, 12 aircraft were shot down within an hour. Fifty-seven RAF aircrew and two German airmen lost their lives.
Two Wellington bombers, returning from the battle, came down off the Norfolk coast and the lifeboats from Wells, Cromer and Sheringham were launched to search for survivors without success.
Wells lifeboat was invited to take part in the memorial service and was represented by Coxswain Nicky King, Ray West, who is Deputy Head Launcher and station archivist, as well as crew member Kent Cooper. Kent's grandfather, William Cooper, was one of the crew that took part in the search on Wells lifeboat.
Volunteer Recruitment Day - 19th October 2019
Mon 7 Oct 2019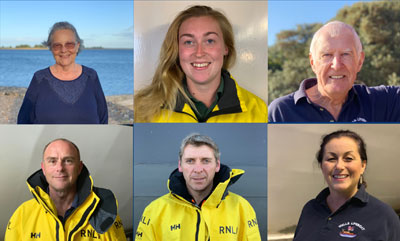 Could you join our team? We are looking for new volunteers to join us and are seeking people with a wide range of skills and backgrounds. If you think we could be for you and you have time to give, we want to hear from you.
We are seeking operational crew for the lifeboat, shore crew to help launch and recover our lifeboats, deputy launching authorities, fundraisers, a deputy press officer and a community safety officer, to promote safety awareness in the community.
Soon we'll be taking delivery of a new, state of the art Shannon class lifeboat, which will require additional volunteers to keep her in tip-top condition like our current Mersey Class which has been in service for nearly thirty years and has been involved in more than 150 rescues. There will also be a new boathouse which, apart from housing the lifeboats, will have upgraded facilities for the crew and shore helpers and will allow greater access to the public. It will have its own gift shop which will require additional staff to run it.
On Saturday, 19 October, we are holding a Volunteer Recruitment Event at the current boathouse at the bottom of Beach Road, Wells-next-the-Sea between 11am and 3pm. Come down and see us, talk to people like you and meet our volunteers... we can tell you what's involved and what's to be gained by becoming part of the Wells Lifeboat Station RNLI family. You don't have to live in Wells' we have a number of volunteers who live quite a long way from the station.
It would help if we know you are coming as we have limited free parking available for the event. Email us at wells@rnli.org.uk or ring the boathouse on 01328 710230 and we will look forward to welcoming you.
Jean Court
Wed 31 Jul 2019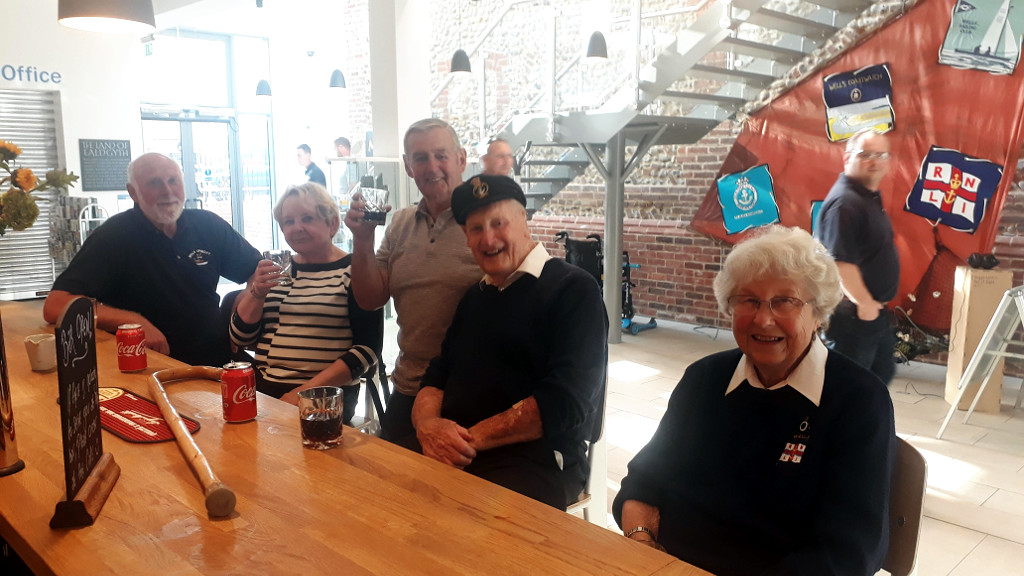 The RNLI Wells Lifeboat Guild, station and crew were deeply saddened to hear of the passing of Jean Court on Thursday, 25 July.
Jean was a founder member of the Wells-next-the-Sea Ladies Lifeboat Guild when it was formed in 1969 and gave over 50 years' dedicated service as a fundraising volunteer. During her time on the Guild, Jean was always an active member, working tirelessly to help organise events and activities and was Chairman of the group for a large number of years. For her dedicated service, Jean was honoured with the RNLI's Gold Badge in 2013 which was presented to her by Sarah, Countess of Leicester.
Jean was loved and admired by so many in the town and regularly welcomed visitors into her home where they were always greeted with a cup of tea and biscuits. Jean was renowned for her delicious 'Norfolk Shortcake' which she regularly baked for fundraising events and which always quickly sold out! Jean's friends and colleagues remember her as a warm, kind, generous, energetic lady with a big heart who will be very sadly missed by all.
150th anniversary vellum
Wed 17 Jul 2019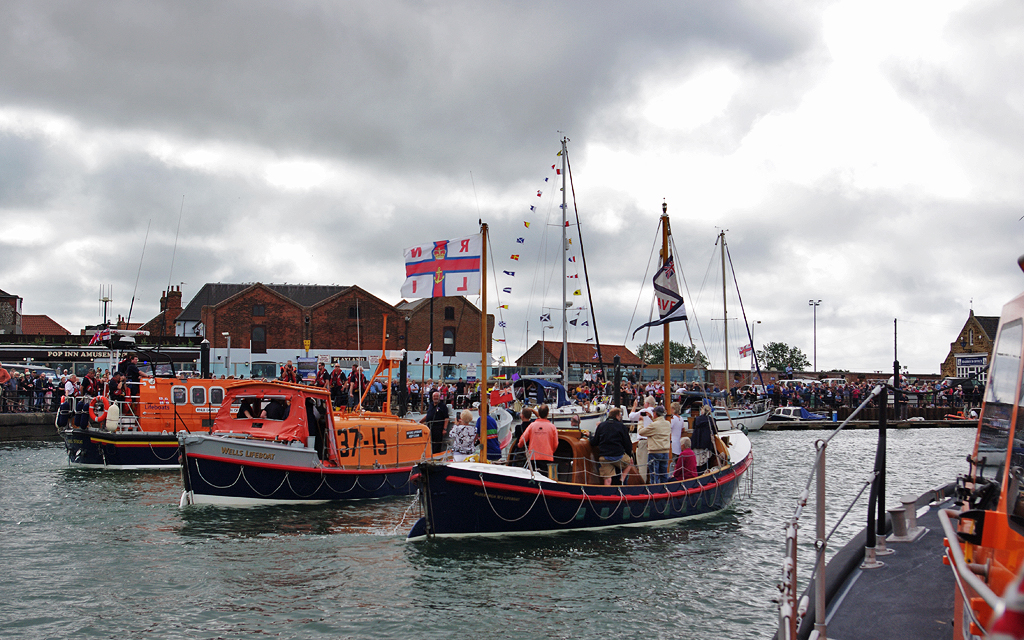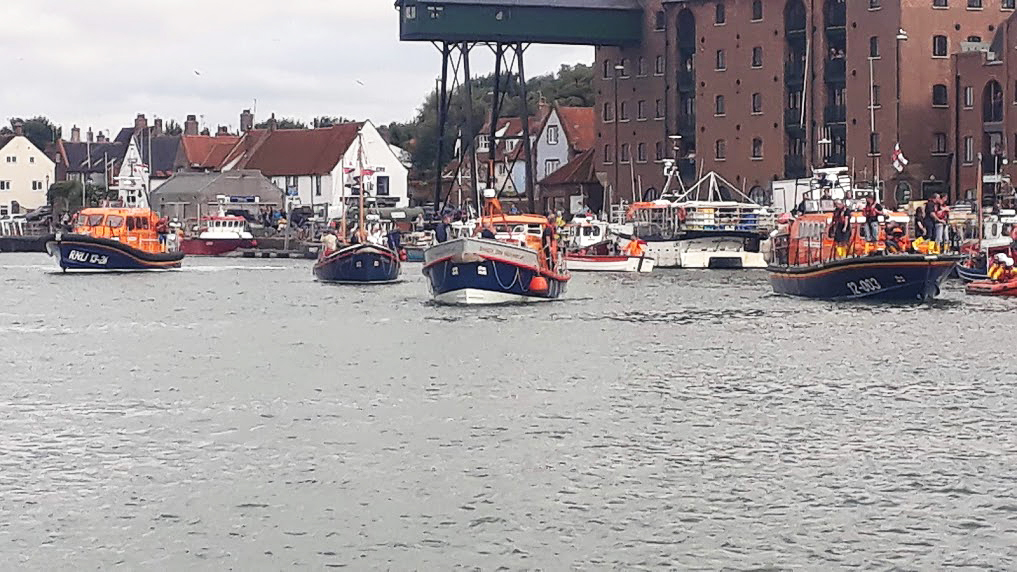 Wells Lifeboat celebrated its 150th anniversary as an RNLI station this week. The town has had a lifeboat from around 1830 and became a Royal National Lifeboat Institution station in 1869, with a new lifeboat, the Eliza Adams being delivered by rail and placed on service in a new specially built boathouse on the quay (now used as the harbour office).
The anniversary was marked by a week of events including a week-long exhibition at the Maltings and a presentation and open day on 13th July. The RNLI's Chief Executive Mark Dowie presented the station with a 150th anniversary vellum at a presentaion at the boathouse at which award for long serving volunteers were also presented... 20 years for Deputy Second Coxswain Martin Emerson, 40 years for crew member Fred Whitaker and 50 years for tractor driver and emergency mechanic Phil Eaglen.
Phil joined the crew age 17 in 1967 as a launcher and became, for many years, the station's head tractor driver as well as an emergency mechanic on the all-weather lifeboat crew. Now past normal retirement age, he continues to be a mainstay of the station assisting the full-time Coxswain/mechanic during the transition to the new Shannon station.
After the presentation, the station was opened to the public with historic lifeboats on view on the outer harbour pontoons. These were joined by a relief Shannon class lifeboat (the type that will soon serve at Wells) kindly brought round from Lowestoft by Lowestoft Coxswain John Fox and a volunteer crew.
Five lifeboats, spanning some 78 years, then sailed together up to the quay... the current station Mersey class Doris M Mann of Ampthill and our inshore lifeboat Peter Wilcox, single-screw Liverpool class Lucy Lavers, built 1940 and a Dunkirk Little Ship which served on relief at Wells in 1963/64, Oakley class Enerst Tom Neathercoat Wells station boat from 1965 to 1990 and the Shannon 13-26 John Metters. A large crowd greeted the boats at the quay with a commentary kindly provided by the harbour master.
Exhibition opens at the Maltings
Fri 12 Jul 2019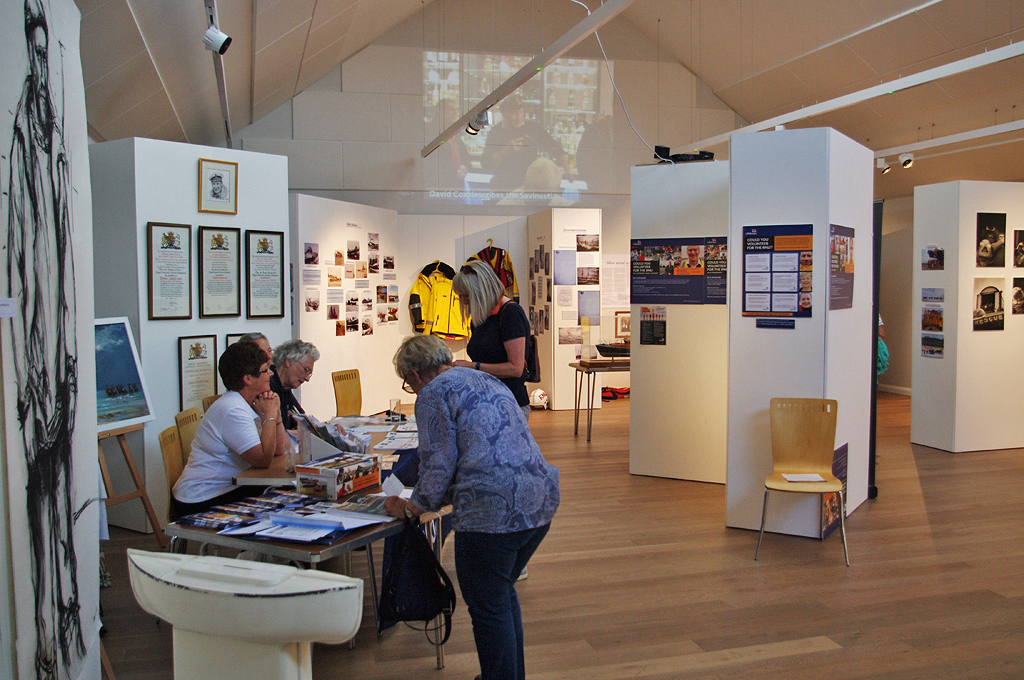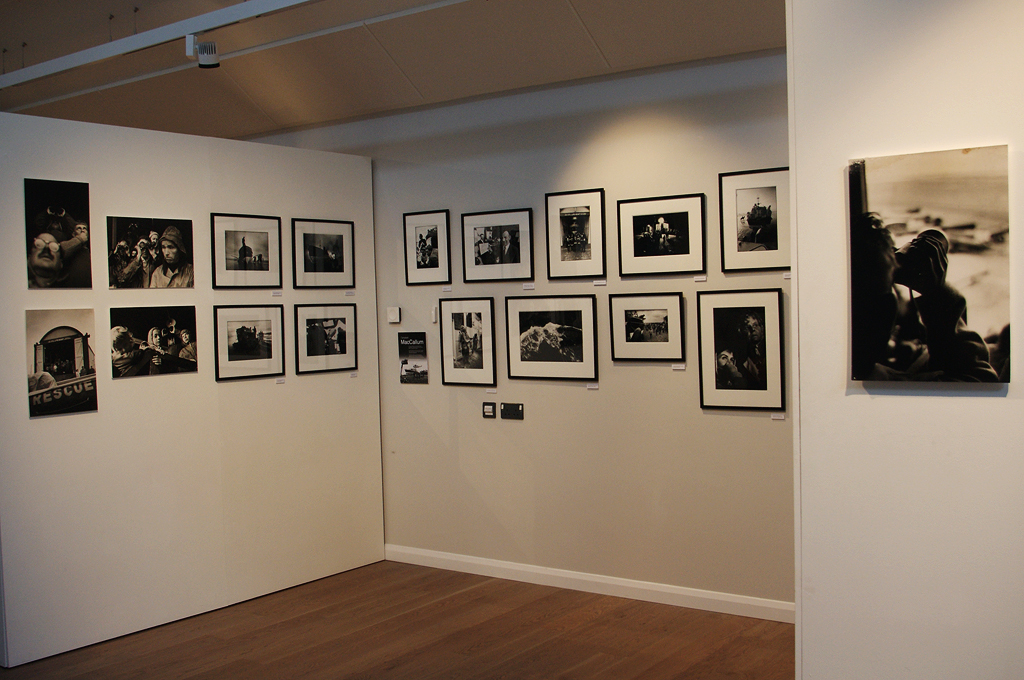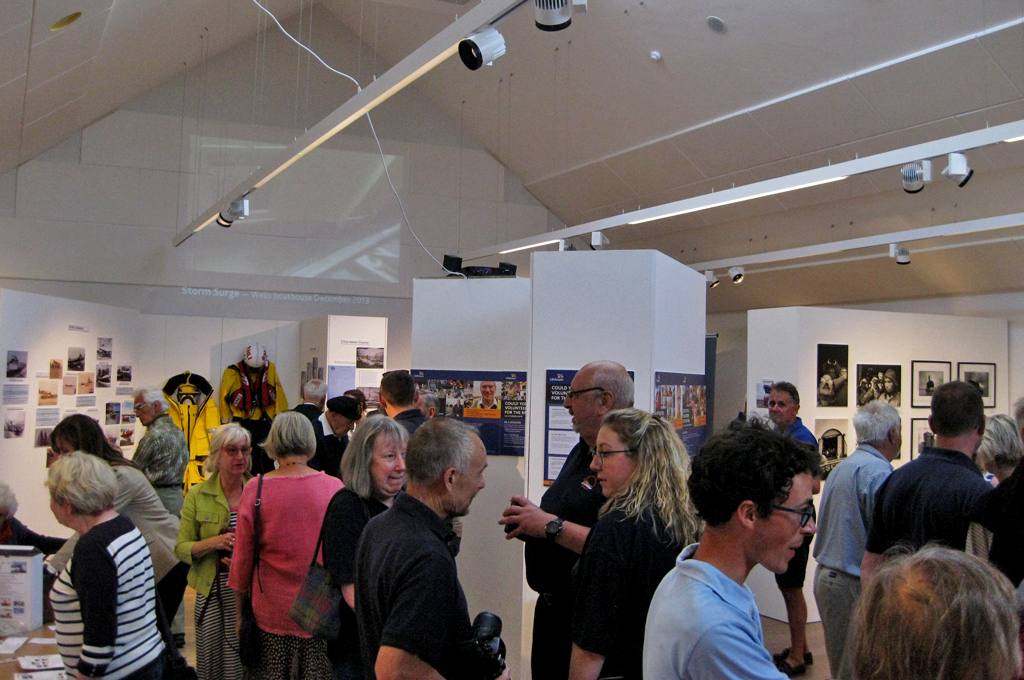 Our 150th anniversary exhibition - The Lifeboat Story - opened at the Maltings on Staithe Street, Wells on Wednesday night.
The exhibition features photographs, paintings and memorabilia celebrating over 150 years of life-saving in the town, looks at present day volunteering with the RNLI and features a fine retrospective of Campbell MacCallum's photographs of the station. Campbell who made his name as a commercial photographer in London's swinging sixties spent over five decades photographing the boats and crew at Wells lifeboat station and his candid and sharply observed black-and-white photographs form an intimate record of life at the station.
The exhibition is open every day upstairs at the Maltings from 11am until 4pm until Tuesday 16th July and admission is free. If you visit, please also be sure to visit the Maltings' superb heritage display which has more on the town's lifeboats and history.
A thank you to Wells volunteers...
Fri 12 Jul 2019
The RNLI has shared this video on Facebook and Twitter thanking the men and women who have volunteered at Wells over the years...
Lifeguards return to Norfolk beaches
Sun 7 Jul 2019
RNLI lifeguards have returned to North Norfolk beaches for the summer season this weekend. The beach at Wells along with Sheringham East, West Runton, East Runton and Cromer West will be patrolled from 10am to 6pm daily until Sunday 8 September. Lifeguards have already been patrolling at Sheringham West, Cromer East, Mundesley and Sea Palling since late May.
Run by arrangement with the local council, the lifeguard service provides everything from safety advice and tide times to helping locate missing children and dealing with emergencies. Beachgoers are encouraged to heed their advice and to swim only between the red and yellow flags.