Wells Lifeboat News
13-46 to arrive in Wells this weekend
Thr 6 Oct 2022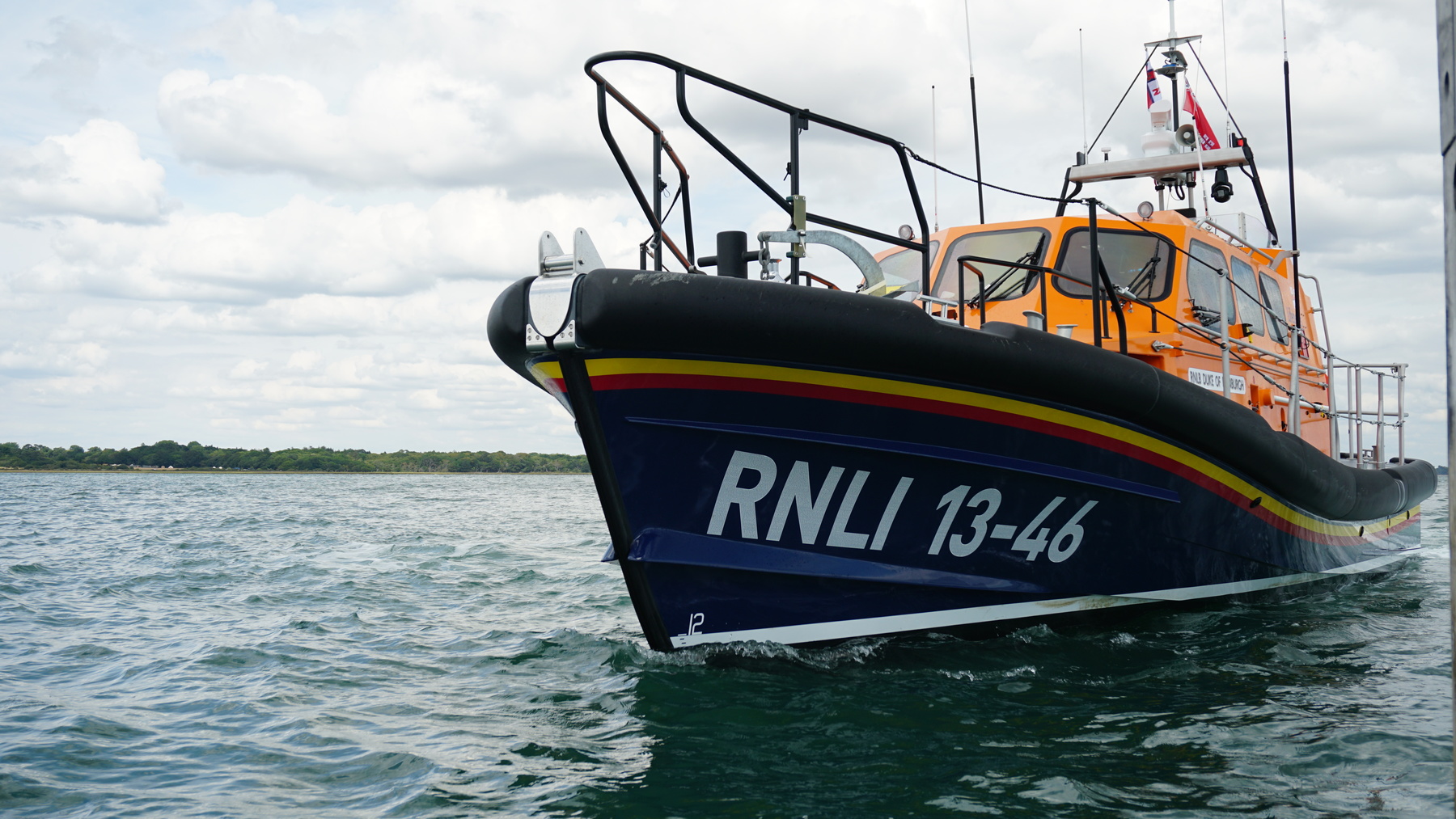 Wells' new Shannon-class lifeboat RNLB 13-46 Duke of Edinburgh will be arriving in Wells on Saturday 8 October. It will be in the quay at approximately 5pm. We welcome members of the local community to witness its arrival from 4pm onwards.
Wells is unable to accommodate large numbers of people and vehicles so we ask if those from further afield could please wait until our new lifeboat station is open before coming to see the Shannon. We understand that there are many supporters and donors who are keen to visit, so we thank you for your understanding and patience. We will inform everyone when the station is open and details of tours as soon as we are able to.
13-46 to arrive in Wells this Saturday
6/10/22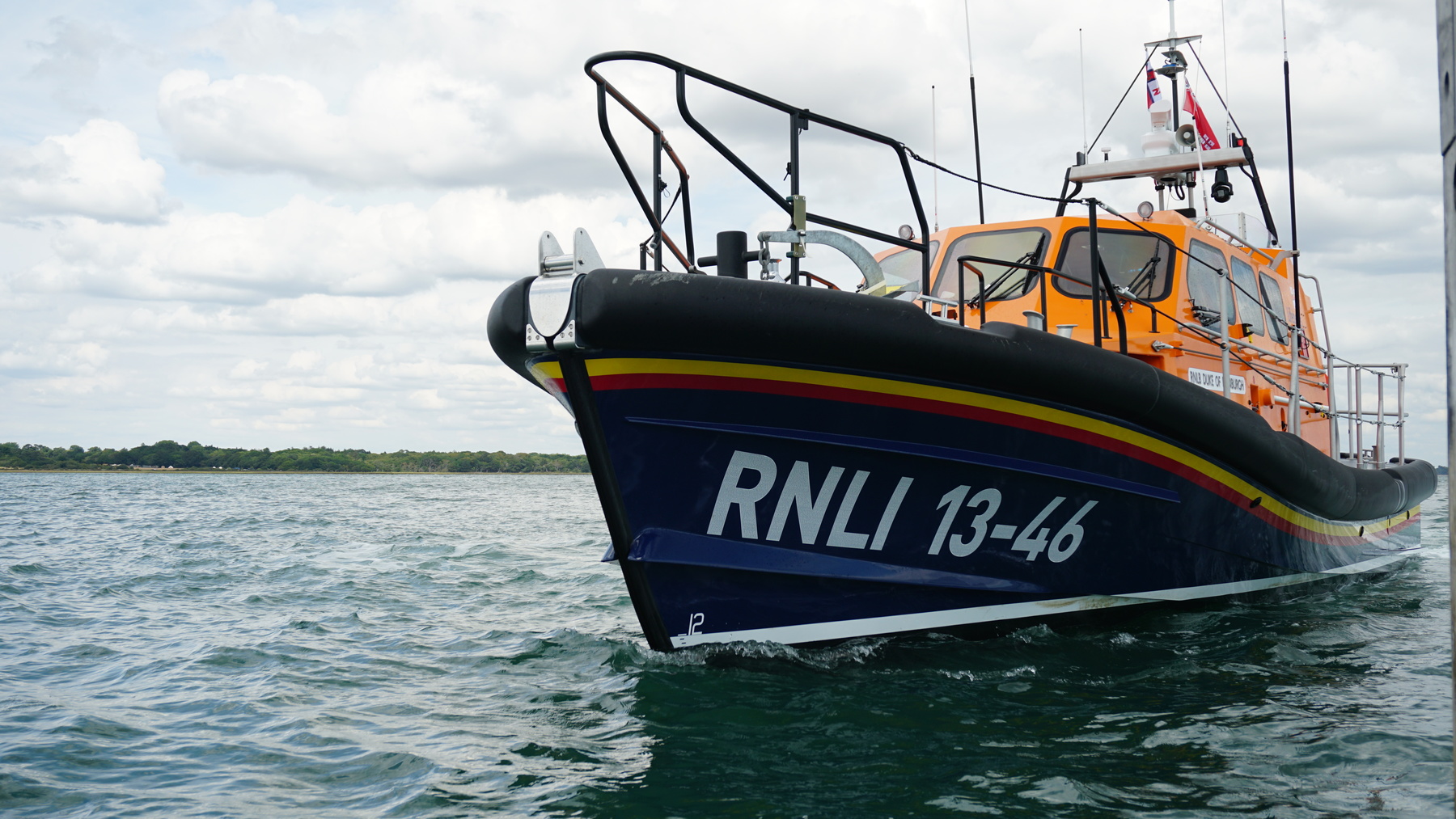 Our new Shannon-class lifeboat RNLB 13-46 Duke of Edinburgh should arrive in Wells around 5pm on Saturday 8 October, completing the last leg of her voyage home from Poole. Named in memory of the late HRH The Prince Philip, Duke of Edinburgh, the new lifeboat also carries the names of 15,000 loved ones in its RNLI 13-46 decals as part of the 'Launch A Memory' scheme.
The new lifeboat will be met off Wells by the town's current Mersey-class lifeboat RNLB 12-003 Doris M Mann of Ampthill, currently the oldest lifeboat in service with the RNLI, and the two lifeboats will make their way into the harbour and then up to the quay, arriving there at about 5pm. Blakeney Old Wild Rovers will be singing shanties on the quayside and there will be time for the local community and well wishers to see and welcome the new boat before she returns to the beach to be recovered and taken into the new lifeboat station.
The new lifeboat will be used for crew training in the coming weeks before finally going into service as Wells' station boat and the Mersey being retired. The new lifeboat station is not yet open to the public but there will be opportunities and events for people to see the new lifeboat and we will publish details as soon as we can.
Wells' new Shannon heads to London
Thr 22 Sep 2022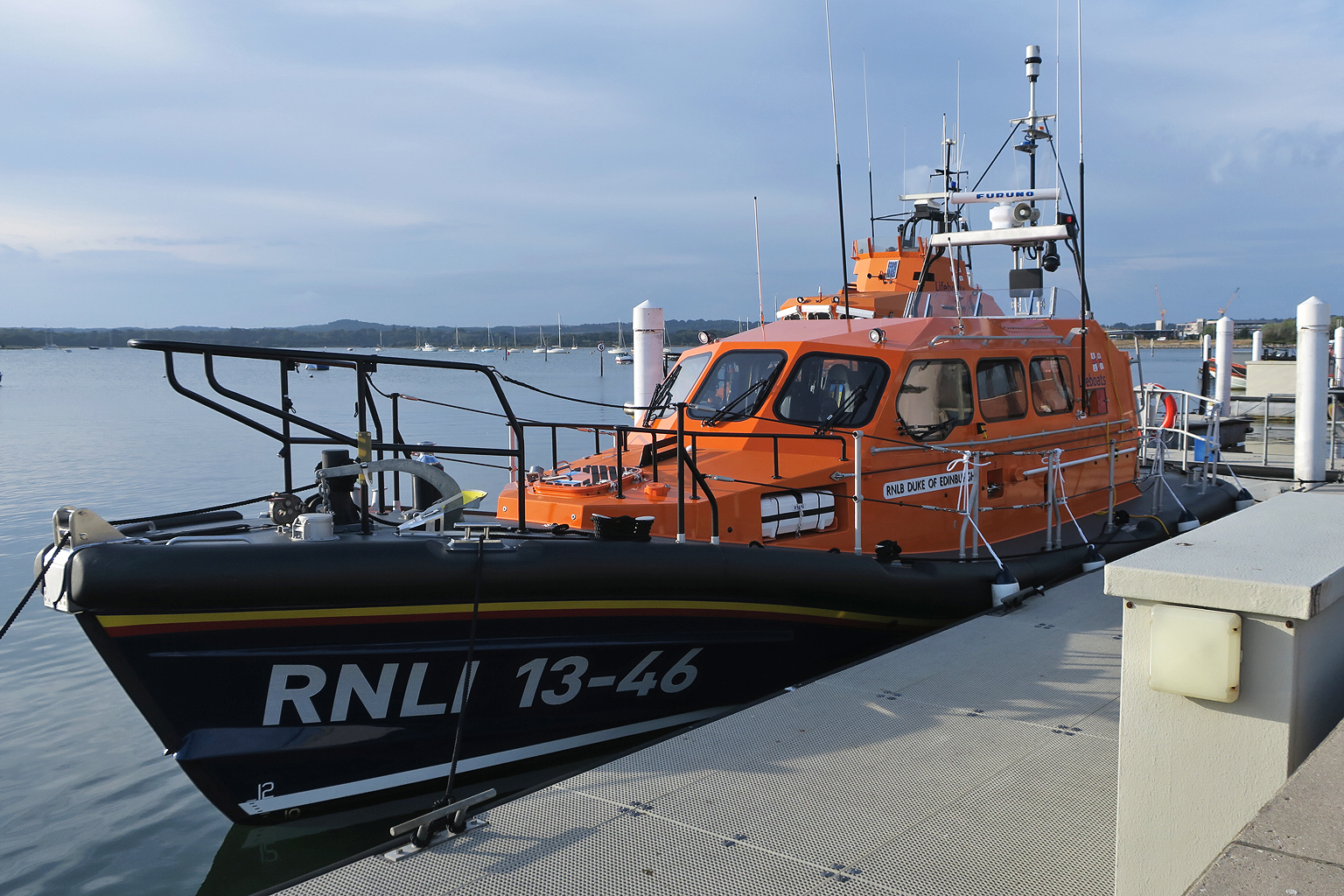 Wells' new Shannon-class lifeboat RNLB 13-46 Duke of Edinburgh is to join 150 boats on the River Thames in London this Saturday to commemorate the life and 70-year reign of Her Majesty Queen Elizabeth II.
The Reflections illuminated flotilla will start by Albert bridge, passing Chelsea bridge at 7pm on Saturday 24 September, Westminster bridge at 19:30 and arriving at Tower Bridge around 20.15. All 150 boats taking part, which will include the royal row barge Gloriana, built for the Queen's Diamond Jubilee in 2012, will be lit up with white lights, creating a ribbon of light down the river. Illuminated River, the world's longest public artwork, will also be lit with a special display threading tones of purple and silver across nine bridges from Lambeth to London Bridge.
The new lifeboat's crew includes members of the Wells crew where the boat will be stationed.
RNLI Chief Executive, Mark Dowie said "Originally planned to celebrate Her Majesty Queen Elizabeth II's Platinum Jubilee, this event provides a fitting occasion for the Thames' river communities, of which the RNLI has been a proud member for 20 years, to express their sadness at the recent death of Her Majesty.
"The crew from Wells-next-the-Sea, where RNLB Duke of Edinburgh will be on service later this year, are extremely honoured to be part of this commemoration to our longest-serving Patron and a much-loved member of the RNLI family. I would like to thank the organisers, Thames Festival Trust, for nominating the RNLI as the official charity and raising much-needed funds for our new Tower Lifeboat Station at Waterloo Bridge."
The new lifeboat will be coming to Wells soon but no date has yet been fixed for its arrival.
Reflections flotilla website
First pictures of 13-46 at sea
Tue 30 Aug 2022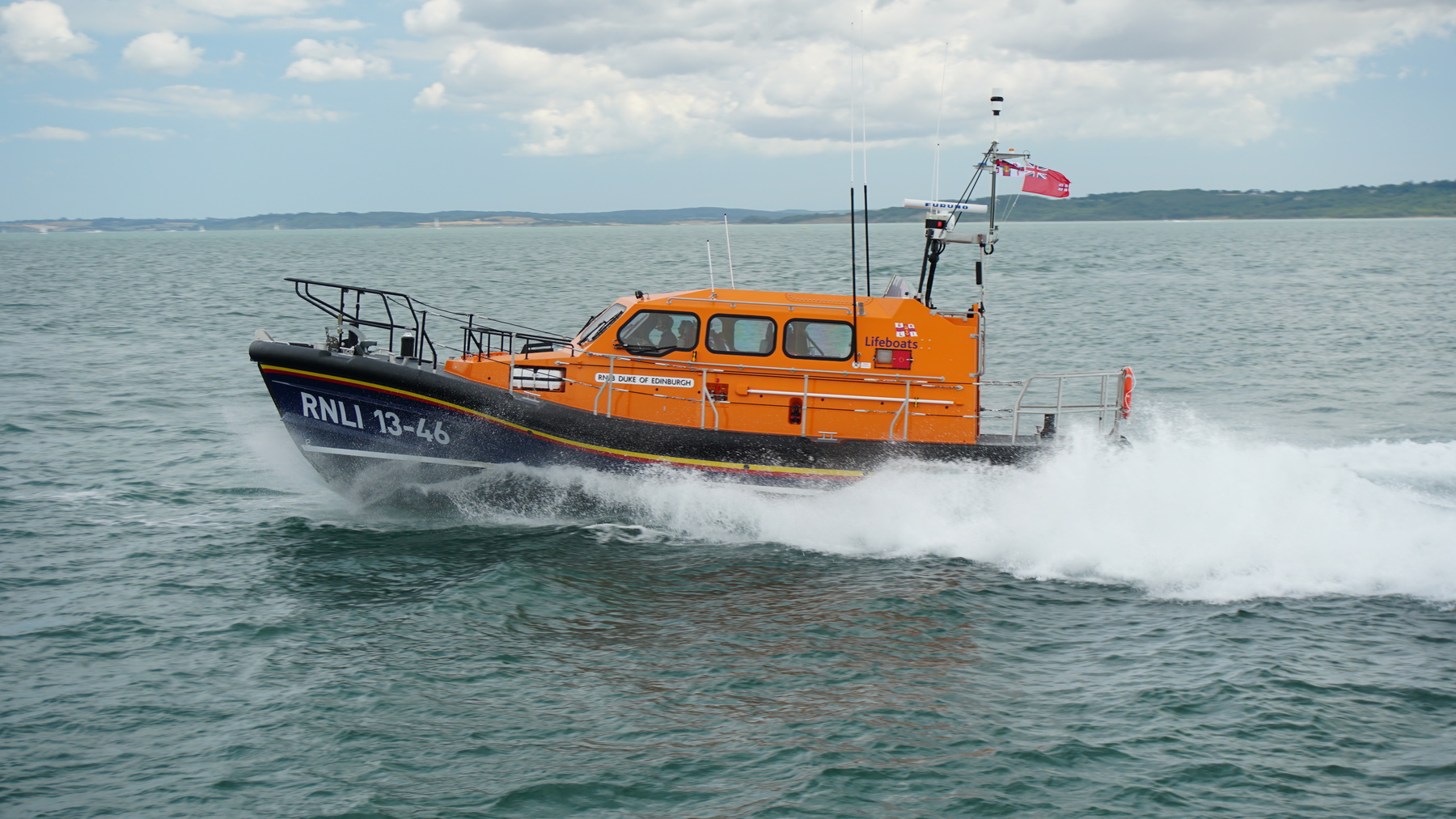 Martin Phillips
We're grateful to Martin Phillips of the RNLI in Poole for sending us some pictures of our new Shannon 13-46 'Duke of Edinburgh' on sea trials earlier this month. More images along with pictures of the new SLRS carrriage and some of the training with the relief lifeboat can be found in our photo gallery.
More pictures in our gallery
61st Annual Lifeboat Service
Tue 30 Aug 2022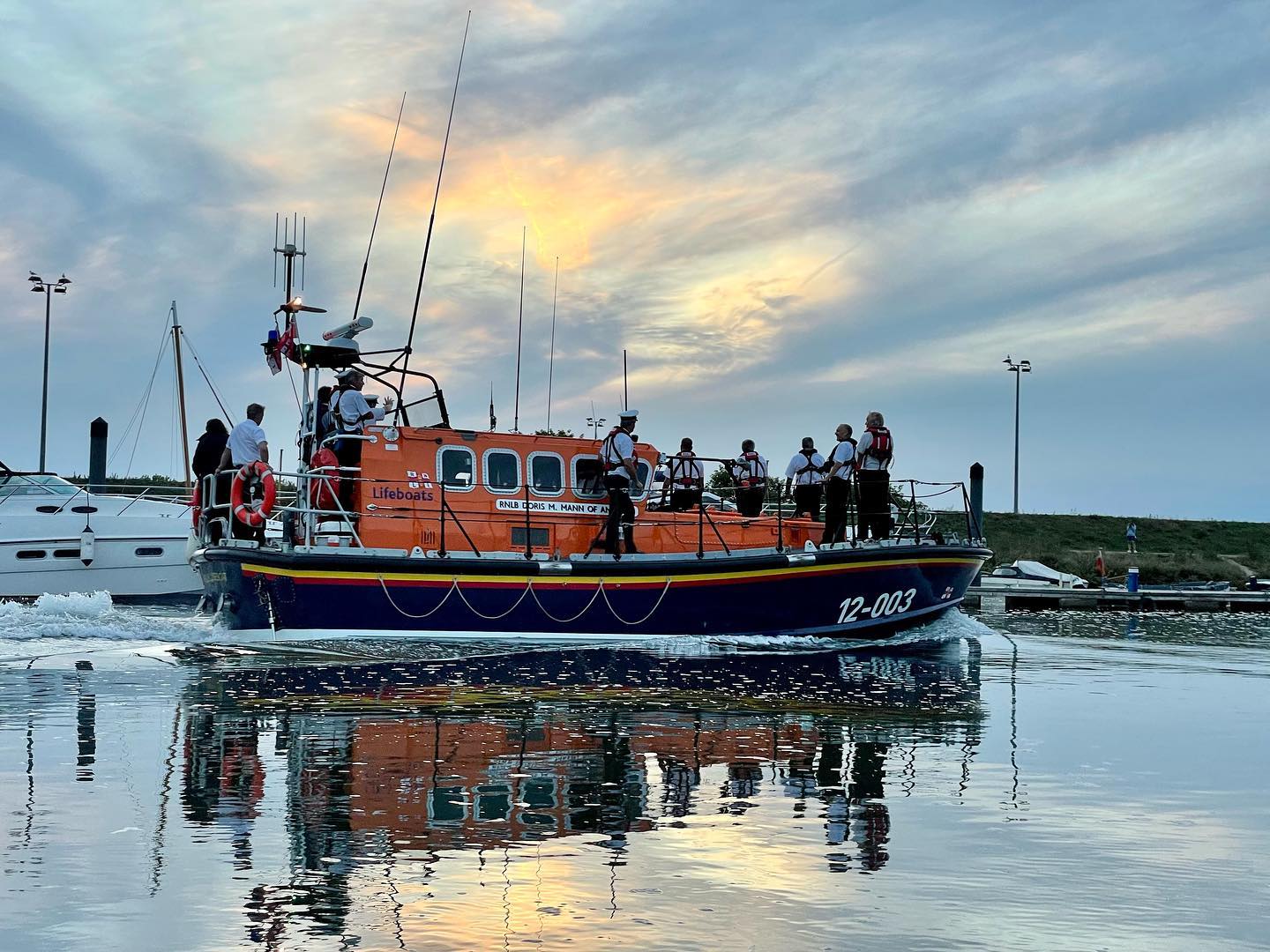 Our thanks to everyone who came to our Annual Lifeboat Service on Wells quay this Sunday... and everyone who turned out to help set up and organise the event, in particular to Fakenham Town Band for once again providing the music, Jack Richards for the lorry trailer and Wells Harbour Commissioners.
This will be the final time that our Mersey-class lifeboat 12-003 'Doris M Mann of Ampthill' takes part what is now an annual tradition in Wells for over 60 years... and, with the exception of any service launches in the coming weeks, may be the last time many have a chance to see the boat afloat before she retires.
A collection held on the night by the Wells RNLI guild raised over £1700 for Wells RNLI.
SLRS arrives in Wells
Wed 17 Aug 2022
Training and preparation for the transition to our new Shannon class lifeboat have begun in earnest with the arrival in Wells of our Shannon Launch & Recovery Systems (SLRS) unit. SC-T27 is named 'Patricia Jean Bettany' and is a brand new SLRS built specifically for the station.
The SLRS arrived on 28 July by road in two sections which were assembled on the Beach Road and then carefully driven up onto the beach bank, past the new boathouse and onto the beach. The unit for now will be kept at the top of the ALB ramp while the new boathouse is still being finished.
An intensive driver training course with the RNLI's coastal support team followed which included long sessions around our low water launch and recovery site on Holkham beach as well as taking the SLRS round the back of the current boathouse for manoeuvres on the back beach. Finally, the new boat hall was temporarily cleared so our drivers could have a first go at taking the SLRS into and out of the new boathouse.
Other training is on-going including coxswains and crew attending a jet boat handling course at the Lifeboat College in Poole at the start of August, helming a jet training boat and Shannon relief lifeboats, and courses upcoming in Wells and Poole for boat and SLRS mechanics.
A relief Shannon lifeboat will be arriving in Wells soon for crew familiarisation, afloat training and launch and recovery practice.
Wells' own new Shannon RNLB 13-46 'Duke of Edinburgh' is still on commissioning trials at the All Weather Lifeboat Centre in Poole. The boat will be on display to 'Launch A Memory' donors ashore at Poole from 20-24th August (event now fully booked) and should be arriving in Wells towards the end of September.
More pictures of the SLRS and 13-46 in our gallery pages...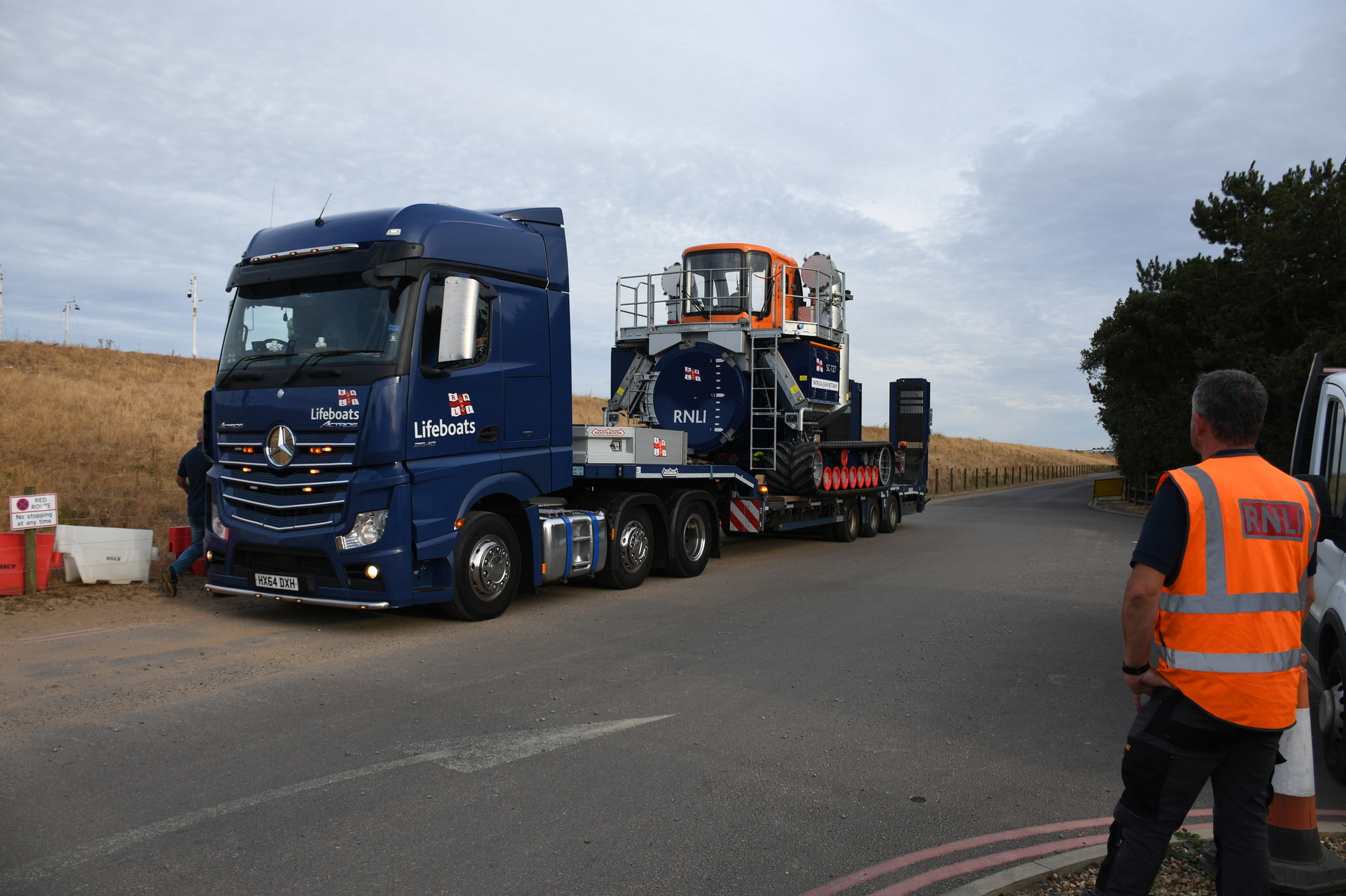 RW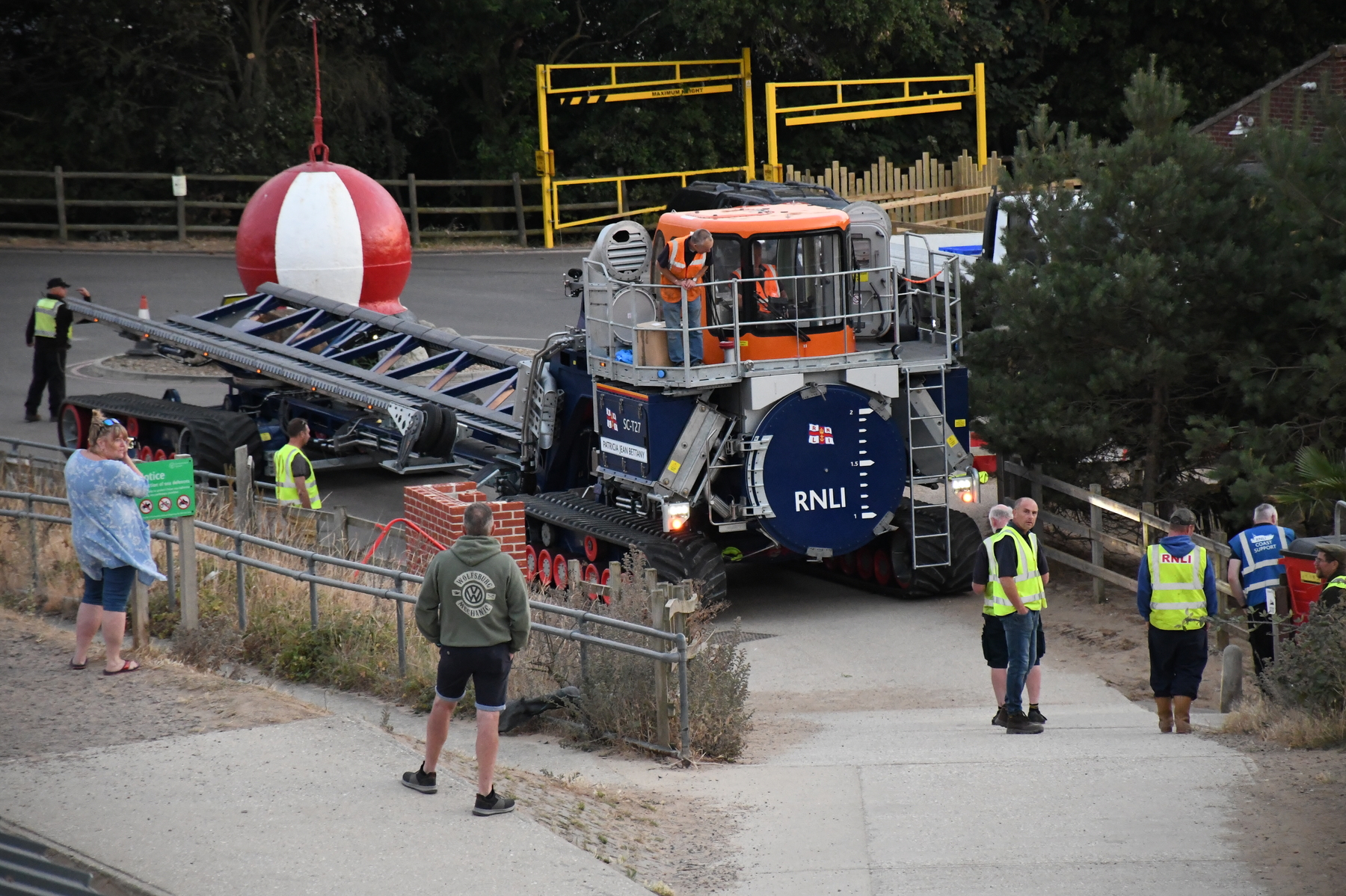 RW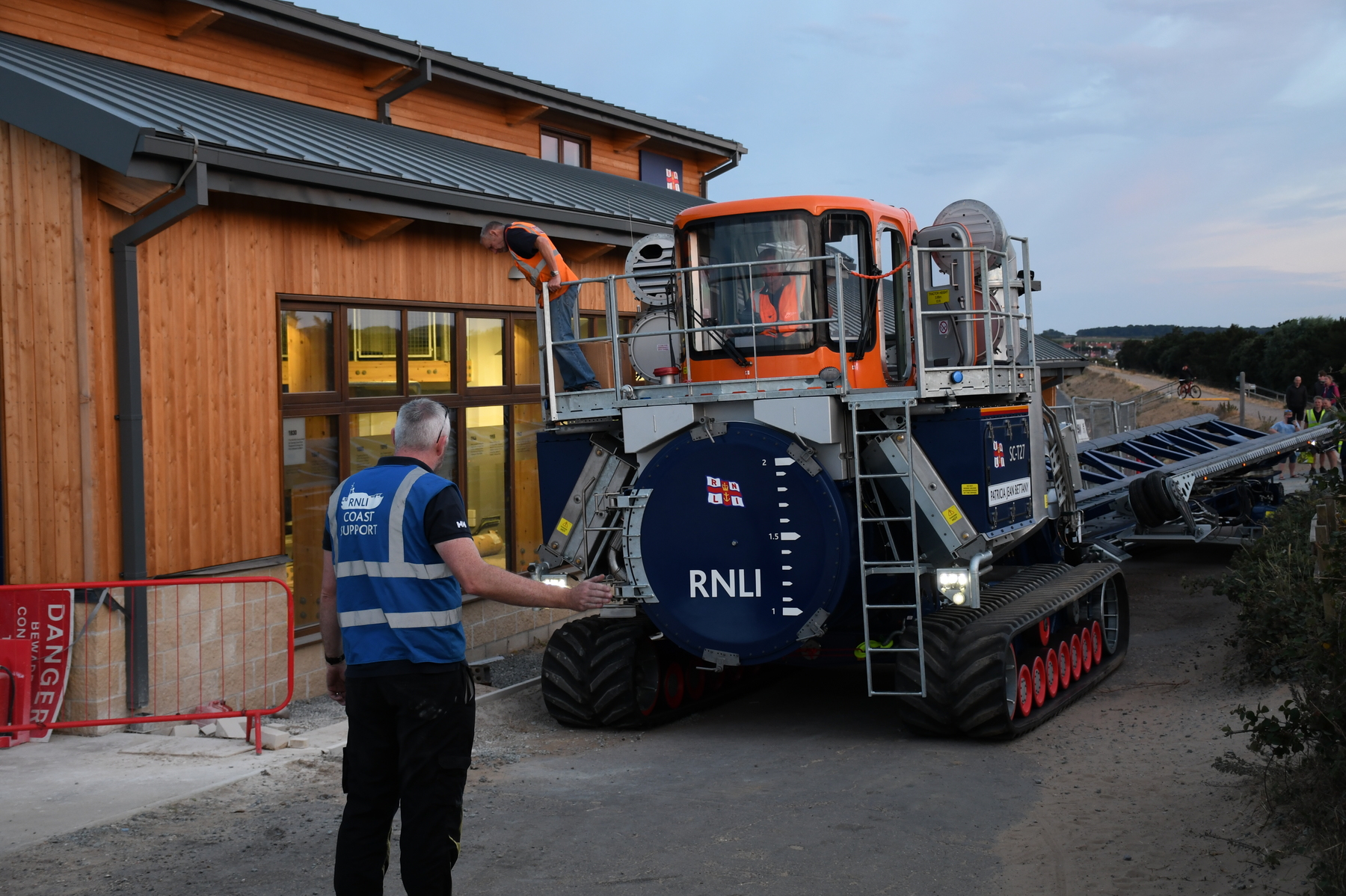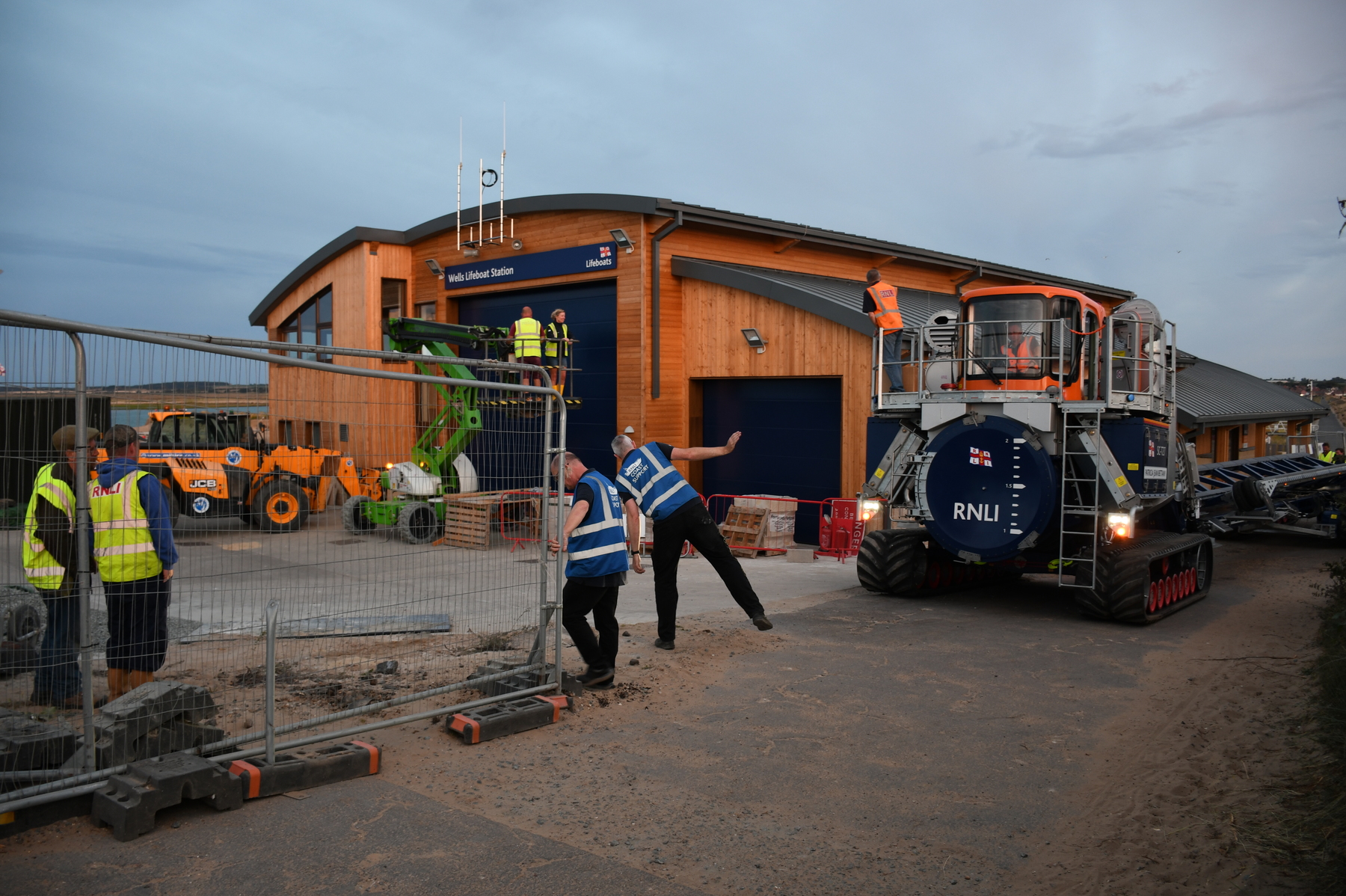 RW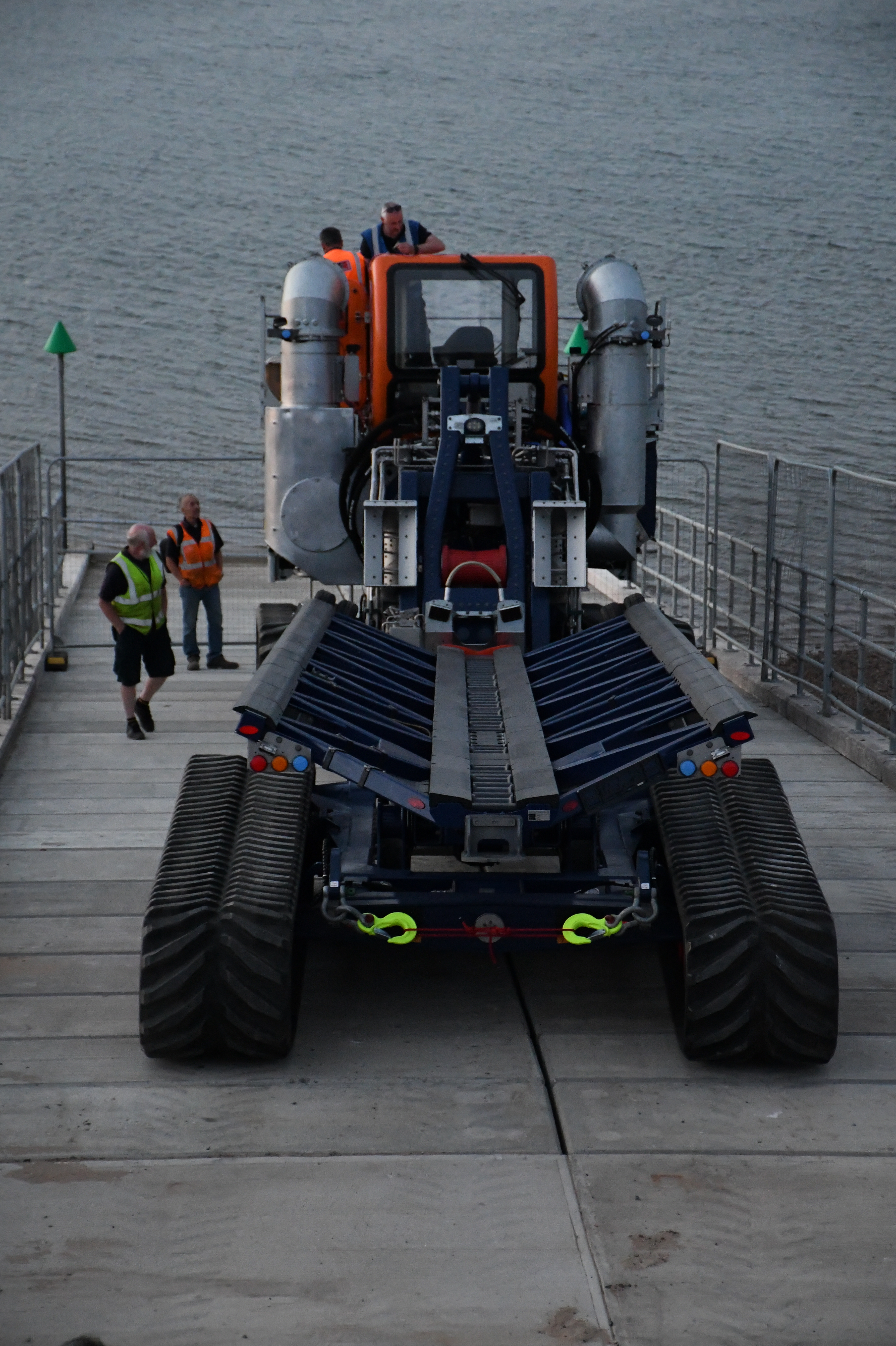 RW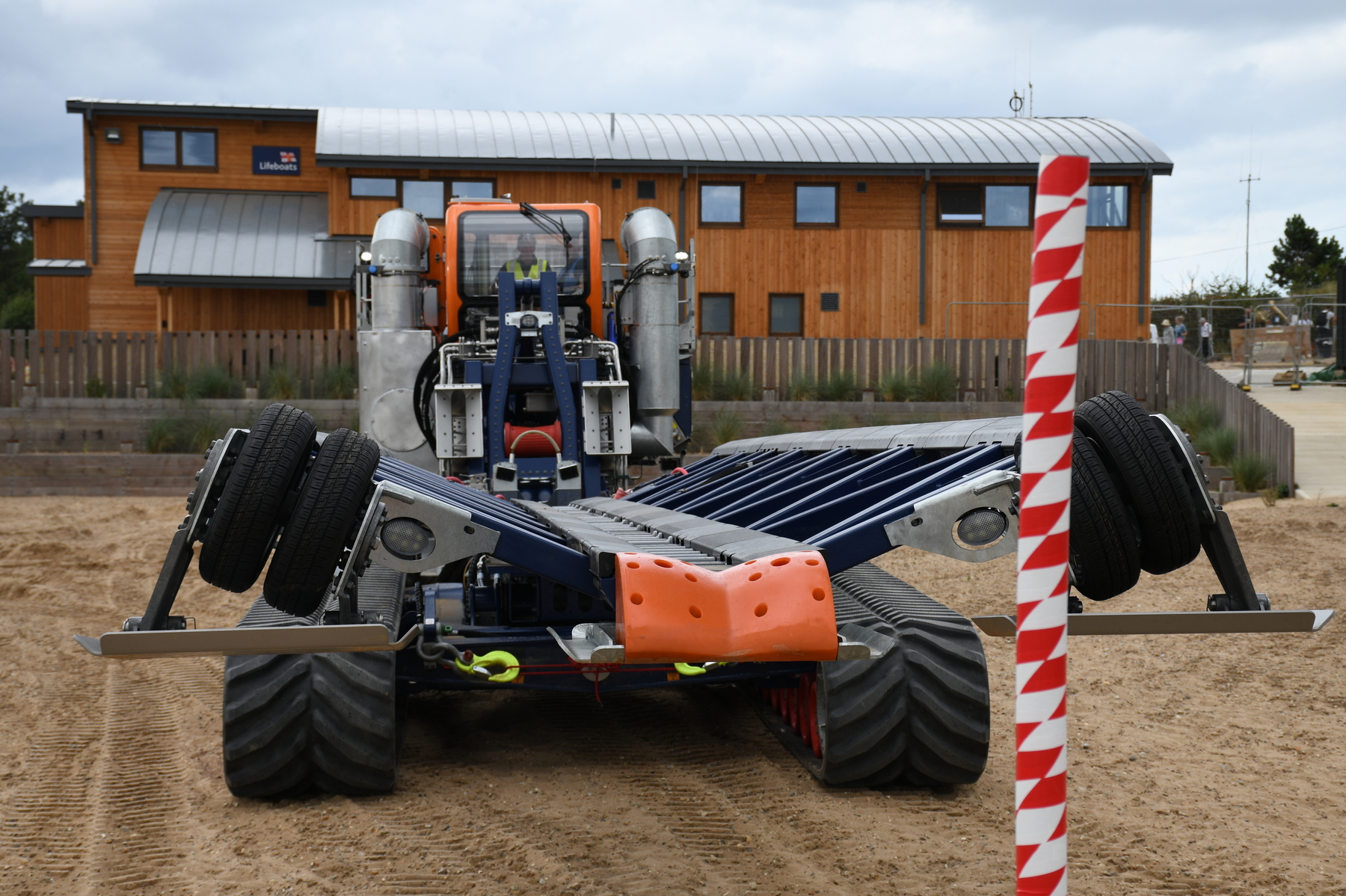 RW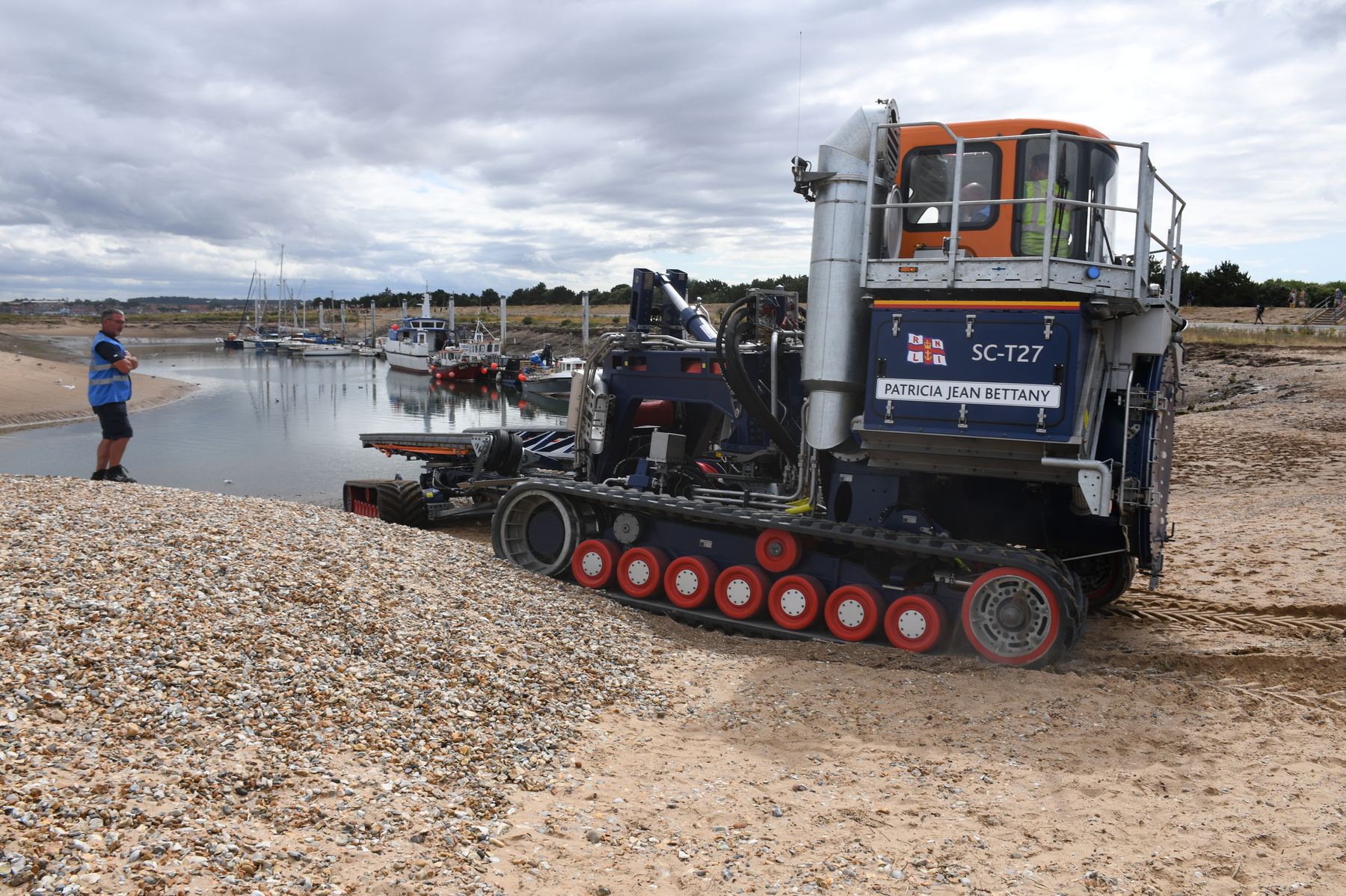 RW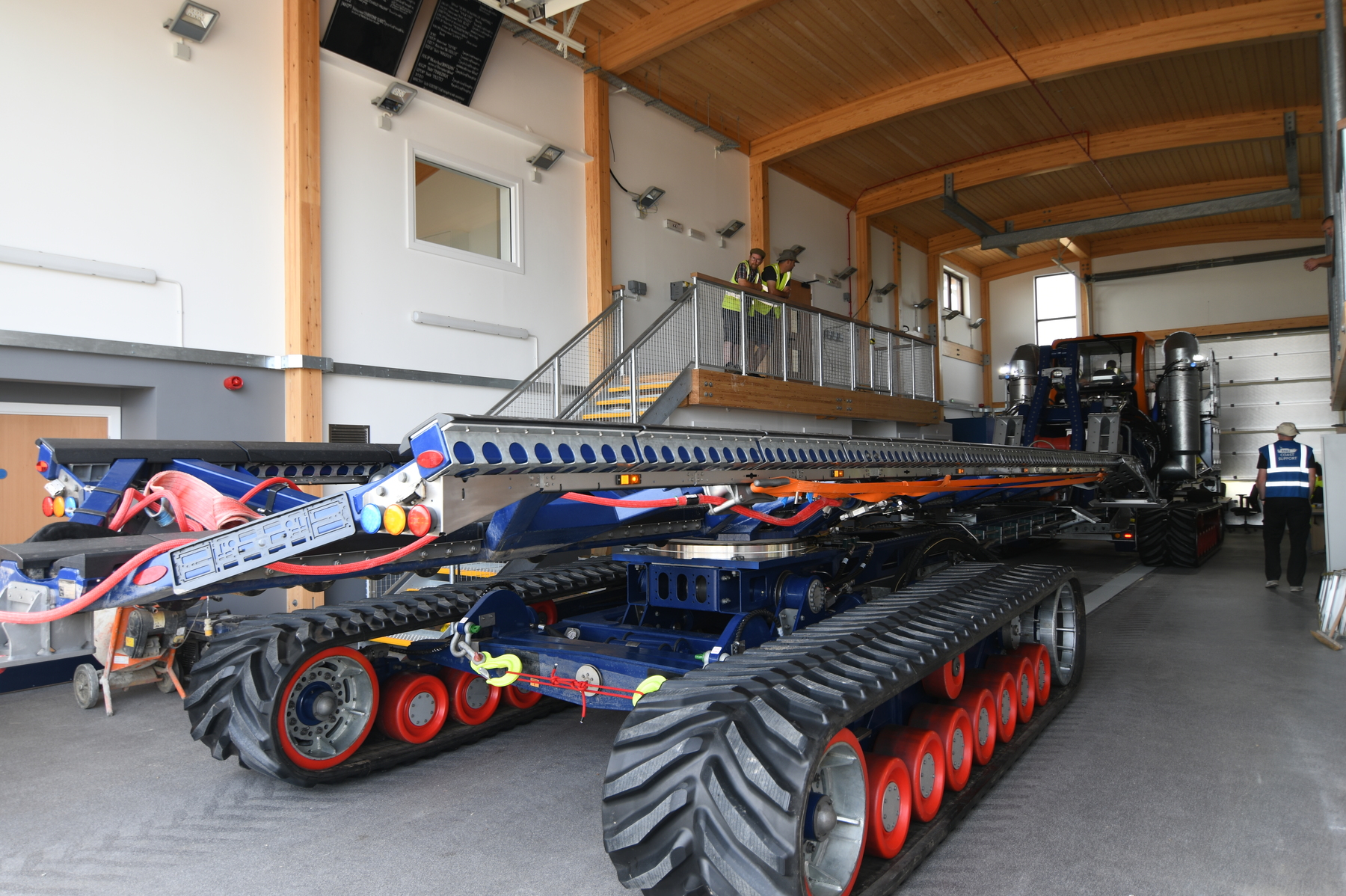 RW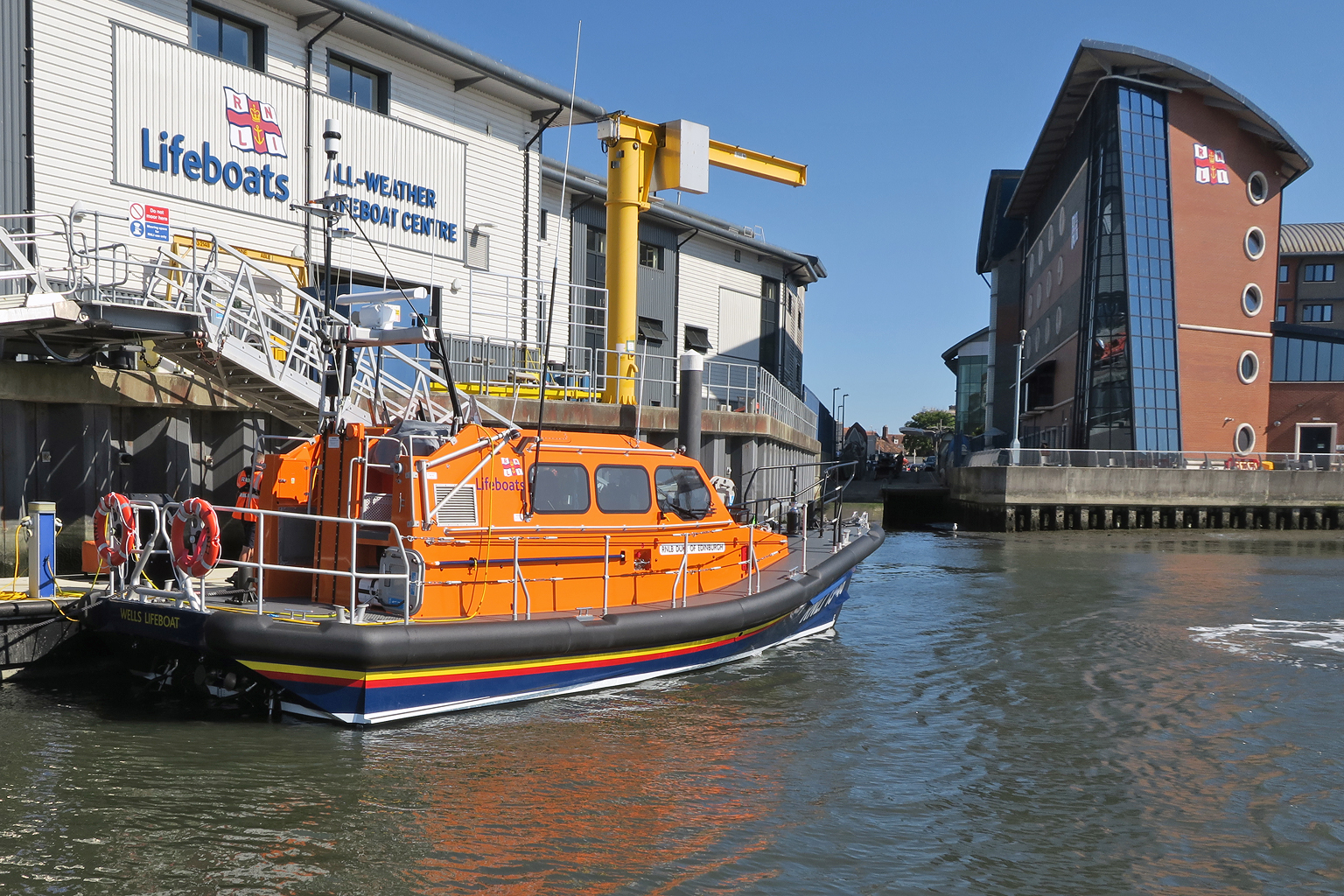 MP
Bell Ringing Ceremony for the new Shannon - video
Fri 8 Jul 2022
A short film of Tuesday's ceremony as Wells' new Shannon lifeboat leaves the factory and is lifted into the water for the first time...
Our brand-new Shannon lifeboat is lifted into the water
Thr 7 Jul 2022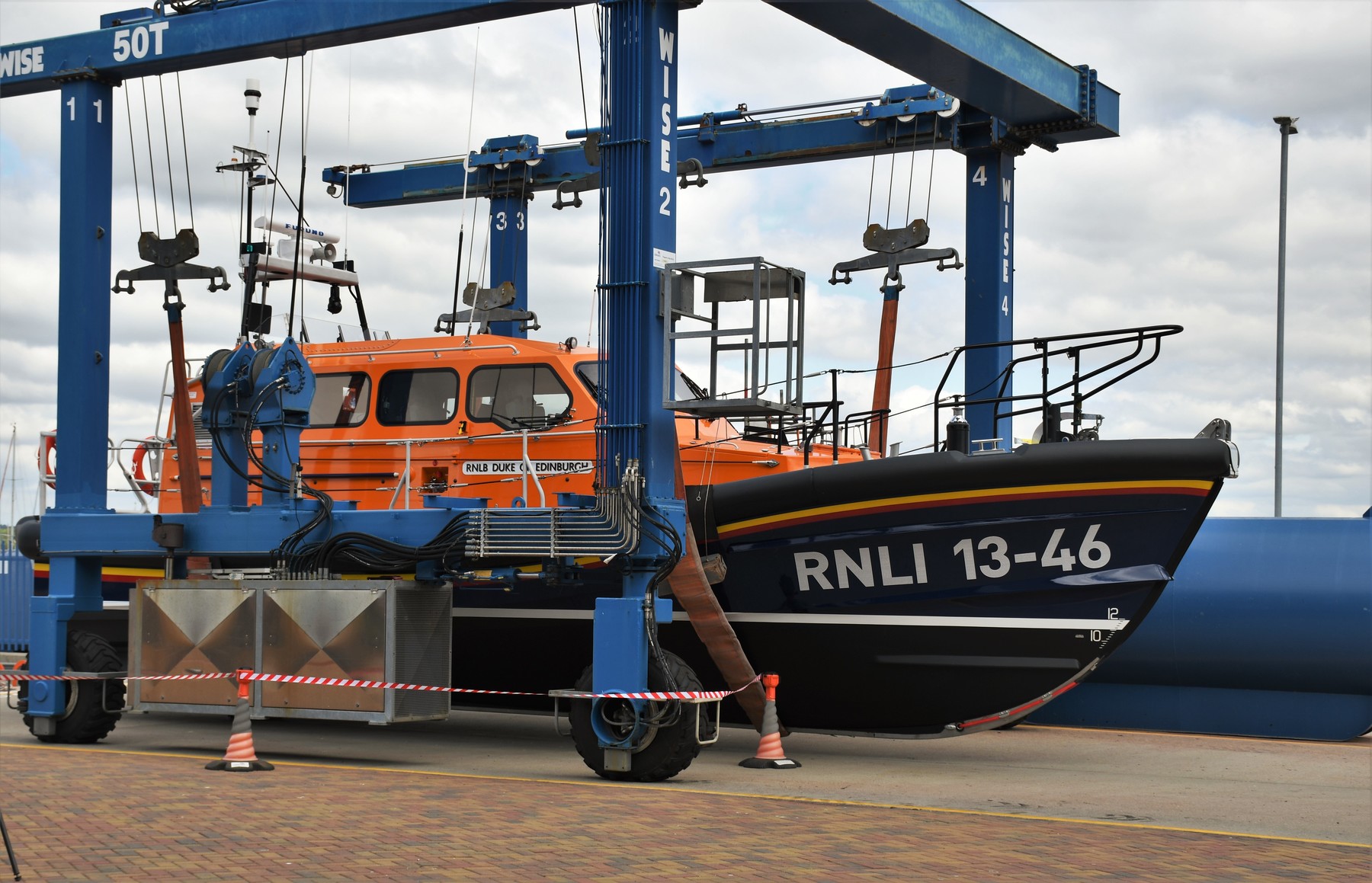 RW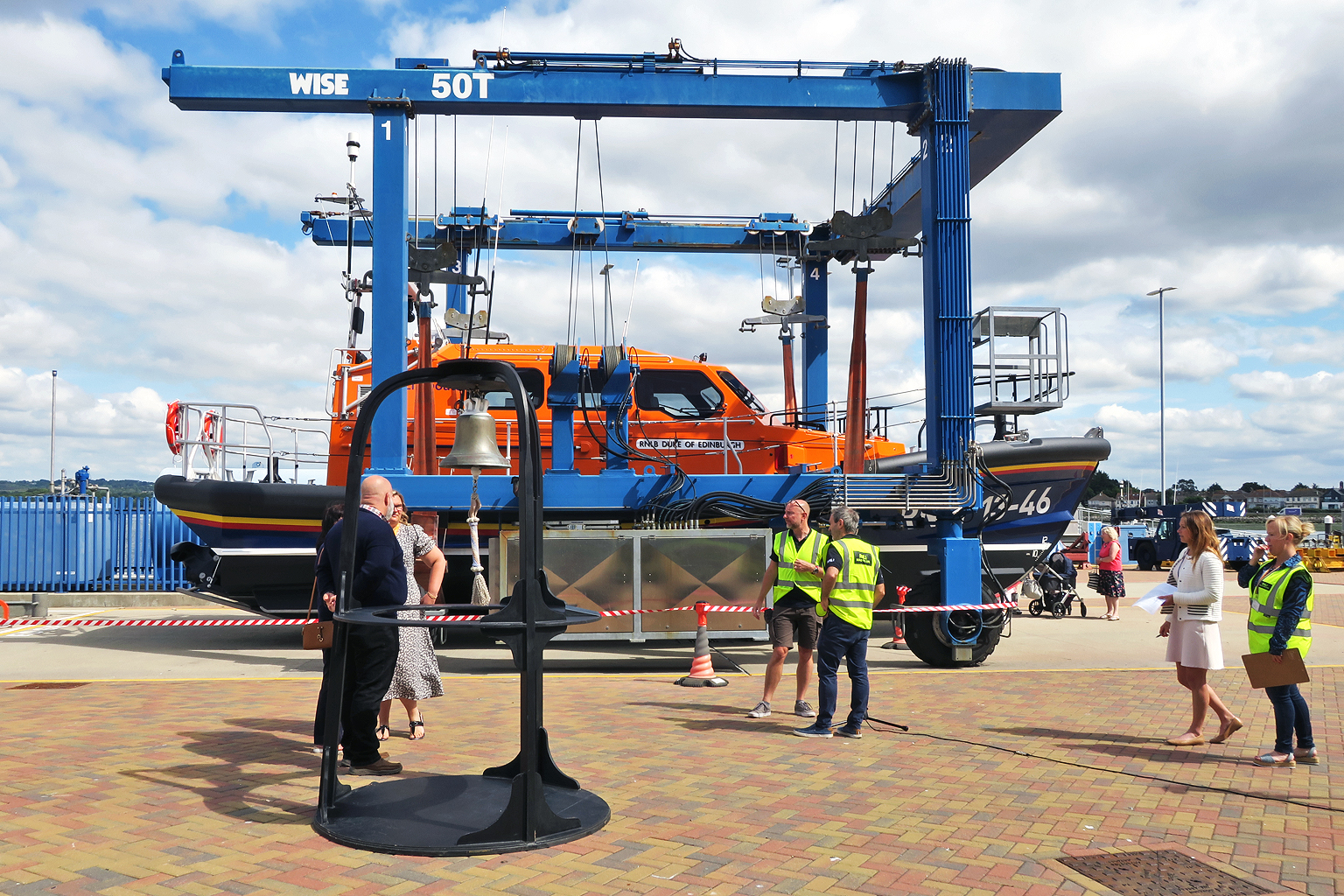 MP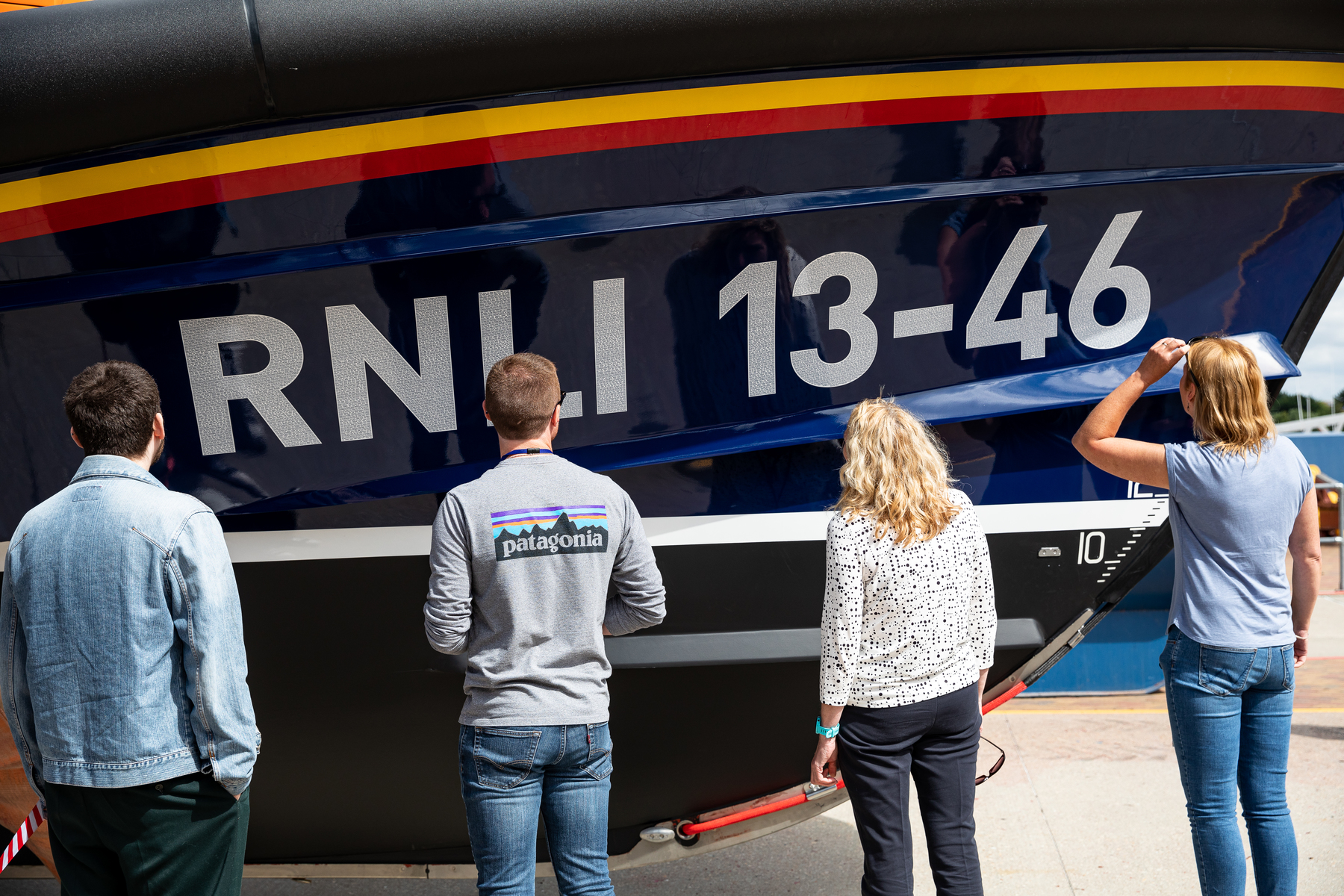 RNLI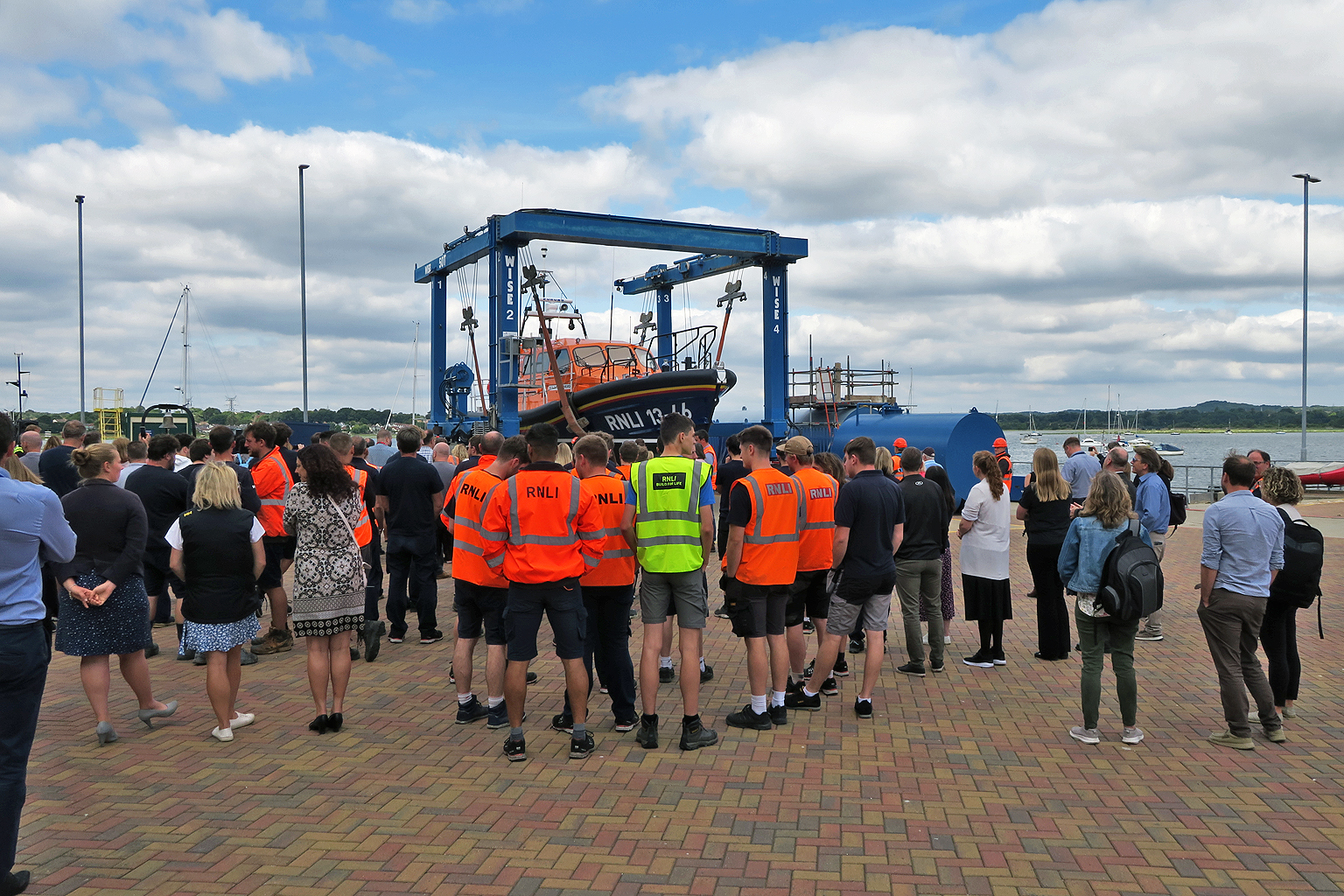 MP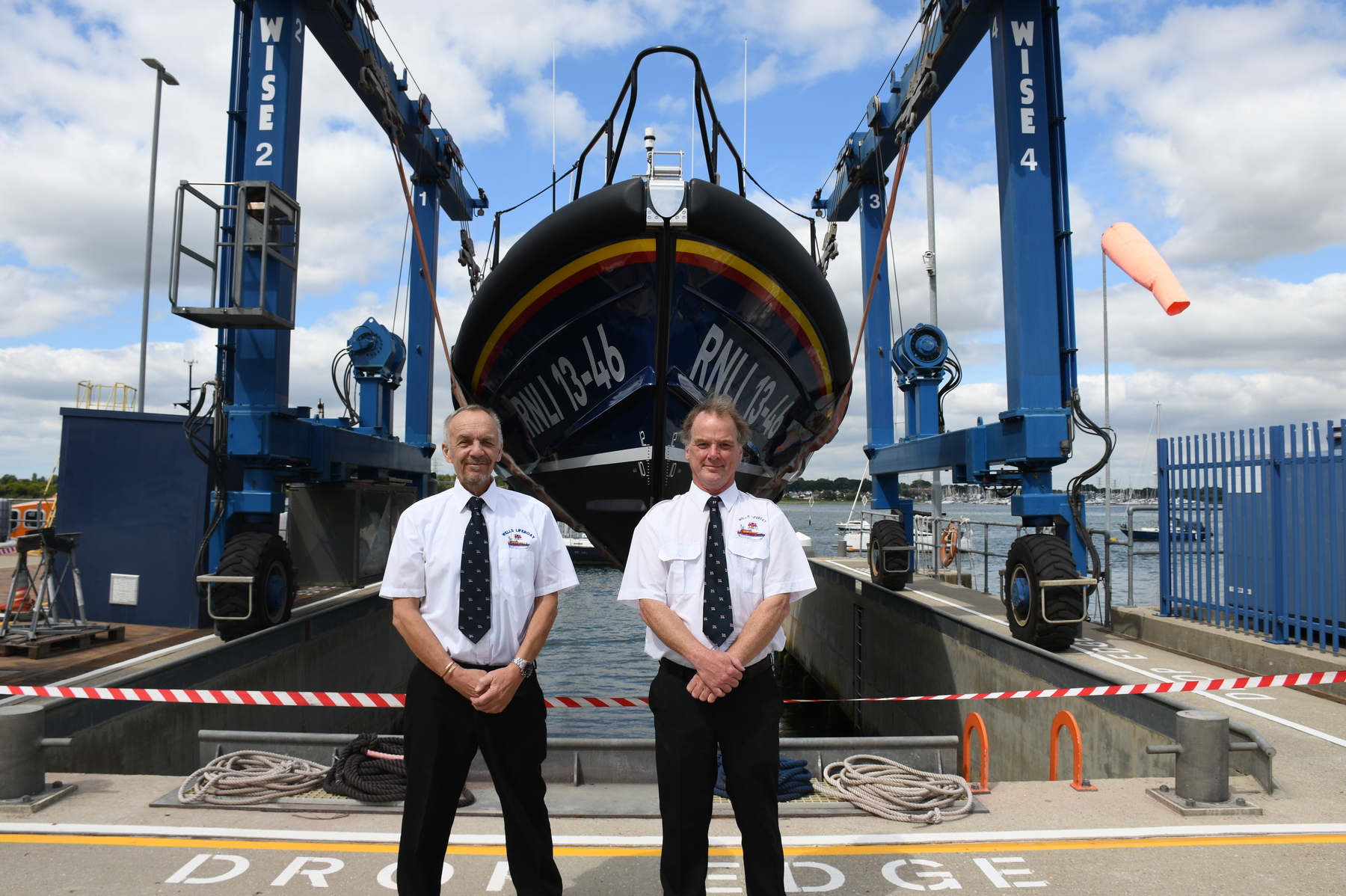 RNLI/Nathan Williams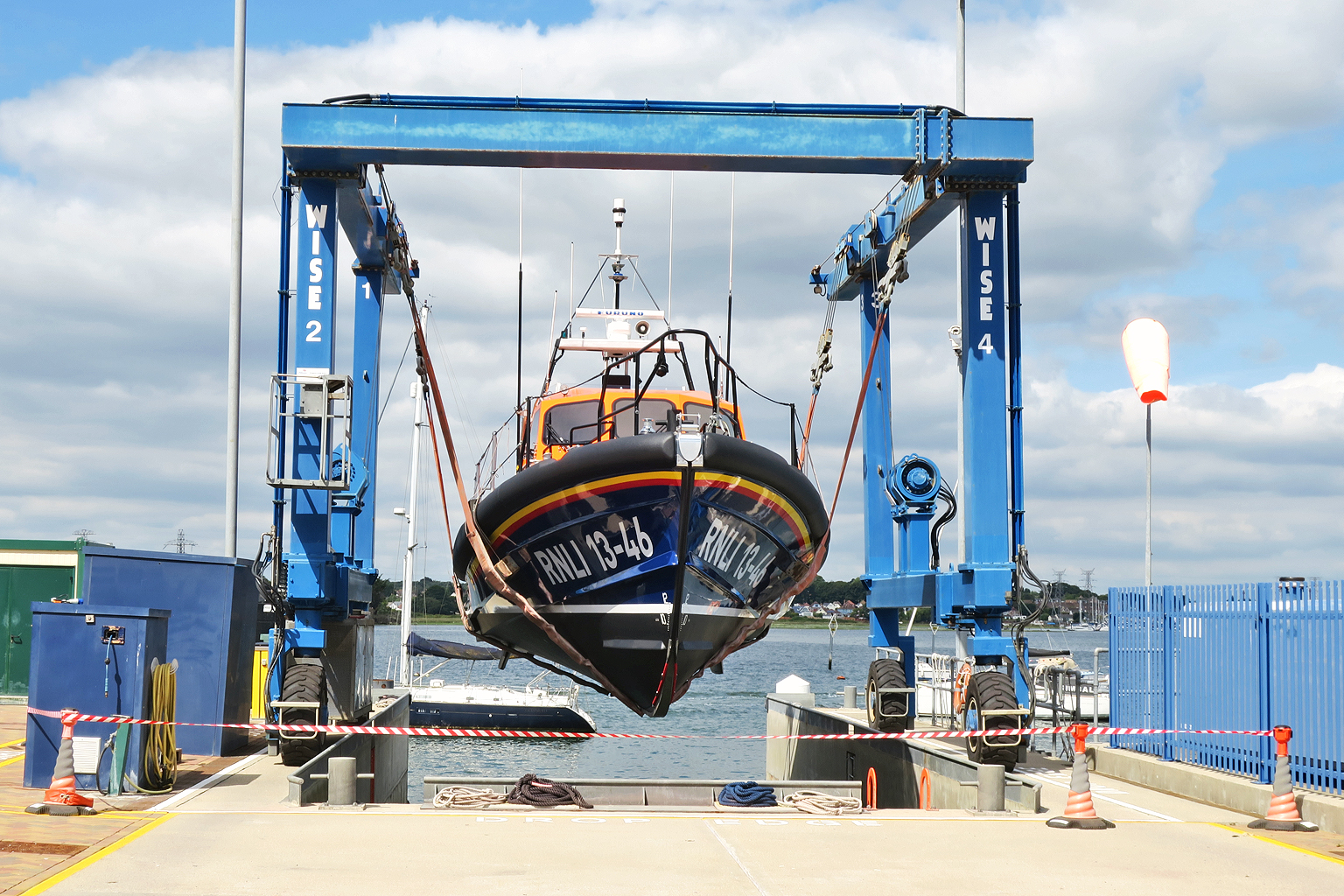 MP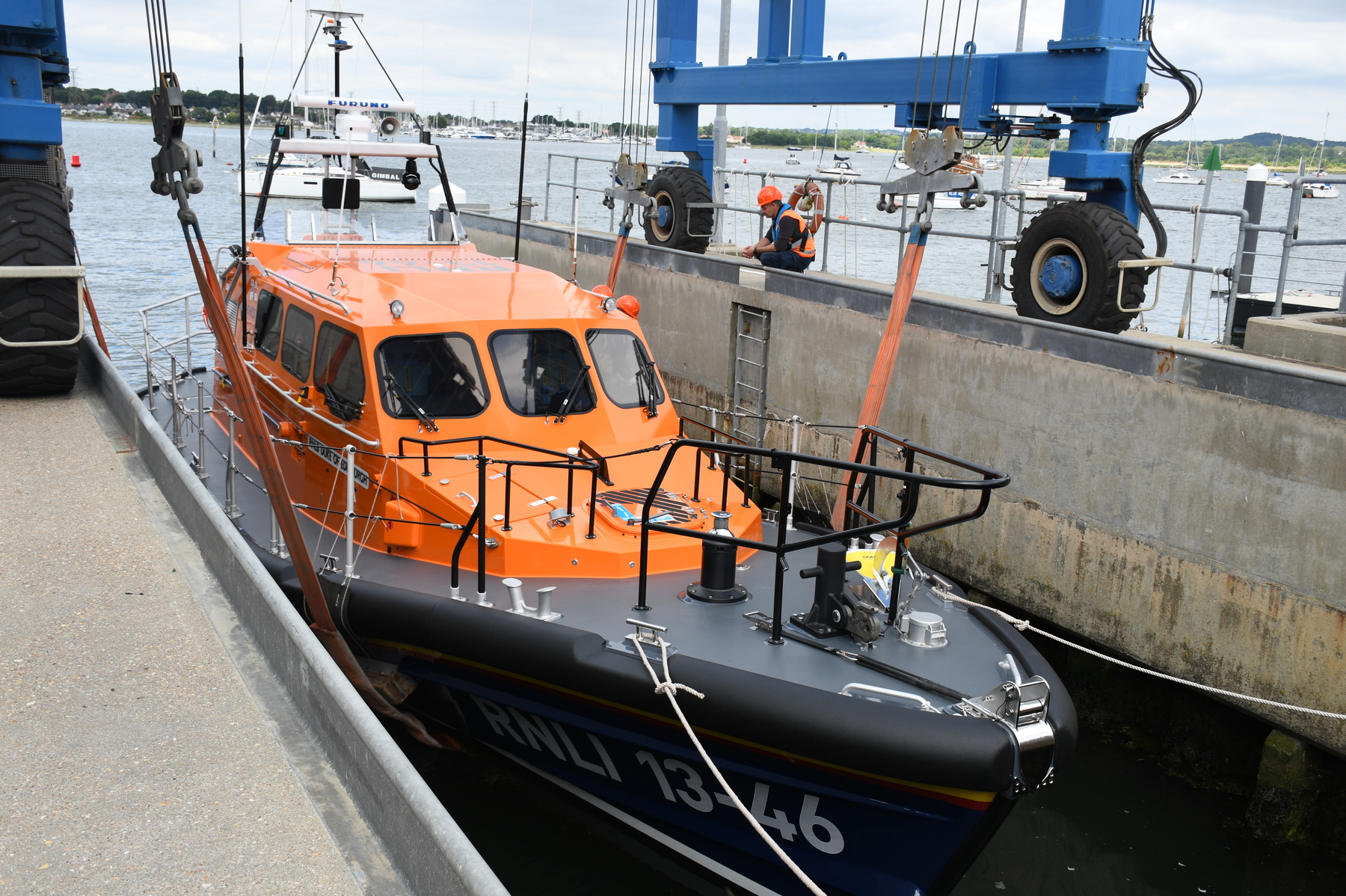 RW
MP
Wells' future lifeboat, Shannon-class 13-46 'Duke of Edinburgh' has emerged from the All-Weather Lifeboat Centre in Poole where she has been built. In a 'bell ringing ceremony' behind the factory, an audience of invited guests and RNLI staff watched as eight bells were rung as the lifeboat was lowered into the water for the first time.
The state-of-the-art boat is named 'Duke of Edinburgh' in honour of His Royal Highness Prince Philip, who died last year, aged 99.
In addition to Prince Philip's royal title, the boat also bears the names of 15,000 loved ones submitted by RNLI supporters through the lifesaving charity's Launch a Memory fundraising campaign.
RNLI Chief Executive, Mark Dowie said: 'We are delighted to honour Prince Philip's longstanding commitment to maritime services and lifetime of support to Her Majesty The Queen, who has been our Patron since 1952.
'Building lifeboats and lifesaving equipment is something we do every day, but each lifeboat marks a very meaningful moment in history. For crews they are welcoming a new boat which will help our lifesavers work towards saving every one. For RNLI supporters, they will know this lifeboat is launching in memory of so many loved ones every time she receives the call for help.'
Her Majesty The Queen and The Duke of Edinburgh have a long history with the RNLI. Her Majesty has been Patron of the lifesaving charity since 1952 and The Duke of Edinburgh became a member of the Council in 1972. Together, they visited several RNLI lifeboat stations over the years.
In a nod to The Duke of Edinburgh's proud naval career during which he was Commanding Officer of HMS Magpie, His Royal Highness The Prince of Wales attached a magpie engraved plate to the new lifeboat in June last year.
Wells Lifeboat Station Lifesaving Operations Manager, Chris Hardy, said: 'The Shannon will help take us forward in all weathers. The crew are eagerly awaiting her arrival and can't wait to make the boat fully operational on station.
'The station is immensely proud and honoured to have its new Shannon class lifeboat named Duke of Edinburgh. We are in no doubt that our new lifeboat will continue the vital work of saving lives at sea, which we know His Royal Highness was so passionate about throughout his lifelong maritime association.'
Eight bells is a traditional ship's signal marking the end of one watch and the start of another. This has become a tradition at the All-Weather Lifeboat Centre as a new Shannon is completed and moves on from the ALC building to commissioning and sea trials, as well as perhaps representing the upcoming replacement of a long-serving lifeboat with a new one.
The new Shannon will now be commissioned and tested and then undergo extensive sea trials. She will also be on display in Poole for five days in August to Launch A Memory donors. It is envisaged that the lifeboat will be brought round to Wells in late September and, after further crew training, will take over as Wells Lifeboat from the current Mersey class 12-003 Doris M Mann of Ampthill which has served the station since 1990.
More pictures of 13-46